Essential oils are distillated naturally and have distinctive scents that accrue to their origin. Edens Garden is one of the largest brands of essential oils. Many other companies also sell essential oils. If you're wondering which brand to opt for, see some of Edens Garden essential oils reviews and the comparison between the essential oil brands.
What Does Edens Garden Offer?
1. Essential Oils
Edens Garden has over 150 essential oils and is still working towards more blends and varieties. You can get their oils in bottles of 5ml to 30ml. You can purchase a single aroma or one of their blends. The essential oils they offer include carrot, coriander, apricot, eucalyptus and lavender. Depending on the type and the amount you want, the prices range between $3 and $30.
2. Carrier Oils
Edens Garden also offers carrier oils that are used to dilute single scent oils, making them safe for application on the skin. They have 13 different carrier oils, including hemp seed, avocado, macadamia and sweet almond. The prices of carrier oils range between $3 and $10.
3. Gifts and Sets
Some of the essential oils and carrier oils are packaged together as a set so that you can give it to someone as a gift. The sets come with a brochure that will guide you on how to use the packaged oils.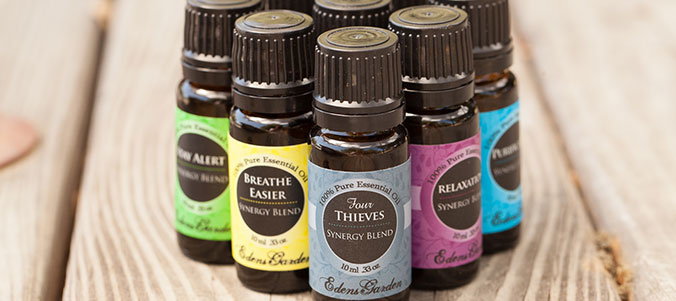 Edens Garden Essential Oils Reviews
Positive Reviews
"My mom recently got her massage practice license and she loves her essential oils from Edens Garden. She mixes the oils with her massage lotions and the effect on sore muscles is magical."
"These oils are amazing! I use them for aromatherapy and with 3 or 4 drops my bath has a very therapeutic and relaxing scent. I have not explored all the options, but I cannot wait to see what the rest has to offer."
"I'm in love with all Edens Garden essential oils. Currently, I'm using the peppermint more often because it really comes in handy with my nausea. The orange scent is also perfect. It feels like an orange has just been peeled in the room. Lavender is perfect for sleeping. After my surgery, it was constantly at my bedside and it soothed me to sleep. Eucalyptus is minty, but it is a bit stronger than peppermint and is more like liniment cream. Lemongrass has a sweet smell similar to that of lemon drops. The tea tree is also good though I cannot compare it to anything. The best part is that when I leave one of these tiny bottles open for a while, the entire room is full of that scent, yet when I hold it directly under my nose, it is not overwhelming."
"I am a yoga instructor and I've been searching for a way to make my classes better. Essential oils from Edens Garden are the way to go. A few drops of lavender oil mixed with water are just perfect. I spray the mixture in the classroom and the relaxation it offers is magical. I make a homemade mat cleaner using tea tree oil mixed with water and vinegar. For my detoxifying classes, peppermint oil is rubbed behind the ears."
Negative Reviews
Apart from the positive Edens Garden essential oils reviews, there are some reviews which turn out to be quite negative.
"A while back, I bought Edens Garden essential oils and they smelled terrible. Specifically, the peppermint and lavender smelled like oil mixed with plastic. I tossed them in my junk drawer over a year ago."
"When I bought the oils, I was content because they smelled wonderful. After a few months, the scent faded away. They lost the strong scent and smelled gross and weird. I made homemade products (soap and lotion) with the oils and after a month, they did not have any scent as if they did not have essential oils at all. It is true that essential oils have healing properties and amazing benefits, but these ones simply made me sad."
"For the price I paid, I am nothing but disappointed. I made scrubs, carpet cleaner, air freshener and home diffuser with these oils. The effect does not last at all. It is only good at the first shots."
"They are promptly delivered, but the eucalyptus and the lavender smell terrible. The rest are just decent, not high quality scents. They smell pretty odd. I do not know where all the positive Edens Garden essential oils reviews are coming from. I am a disappointed masseuse and will never try using this brand of oils again in my practice."
Compare Eden's Garden with Other Essential Oil Brands
There other brands that compete with Edens Gardens essential oils. Here is a brief comparison between Edens Garden, Young Living, dōTERRA and Mountain Rose Herbs.
1. Quality
Young Living oils have a pretty high standard since they control their product from the botanical seed all the way to distilling the oils. They do this in their own farms.
dōTERRA Essential Oils go through a CPTG (Certified Pure Therapeutic Grade) quality protocol to ensure potency consistency and purity. The oils are acquired from growers globally and taken through a low-heat steam distillation.
Mountain Rose Herbs Essential Oils have a few awards and certifications, including non-GMO (Genetically Modified Organisms) project certification and 2013 Best Green Business in Oregon.
Edens Garden Essential Oils are packed in amber glass bottles which protect the products from damaging UV light. They have no fillers, added bases or additives. Some of their oils are certified organic.
2. Customer Service
You can contact the Young Living Essential Oils through their website, via email, live chat or toll-free number.
For dōTERRA Essential Oils, if you aren't content with your purchase, you can return the product and get 100% refund, depending on the timeline and if you have opened the product or not.
Mountain Rose Herbs Essential Oils customer service includes a toll-free number, mailing address, fax line and email support. You can pick up your order in person in Eugene, OR.
Edens Gardens have a 30-day "no questions asked" refund policy.
3. Cost and Price Range
Young Living oils are the most expensive oils out of the four brands with an average price of $30-$40 for single oils in 15 ml bottles. Several essential oils can even be as expansive as more than $200. dōTERRA Essential Oils are the second most expensive oils of the four and its prices basically range from $20-$30. Mountain Rose Herbs Essential Oils are the third most expensive and Edens Garden Essential Oils are the most affordable of the four brands.