When using a conventional way to make mashed potatoes, you may have to wait for quite some time. It is, however, possible to make certain changes to the recipe and get mashed potatoes ready in a few minutes only. A simple way to learn to how to make instant mashed potatoesis to add a hot liquid to reconstitute potato flakes. You can also find a variety of mashed potato brands, including Betty Crocker and Idahoan, but you will have to learn how to make by yourself even when you have bought these brands.
How to Make Instant Mashed Potatoes
You can try a number of techniques and recipes to prepare mashed potatoes. Here are a few recipes without having to go through any hassle whatsoever.
Time Duration: 8 minutes (3 minutes of preparation, 5 minutes of cooking)
Ingredients:
2 cups of chicken broth
3 tablespoons of butter
2 cups of instant potato flakes
3/4 cup of heavy whipping cream
Directions:
Combine butter and chicken broth in a saucepan and start heating.
Remove it from heat once it reaches the boiling point.
Add heavy whipping cream to the saucepan and stir in potato flakes.
Your mashed potatoes are ready!
Check out the following video to learn how to make instant mashed potatoes at home:
Tastier Mashed Potatoes Recipes You Will Want to Try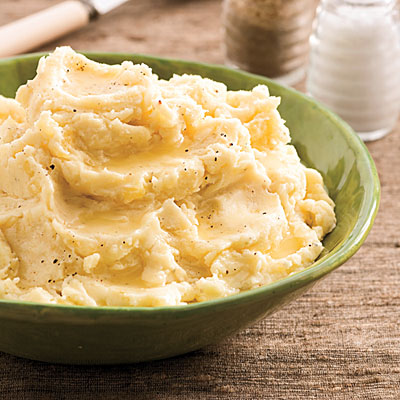 You can prepare mashed potatoes using your conventional recipe, but there are ways to learn how to make instant mashed potatoes with utmost ease. And these potatoes will be tastier too.
1. Loaded Mashed Potato Cakes
Time Duration: 45 minutes (15 minutes of preparation, 30 minutes of cooking)
Ingredients:
A packet of instant mashed potatoes
1 and a half cups of Panko breadcrumbs
2/3 cup of grated Colby Jack cheese
2 tablespoons of chopped chives
A large egg
Directions:
Mix all your ingredients in a large bowl.
Scoop out large portions of the potato mixture – use your hand to scoop out and shape the potato mixture. Make large patties.
Spray your pan with Pam and place it on medium/high heat.
Add 3 or 4 potato patties at a time to cook – don't cook each side for more than a couple of minutes.
Serve warm – you can use bacon bits and sour cream as well.
2. Cheesy Garlic Instant Mashed Potatoes Recipe
Ingredients:
1/4 teaspoon of salt
1 and 1/3 cup of water
2 tablespoon of margarine
1/2 teaspoon of dried parsley flakes
1/4 teaspoon of minced garlic
1/2 cup of milk
1/4 cup of shredded cheddar cheese
88g of instant potatoes
Directions:
Take a saucepan and add first five ingredients in the list in it. Bring it to boil.
Remove your saucepan from heat and add your remaining ingredients to it. Stir it well.
Place lid on your pan and leave it for a couple of minutes. Stir again after cheese melts completely.
Serve!
3. Instant Mashed Potatoes with Buttermilk Recipe
Ingredients:
1/3 cup of buttermilk
1 and 1/3 cup of instant mashed potatoes
2 tablespoons of butter
1/2 teaspoon of salt
1 and 1/3 cup of water
Directions:
Simply follow the directions you have on the instant mashed potatoes box. And you may add some dried crushed chives to your dish optionally.
4. Instant Potato Pancakes
Time Duration: 30 minutes (10 minutes of preparation, 20 minutes of cooking)
Directions:
1 cup of cold water
1/2 teaspoon of salt
1 beaten egg
3/4 cup of dry potato flakes
1 pinch of freshly ground black pepper
1 tablespoon of butter
1 tablespoon of chopped chives
1 tablespoon of vegetable oil
1 pinch of cayenne pepper
1 tablespoon of chopped chives
1/4 cup of sour cream
Directions:
Take a large bowl and whisk together egg, water, and salt. Make sure the salt dissolves in water completely.
Stir in potato flakes and add a tablespoon of chopped chives as well. Use cayenne pepper and black pepper for seasoning.
Heat butter and oil in a skillet and then add potato mixture to it.
Divide the mixture into four portions and shape it into pancakes, then place your pancakes in your pan and cook at medium heat.
For 10 minutes or so, you will notice brown crush forming at the bottom of the pancakes. Flatten pancakes slightly and cook the other side as well until it turns brown.
Transfer to plate and serve with sour cream and chives.
Check out the following video to learn how to make instant mashed potatoes at home: