Banana, a perennial herbaceous plant, grows in humid, tropical environment. Thought to be originated in the Southeast Asia, it is one of the most loved tropical fruits now being cultivated in the tropical and subtropical regions. It is possible to find different varieties of bananas throughout the world. They range in color from yellow to brown and in size from four to nine inches long. They may be between 70g and 150g of weight. Cavendish bananas with yellow color and smooth skin are the most common ones found in the world. Eating bananas has many benefits, but you will enjoy it more when you make a banana shake. Keep reading to learn more about some of the most impressive banana shake benefits.
Healthy Benefits of Banana Shake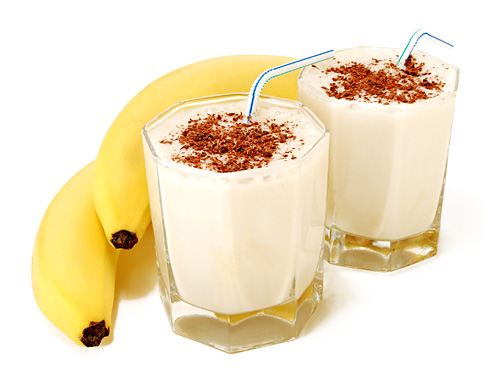 Many people prefer banana shakes over other types of milkshakes because they know the true benefits of bananas and milk. Here is a bit more about why it's a great choice by explaining 4 banana shake benefits:
Quick Meal and Snack: Energy Boost
Are you always in a hurry in the morning and thinking of skipping breakfast? You need energy in the morning to stay charged up throughout the day. Instead of having a breakfast, you can always start your day with a banana milkshake. Similarly, if you need a snack during the day, you can always opt for a banana milkshake to save yourself from having fat-laden snacks.
Healthy Calories, Fibers and Protein
Just half cup of sliced bananas and a cup of fat-free milk used to make a milkshake will provide you with 160 quality calories. It also contains loads of protein and fiber–you will get a gram of protein and 9g of fiber from a half-cup serving of banana, whereas milk offers 8g of protein. A glass of banana milkshake will also provide you with 29g of carbohydrates–a serving of banana has 17g of carbs and a cup of milk contains 12g of carbohydrates.
Minerals
Milk contains potassium, calcium, and magnesium. You will get 29% of your daily calcium requirement from a cup of skim milk. Bananas are also rich in potassium and a half-cup serving provides you with 11% of your daily requirement. Potassium is important for your heart and calcium helps you have stronger bones and teeth.
Vitamins
You will get 54% of your recommended intake of vitamin B12 from a cup of skim milk. This protects you from problems such as tiredness, anemia, depression, and constipation. On the other hand, bananas offer 10% of your recommended intake of vitamin C, which plays a role in boosting your immune system. It also helps lower your blood pressure.
Banana Shake for Weight Loss & Weight Gain
Even though people know about banana shake benefits, they are reluctant to use it because they think it will cause weight gain. That is not true actually. The presence of nutrients mentioned above makes bananas a wholesome fruit. Interestingly, you can enjoy bananas whether you are trying to lose weight or trying to put on some pounds. Here is more about it:
For Healthy Weight Loss
A single banana has about 108 calories with 17.5g of carbs, which are extremely important for proper functioning of your body. Since bananas are loaded with vitamins, minerals, and fiber, they really help keep you fuller longer. This keeps you from overeating. Bananas are also low on glycemic index, so they actually help regulate blood sugar levels and keep hunger pangs at bay. You just need to control the serving size to enjoy its benefits while trying to lose weight.
For Healthy Weight Gain
Since bananas have good amount of calories, you can eat more to gain weight in a healthy way. Going for banana milkshakes is even better because it helps you enjoy several other banana shake benefits. Bananas have vitamin B6 that improves blood circulation and encourage production of healthy red blood cells.
How to Make Your Own Banana Shake
To enjoy banana shake benefits, you can make it easily at home.
Ingredients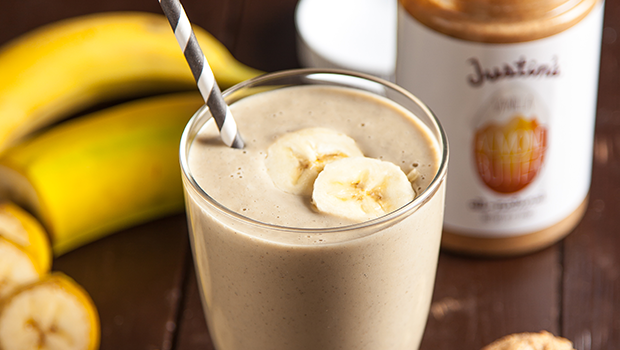 A couple of bananas
A cup of ice
Half cup of milk
2 ½ tsp of sugar
A scoop of vanilla ice cream
1 ½ tsp of vanilla extract
6 chopped almonds
Instructions
Get a blender and put two sliced bananas into it. Use frozen bananas for better results.
Add a cup of ice and half cup of milk to the blender. Go for crushed ice to make your shake quickly. Use milk as per your need–you can opt for low-fat milk if you are trying to keep your weight in check.
Add a scoop of ice cream to the blender. You can be creative here and use chocolate, peanut butter, strawberry, mango, coconut, or coffee.
Now take at least six almonds (chopped) and add them to the blender for a bit of texture. You can even use half cup of quinoa, oats, or peanut butter in place of almonds.
Start your blender and let it work until you get a smooth mixture. Let it work for a couple of minutes and then add some sugar for taste.
Pour into frosted mugs and enjoy!