Apple cider vinegar is easily found in most homes. It adds a great taste to salad dressings, marinades and homemade pickles. In addition to this, apple cider vinegar has numerous health benefits as well. According to folklore, apple cider vinegar can help cure a wide range of conditions, including warts and flu. Although most of the health benefits of apple cider vinegar have yet to be proven, but according to experts, adding this vinegar to your routine foods can help you become healthier than before.Let us explore the benefits of apple cider vinegar as well as some of the best brands like Bragg apple cider vinegar.
Apple Cider Vinegar Benefits
Here are some of the major benefits of using apple cider vinegar.
Excellent source of potassium: Adults often find it difficult to fulfill their dietary requirement of potassium. It is a key nutrient required for your normal growth and development, transmission of the nerve impulses and muscle development. It also helps with blood pressure as well as cardiovascular health. Additionally, it prevents the occurrence of brittle teeth, runny nose and hair loss.
Rich source of acetic acid: It slows down the breakdown of starch that can decrease the rise of glucose in your body that often takes place after you eat a meal.
Good source of ash: Apple cider vinegar is concentrated in ash that gives it alkaline nature. An alkaline pH helps in stabilizing the pH levels of your body for maintaining a healthy state. Your body cannot work efficiently when its pH becomes highly acidic as it increases the chances of the production of free radicals that can result in different medical conditions.
Good source of malic acid: ACV also contains malic acid that provides it with anti-fungal, anti-bacterial and anti-viral properties.
In addition to providing your body with the aforementioned nutrients, best ACV brand like Bragg apple cider vinegar also provides it with the following benefits.
Regulates bad cholesterol and high blood pressure
Improves bowel irregularity in the body
Quickly removes toxins from your body
Clears blemishes from skin and improves other skin related conditions
Breaks down fats at an accelerated pace, thus helping you lose weight quickly
ACV can also slow down the growth of cancer cells and even kill them according to certain studies
Helps in relieving joint and muscle pain produced due to exercise
Helps in decreasing the blood glucose concentration, particularly in diabetic patients as proven by study included in the Diabetes Care journal in 2007
Helps relieve heartburn naturally
To benefit from these benefits of apple cider vinegar, you should make it a compulsory part of your routine diet.
Which Brand of Apple Cider Vinegar to Buy?
Apple cider vinegar is different from the white vinegar which is used for cooking, washing and cleaning purposes. To enjoy the health benefits of apple cider vinegar, you should get it in its pure form by considering the following factors.
Unfiltered: Unfiltered ACV contains 'mother' of vinegar, which is a muddy, strain-like, grainy substance that appears at the bottle's bottom. It starts floating when the bottle is shaken. It is the basic essence of ACV and is rich in enzymes, which is why the ACV you buy must be unfiltered.
Unpasteurized: Pasteurization kills both, good and harmful bacteria, so you must always opt for unpasteurized ACV.
Organic: It is better that you purchase ACV made using organic apples as they contain naturally occurring sugar and are free of pesticides. Moreover, companies that make use of organic apples usually follow the correct procedures for making ACV.
Make sure to look for these properties in ACV while buying it. Now, let us move on to discussing a few brands of apple cider vinegar, so you can decide which one to get the ACV from.
Bragg Apple Cider Vinegar
Bragg apple cider vinegar is one of the most famous and oldest brands of ACV. It is one of the best quality and most trusted apple cider vinegars in the market as well. It was the brainchild of Paul C. Bragg. He served as an advisor to numerous Olympians. The company Bragg is based in California and they use apples produced from within the country. This gives them better control and authority on the properties and quality of the apples they use. It is made using organic apples, which is why their ACV is free from pesticides and arsenic. Moreover, wooden barrels are used for making Bragg apple cider vinegar that enhances the natural fermentation properties of this vinegar. Additionally, Bragg offers a wide range of apple cider vinegar.
Vitacost Apple Cider Vinegar
Vitacost is a company well known for its beneficial health products. Apple cider vinegar is one of the healthful products this company produces and sells. Vitacost is a retailer of the various different ACV brands, including Dynamic Health and Bragg.
As per the claims of Vitacost, their ACV is produced using fermented, 100 percent organic and fresh apples. It is unfiltered and unpasteurized, which is why it contains the mother of vinegar and has a brown/ amber color. It has a string-like appearance. No artificial flavor, color or extra sugar is added to Vitacost ACV. It is perfectly suitable for all sorts of vegetarians and is kosher as well. It is also cost-effective, so if you want affordable, but good quality ACV then you could consider getting Vitacost ACV.
Fleischmann's Apple Cider Vinegar
Fleishmann ACV originates from California. Fleischman started producing vinegar during 1920s. The company then decided to make use of alcohol created by the yeast growth of the bakers. The company then ventured into the business of specialty vinegar and began producing ACV. The products use only the best freshly-pressed organic apples.
Dynamic Health Apple Cider Vinegar
Dynamic Health offers a huge assortment of health products and supplements that are halal-certified and kosher. The company was created during 1994 and is well-known for producing organic health products that are easily available in the form of both, capsule and liq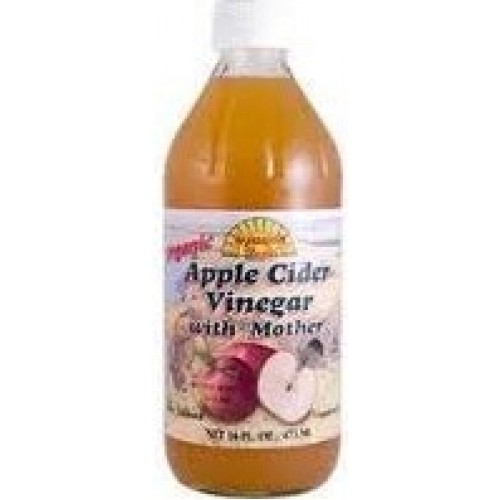 uid. The ACV produced by Dynamic Health gives you excellent bang for your buck.

All the four brands of ACV discussed above are quite good as they sell unfiltered, organic and unpasteurized ACV made from fresh apples. The ACV of these brands does not need to be refrigerated. However, you must keep it in a shady area away from sunlight and buy it in good quality glass bottles rather than buying it in plastic bottles.
How to Drink Apple Cider Vinegar for Best Results
Here are some tips that will help you get the maximum benefits from ACV.
Never drink it directly as its acidic nature could adversely affect your esophagus and tooth enamel. Instead, you could mix it with a garlic clove, lemon juice and parsley to make a great salad dressing. You could also mix it in water and honey and drink for weight loss.
Dilute when drinking. Make sure to avoid drinking it too often. Dilute about two tablespoons of ACV in about one to two glasses of water and drink it twice a day.
Drink it every night to reduce the blood glucose level by about four to six percent.
Drinking it prior to eating a meal reduces the spikes in glucose and insulin levels.
You can drink it with juices and teas for decreasing high blood pressure.
FAQs About Apple Cider Vinegar
Describe the mother's nature.
It is a cloudy, dark substance formed in the apple cider vinegar from the apple and pectin residues in the vinegar. It looks like big protein molecules connected to each other in the form of a chain. If the mother is present, then it means that the ACV's best part hasn't been destroyed. Vinegars that contain the mother are rich in minerals and enzymes that the over-processed, over-heated and filtrated vinegars don't contain.
Can we drink/ eat the mother?
The mother of the vinegar is undoubtedly the most beneficial and nutritious part of ACV. Hence, you can drink it after shaking ACV.
Is ACV protected against E.coli bacteria since it is not pasteurized?
Apple cider vinegars like Bragg apple cider vinegar is free form E.coli bacteria because its acidity is strong enough to kill the bacteria's 0-157 strain.