Did you know that our nails and hair are made up of protein? They are made up specifically of collagen and keratin, which are two vital proteins found in our bodies. Over time, our body loses protein – we have to keep replenishing it. That's why "It Works" comes in. This blend of plant-based nutrients, minerals and vitamins is designed to support the health of your hair and nails, and it also helps your skin. Not sure how it works or how well it does? You can learn a great deal more through the It Works hair skin and nails reviews below.
What Are the Ingredients in It?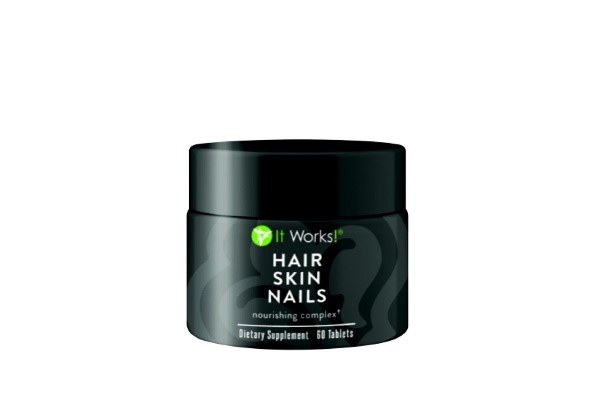 It Works comes in pill (tablet) form. One serving is two tablets. This is what you get when you swallow two of these great protein enhancers:
5,000 mcg of Biotin: This is a B-vitamin that is great for cell growth and metabolism of amino acids and fats. The most common use of biotin is to strengthen hair and nails. Biotin is also found in small quantities in most foods.
Horsetail extract: This herbal extract is actually natural silica. It helps with circulation, as well as overall blood flow, and that stimulates the hair follicles.
200 mg MSM: This is methyl-sulfonyl-methane; an organic compound whose main ingredient is sulfur. Sulfur is in every cell we have, and is a great producer of collagen. This particular compound is derived from certain plants.
Other ingredients: It Works also includes pantothenic acid, selenium, manganese, zinc, and vitamins C, E, and B6. You will also be taking a Japanese seaweed blend, algae extract, olive fruit extract, melon pulp extract, goji fruit extract, grape seed extract, Fo Ti root, and amla fruit extract. These are all designed to help with the growth of hair, nails and skin.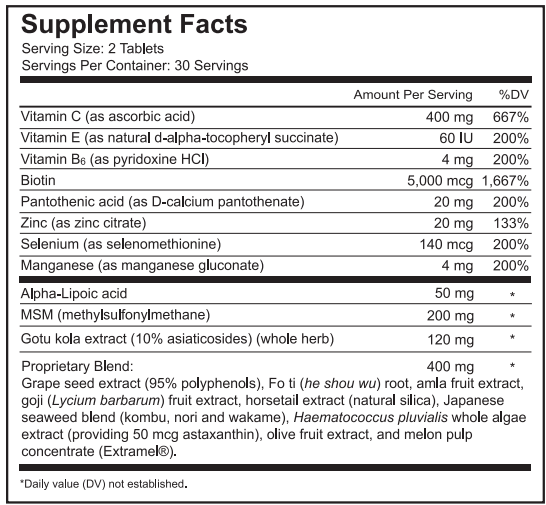 Reviews from Customers on Amazon

The It Works hair skin and nails reviews will help you decide if this product is right for you. Here's what others had to say:
5 Star Reviews
"My stylist recommended this for me. I was skeptical at first, but within a month I began to see results! My hair was breaking much less, and a month after that it looked and felt fuller. My nails also split much less than they used to."
"My hair grows much faster now. Honestly, I would pay any price for this product. It works much better than I expected it would."
4 Star Reviews
"I can feel it working, though not as quickly as I had hoped. It seems like a miracle drug if you just give it some time! I take it along with extra biotin and collagen to get a better boost."
"My hair and nails are awesome, but I have had some peelign skin on my face and hands. It's nothing that lotion can't handle, but it is a bit odd…"
3 Star Reviews
"I was happy with the product, but upset that I had to pay so much for it. It works very well, but I wonder if I could get the same thing by buying all of the supplements at the store for less price. Either way, the product gives me longer and fuller hair, and it seems like I have seen some changes in my nails too – they seem stronger."
"I haven't had much change in my hair, but my eyelashes look amazing and my nails look good, too. I wonder if it starts to work on the other parts of your body before it kicks in on your hair? But it does make my face break out."
2 Star Reviews
"I haven't noticed much change at all. Certainly not enough of a change to justify the high price for the bottle of this stuff. The only good thing is that you are supposed to drink a lot of water along with the tablets, and I'm much more hydrated now, but that's just about it."
"It says that it makes hair stronger, but I have noticed weaker hair. It grows very fast but the strands are smaller and weaker and so they break very easily when I brush. I have all sorts of weird ends on my hair that weren't there before. Frankly it looks awful."
1 Star Reviews
"This absolutely does not work. I have tried it for three months and there was absolutely no change, except some serious acne breakouts. I haven't had that happen since I was a teenager, the only thing that changed was the It Works stuff, so that's what it had to be. This product was a huge waste of money."
"This product is dangerous! I have read numerous It Works hair, skin and nails reviews, and I never saw anyone say they got sick, but I did. It contains well over 1000% of the daily biotin recommended, and do you know what happens when you take big doses of biotin? You overdose! I was bloated, felt terrible, had migraines, serious acne, peeling skin, and much more. Turns out those are all signs of biotin overdose. Do NOT take this product if you value your health!"
These It Works hair skin and nails reviews may just help you decide whether you want to try it or not, and only after trying, you can get a better understanding about it.