The Weight Destroyer Program is a weight loss plan designed to help an individual feel energized throughout the day. Michael Wren wrote the downloadable eBook (PDF) with the goal of providing you a "thermo-genic" weight loss method that teaches you how to shed body fat, reverse the aging process and lower your risk of disease. Unlike other diet plans that focus on calorie intake, Wren put emphasis on how your body loses and keeps weight off by changing your metabolism.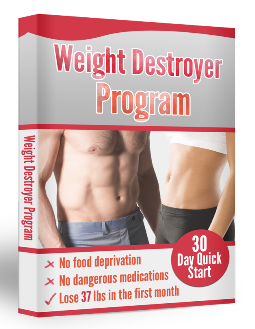 What Is Weight Destroyer Program?
The Weight Destroyer Program is claimed to be designed to make you healthier while you lose unwanted pounds. Because it concentrates on finding the right balance within you, your body will burn calories at a higher rate and restore your well-being.
The program gives you a guide on how to determine the foods you need to avoid, which ones are best for you and how to keep track of your health condition. To start you off running, the program provides a quick-start plan which will teach you how to put all your new knowledge into play during your daily routine.
The program is available for $39.95 and as soon as your payment is processed, you can immediately download it. Because it is a Clickbank product, it comes with a 60-day satisfaction guarantee. If it does not work for you, simply send an email to request your refund.
How Does Weight Destroyer Program Work?
Michael Wren's approach is based on the thermos-genic principle that increasing your metabolism will help you burn fat faster. Your metabolic rate rises by 12 % for every degree your body temperature rises. You can achieve this state by following the program which includes guidelines on unrestrictive foods you can include in your diet.
1. Select Foods that Boost Metabolism
Wren throws out the common approach of counting calories and has devised a weight loss program that boosts your metabolism while improving your overall health. You will be shocked to find out that typical "healthy" foods are not part of the plan. Instead of fruits, vegetables, low carbohydrates and low fat, the author includes starchy foods, good fat and salty fares in order to increase your energy level, jumpstart your metabolism and burn more calories.
2. Reduce Exercise
Instead of long and tedious workout sessions, Wren recommends 30-minute weight training workouts. The Weight Destroyer Program teaches you that anything longer will thwart your metabolism. Long workouts can also increase the level of free radicals in your body, which can lead to cardiovascular diseases, premature aging and high blood pressure.
3. Limit Excessive Water Intake
Unlike most diet plans, drinking water should be restricted when you are thirsty. Wren uses nature as an example. Animals do not drink just because water is in front of them, only when they are thirsty. He also argues that clear urine does not always mean you are in good health.
4. Optimize Your PH Acidity and Thyroid
Your thyroid regulates all the basic functions of your body. Your pH acidity is affected by a combination of fat and protein consumption. By finding the optimal levels of these two important aspects of your body, you can lose fat and find balance. This will lead to a healthier lifestyle with good blood pressure and metabolism.
Is Weight Destroyer Program Right for You?
As with any diet or weight loss program, there are varying opinions on their effectiveness. You should look at both the positive and negative sides and choose if the program is right for you.
Positive Reviews of the Weight Destroyer Program
1. Natural and Simple
This program uses a natural approach to your overall well-being and good health while you lose weight. The framework is easy to follow and it does not push the use of supplements or medications. It does not require you to count calories or follow strict exercise plans. Because it is easy to incorporate in your daily routine, the chances of staying on the program are greater.
2. Promote Good Health in the Long Run
Instead of shocking your body into storing fat like typical weight loss plans, the Weight Destroyer Program is designed to increase your vitality and balance your metabolism. It recommends healthy foods that assists with cellular absorption and converting foods into energy. This method not only promotes weight loss, but also stimulates good health.
3. Individualized
Wren developed the program so it can be individualized. It is not a one-size-fits-all plan! It will guide you on how to keep track of your metabolic rate and show you how to use this information to adjust your dietary needs. To help you improve your health quickly, the program starts with a 30-Day Kick Start Plan.
4. Affordable and Riskless
The Weight Destroyer Program is a plan which recognizes your grocery bill can quickly add up. The plan does not cost a lot and neither does the food it recommends. There are no membership fees or monthly subscriptions. It only takes a one-time payment plan to give you all you need to lose weight.
5. Easily Accessible
When you purchase the program, you can instantly download it to your computer, tablet or any other mobile device. Included with the plan is an 89-page bonus eBook with healthy recipes to incorporate in your diet. It also provides a food substitute list in case you suffer from food allergies.
Negative Reviews of the Weight Destroyer Program
1. Too Much Weight Loss
The CDC (Centers for Disease Control and Prevention) recommends losing 1-2 pounds a week for healthy weight loss. Since the Weight Destroyer Program states that it can help you lose 30 pounds in a month, it has been feared that this rate of weight loss is dangerous and could lead to serious health conditions. Before starting the program, you should consult your doctor about potential health consequences and if the plan is right for you.
2. Marketing Tactics
The Weight Destroyer Program touts that it is a groundbreaking plan which will change the health of the world. However, many wonder if it is perfect, why no scientific and medical community embraced its philosophy. Some question that if it will benefit the world in such an immense manner, why isn't Wren giving the information freely to the public.
3. Fake Reviews
Clickbank products have numerous affiliates that act as outlets for the same products. Since Weight Destroyer is a part of this program, it falls under the umbrella of the affiliates. Many set up websites which list fake positive reviews of the products they sell. Therefore, it is difficult to get a clear understanding of the program.
4. Contradictions
There is a lot of contracting information in the program. In one part, it states to avoid vegetables, but in another section it says to have 2 servings of vegetables a day. The plan also advises against processed foods including white flour, but there are recipes that list white bread as an ingredient. Users get confused by the instructions because there are typos and serving sizes are omitted.