Bed bug bites are quite common. Getting bug bites when sleeping can affect the quality of your sleep and lead to health problems. Fortunately, it is possible to take some steps to keep bugs away from your bedroom.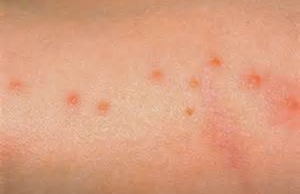 How to Avoid Bug Bites While Sleeping
1. Replace Your Sheets
It is important to wash or replace your sheets regularly to keep bugs and insects from biting you at night. Generally, it is good enough to wash your sheets at least once a week. While washing your sheets, use hot, soapy water and then put them in the dryer for some time.
2. Change Your Bed Frame
This may help in case you have a wooden bed frame and are dealing with a bad case of bites. Simply switching to a metal frame will help resolve the issue. If possible, avoid a bed with a headboard because it serves as a perfect breeding ground for insects. Use a metal headboard if you really need one.
3. Use Vacuum Cleaners Regularly
You should be vacuuming the area around your bed thoroughly to avoid bed bug bites while sleeping. Vacuum your mattress, carpets, and everything else in your room to get rid of bed bugs. Be sure to use special attachments for the vacuum to get bugs out of hard-to-reach areas.
4. Keep Your Sheets Tucked Under the Mattress
Bugs can scurry into any opening in your bed, which is why it makes great sense to keep your sheets tucked between the box spring and the mattress. It works because bed bugs cannot jump or fly.
5. Sleep Under the Covers
One way to avoid getting bitten at night is to sleep under the covers. It helps because bed bugs cannot bite you through the thick layer of fabric. They usually attack your exposed skin only. By covering your skin, you will be denying them a blood meal.
6. Do Not Let Water Pool Near Your House
No matter what you do to get rid of bugs, they will return when you do nothing to eliminate standing water from your home. You should take steps to avoid accumulation of water in your house.
Do not let water pool in trashcans – simply drill holes in these containers. Be sure to change your pets' water bowls and birdbaths often. Also, it is important to avoid leaving pans, pots, or full glasses of water out.
7. Seal Your Home Properly
To avoid getting bed bug bites while sleeping, you should take steps to keep bed bugs from entering your home. This may involve taking several steps to seal your home well.
Start by closing all cracks and crevices near wiring or bare plumbing. Use silicon or acrylic latex caulk to fill holes around your windows or doors. Moreover, it will really help keep bugs away when you improve your general sanitation.
8. Use Bug Repellents
Using a repellent really helps lower the chances of getting bitten while sleeping. Be sure to use products that are safe – certain repellents can cause skin irritation and allergic reactions. Ideally, you should be going for products that contain picaridin or DEET.
Repellents should only be applied to exposed areas to avoid any problems; don't spray under your clothes. Apply it to your hands and then rub on the face – do not let it touch your eyes. Ask a professional if you do not know which repellent is safe for you and is effective against the types of bugs you are dealing with.
9. Work with Professional Exterminators
When you have taken all the steps and have failed to stop the bug bites while sleeping, you may consider hiring a professional exterminator.
Be sure to take your time to select the best service provider. Ask for references and look for exterminators who can offer eco-friendly treatment options. You may also want to talk to your landlord before using any professional services – they may agree to share the cost of clearing an infestation.