Oatmeal is a highly recommended breakfast choice, which can help you start your day in a powerful way; however, oatmeal itself is not enough. You should always combine it with other ingredients to make it more nutritious. Hence, the question arises – how to make healthy oatmeal?
General Guidelines for Making Healthy Oatmeal
Use steel cut or rolled oats. This is because quick-cook oats are heavily processed and low in fiber that can result in blood sugar spikes, making you feel tired and fatigued.
To the oats, add only 1 serving of your favorite fruit: the key here is to add only 1 serving of fruit.
1 medium/small banana
¼ cup dried fruit
½ cup berries
Now add 1-2 servings of healthy fat. Healthy fats (along with protein) are your best choice to prevent the post-oatmeal spike in blood sugar. Moreover, healthy fats are also a good source of vitamins and minerals.
¼ cup seeds or nuts
1-2 tbsp. ground chia seeds or flaxseeds
1 tbsp. nut butter
1-2 tbsp. raw cacao nibs
2-3 tbsp. unsweetened pieces or shreds of coconut
Avoid the sugar, particularly artificial sugar. The fruit provides enough sugar to your oatmeal; however, if you really require some added sugar, opt for ½ tsp. brown sugar or honey.
Healthy Oatmeal Recipes
How to make healthy oatmeal? Try the following oatmeal recipes.
1. Apple Pie Oatmeal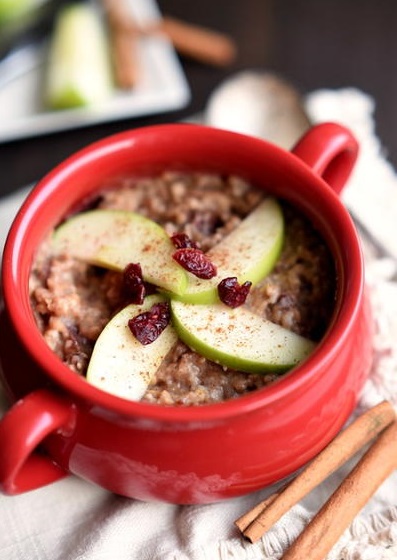 Ingredients
1 cup steel cut oatmeal
2 cups milk of almond
2 tsp. cinnamon
1 apple cut into thin bite size pieces
2 tsp. maple syrup
1 cup apple sauce, unsweetened
Directions
Take a medium-sized sauce pan and add oat meal, almond milk, maple syrup and cinnamon.
Heat on a low flame, stirring in between, till most of the almond milk is absorbed. Now stir in the apple sauce.
You can add the apples now if you like them soft, or you can add while serving if you want them crunchy.
Once all the milk and apple sauce are absorbed, around 15-20 minutes, you can remove the pan from heat. Serve hot.
2. Brown Sugar and Maple Oatmeal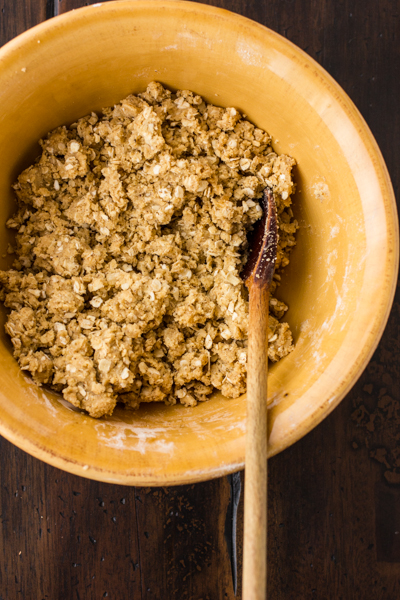 Ingredients
½ tsp. cinnamon
½ cup steel cut oats
½ tsp. brown sugar
1 tsp. maple syrup
Directions
Boil 1 cup of water in a saucepan, add cinnamon and oatmeal and make the heat low.
Keep stirring until all water is absorbed. Stir in the maple syrup.
Remove the contents to a bowl, and sprinkle some brown sugar. Serve.
3. Raisin Oatmeal Cookies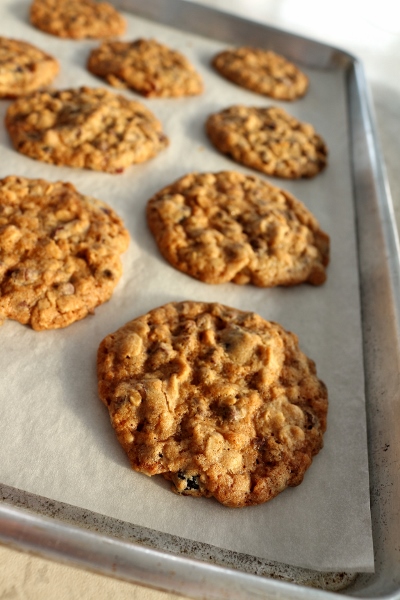 Ingredients
1 tsp. cinnamon
1 cup raisins
1 egg
2 cups quick oats
1 tsp. vanilla extract
½ cup apple sauce, unsweetened
¾ cup all-purpose flour
¼ tsp. sea salt
½ tsp. baking soda
2 tbsp. butter (unsalted)
1 cup light brown sugar
Directions
This recipe can be a perfect answer to the question, how to make healthy oatmeal.
Spray baking spray on 2-3 cookie sheets. In a bowl, combine baking soda, flour, salt and cinnamon.
In a standing mixer or large bowl, whip sugar and butter, and stir in vanilla and egg.
Add in water and apple sauce. Now add the flour mixture and mix. Add the raisins and oats, and mix.
Put the mixture in fridge for a minimum of 15 minutes or overnight.
Preheat the oven to 350 degrees Fahrenheit, use an ice cream scoop to dollop out cookie dough of tennis ball size, and give enough space for little spreading.
Bake the cookies for 15-18 minutes or until golden brown in color.
4. Cream and Strawberries Oatmeal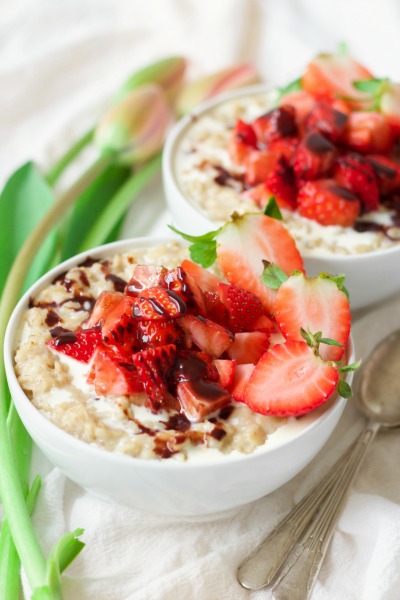 Ingredients
½ cup steel cut oats
1 cup water
1 tsp. cinnamon, ground
½ cup strawberries, chopped
1 tsp. balsamic vinegar
½ tsp. vanilla extract
1 tsp. honey
2 tbsp. Greek yogurt
Directions
Try this recipe and find answers to your question, how to make healthy oatmeal.
In a small pan, add oatmeal, water and cinnamon and bring to a boil.
In a bowl, add balsamic vinegar and strawberries; use the back of a fork mix and smash to get a strawberry mush.
Now add vanilla, yogurt, honey and mix.
Once the oatmeal absorbs all the water, add the strawberry mixture and the mix. Cook for a minute, and then remove from heat. Serve.
5. Banana Strawberry Oatmeal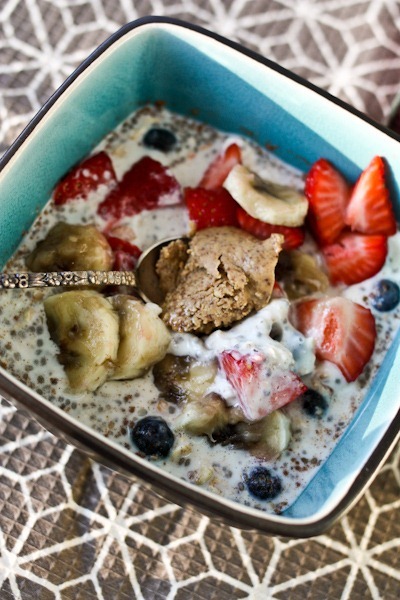 Ingredients
1 banana, thinly sliced
Water
4 strawberries, thinly sliced
2 tsp. honey
1 cup quick oats
½ tsp. cinnamon
¼ tsp. nutmeg, ground
Directions
In a saucepan, boil the water, and then add cinnamon, oats and nutmeg.
Reduce the flame to low, and continue stirring until oats absorbs all the water.
Remove from heat and stir in honey. Put sliced bananas and strawberries on top and serve.
6. Double Chocolate Oatmeal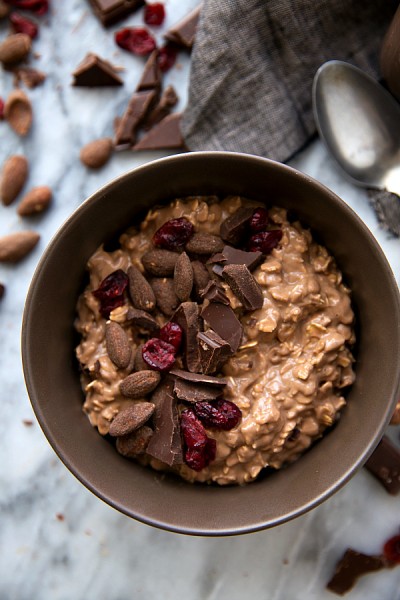 Ingredients
1 cup steel cut oats
2 cups almond milk
2 tbsp. cocoa powder
2 tsp. vanilla extract
Dried cherries or cranberries (optional)
2 tbsp. chocolate syrup (homemade)
1 tbsp. nuts such as almonds
Directions
Take a saucepan and add oatmeal, almond milk, cocoa powder, vanilla and dried cherries and cranberries.
Place on low heat and let it simmer for 15-20 minutes.
Place into two bowls and put nuts and chocolate syrup on top. Serve.