Traditionally used to make pilafs and tabbouleh, bulgur wheat is originally a staple of Middle Eastern cuisine but is not an increasingly popular choice for people in the United States. It has a chewy texture with a mild, nutty taste. It is made after simmering and baking whole-wheat kernels. They are sometimes kept whole, but they can also be cracked or crushed. Cracked wheat is not the same as cracked bulgur because you need more time to cook cracked wheat.
Is Bulgur Wheat Healthy?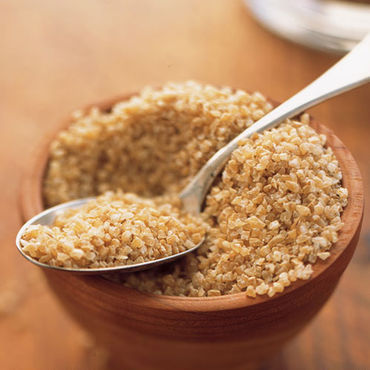 Yes, it is. You can include it in your diet because it is 100% whole wheat but prepared in a specific way to decrease cooking time. It is a great source of protein, fiber, vitamin B6, and iron. It is also low in fat and calories, which is another reason it can always be a part of your weight loss diet. A cup of brown rice has more calories, more fat and less than twice the insoluble fiber as compared to a cup of bulgur. That is why bulgur proves extremely beneficial for your cardiovascular health.
Nutritional Facts of Bulgur Wheat
Is bulgur wheat healthy? It definitely is, but that is mainly because of its nutritional value. A cup (182g) of cooked bulgur wheat has 151 calories and the following nutrients. The percent daily values apply to you if you are on a 2,000-calorie diet.
| | | |
| --- | --- | --- |
| Nutrients | Amount | % Daily Value |
| Fat | 0.1g | |
| Polyunsaturated fat | 0.2g | |
| Saturated fat | 0.1g | |
| Monounsaturated fat | 0.1g | |
| Cholesterol | 0mg | |
| Sodium | 9mg | |
| Potassium | 124mg | 3% |
| Carbs | 34g | 11% |
| Sugar | 0.2g | |
| Dietary fiber | 8g | 32% |
| Protein | 6g | 12% |
| Calcium | | 1% |
| Iron | | 9% |
| Magnesium | | 14% |
| Vitamin B6 | | 14% |
Why Is Bulgur Wheat Healthy?
1. It Reduces Inflammation
Regular consumption of bulgur wheat helps alleviate chronic inflammation and protects you from many diseases. It contains a metabolic called betaine, which reduces concentrations of homocysteine that leads to osteoporosis, diabetes, Alzheimer's disease, and heart disease.
2. It Lowers Your Risk of Type 2 Diabetes
As it is a rich source of magnesium, it helps improve your body's ability to use glucose and produce insulin. It is a low glycemic food and does not lead to a sudden spike in blood sugar.
3. It Promotes Digestive System Health
It has a laxative effect on your digestive tract and makes it easy to have a bowel movement. It is also a rich source of fiber, which adds bulk to your stool and prevents you from dealing with issues such as constipation and hemorrhoids. It also proves beneficial against issues such as abdominal pain, nausea, gas, and bloated abs.
4. It Protects Against Childhood Asthma
Research shows that regular consumption of bulgur wheat or whole grains in general may help reduce the risk of childhood asthma by 50%. It happens mainly due to the presence of vitamin C, vitamin E, and other antioxidants in bulgur wheat that reduce narrowing of the airways.
5. It Supplies Important Minerals and Vitamins
Regular consumption of bulgur wheat will provide you with more magnesium, manganese, B-vitamins, and iron. Magnesium is essential for heart health because it dilates blood vessels and makes circulation better. It also repairs muscles and prevents high stress levels. Iron on the other hand helps prevent anemia and provides you with enough oxygen to stay active throughout the day. Moreover, you need B-vitamins for a healthy metabolism and cognitive function.
6. It Lowers Gallstone Risk
Bulgur wheat is healthy because it has insoluble fiber that makes food pass rapidly through the intestines, which in turn lowers gallstone risk. It also makes it easier for your body to use insulin and lower triglycerides. The fiber content of bulgur wheat also makes it effective against diverticular disease.
Mouthwatering Recipes to Try
Is bulgur wheat healthy? It certainly is. However, you need to learn a few different ways to include it in your diet and get maximum benefits. Here are some delicious recipes to try.
1. Bulgur Wheat Salad
Ingredients
Half cucumber (chopped)
A finely chopped tomato
A finely chopped small onion
A tbsp. of chopped parsley
Half cup of broken bulgur
¼ cup of boiled chickpeas
A tbsp. of lemon juice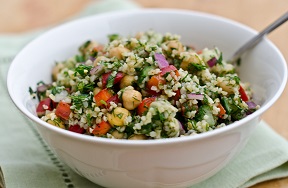 Procedure
Take a glass bowl and add the bulgur to it. Now pour a couple of cups of boiling water in the bowl and use a plastic wrap to cover it. Set it aside and chop all the veggies. Put them in a bowl with lemon juice and chickpeas. After half an hour, fluff the bulgur using a fork and add mix veggies to it. Mix well. Add a pinch of black pepper and salt. Serve!
2. Delicious Bulgur Pancakes
Ingredients
A tbsp. of besan
3/4 cup of bulgur wheat
1/4 cup of curd
Half cup of finely chopped cabbage
A tbsp. of wheat flour
A tsp. of green chili paste
2 tsp. of finely chopped coriander
2 tsp. of oil
A pinch of asafetida
Salt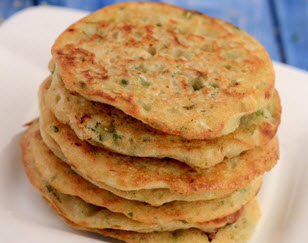 Procedure
Take a cup of boiling water and soak bulgur in it for 15 minutes. Eliminate the excess water. Mix 1/4 cup of water and curd with the bulgur in a blender. Get the mixture in a bowl and add besan, wheat flour, cabbage, green chili paste, coriander, asafetida, and salt to it. Mix well. Now, take an uttapa pan, heat it, and brush some oil on it as well. Pour the mixture on the pan, spread it nicely, and cook until golden brown.
3. Bulgur with Orange and Ginger
Ingredients
2 oranges
2 tsp. of canola oil
2 garlic cloves
2 tbsp. of fresh ginger (minced)
A cup of bulgur
2 tsp. of brown sugar
1/3 cup of slivered almonds
1/4 tsp. of salt
2/3 cup of scallions (chopped)
A tbsp. of reduced sodium soy sauce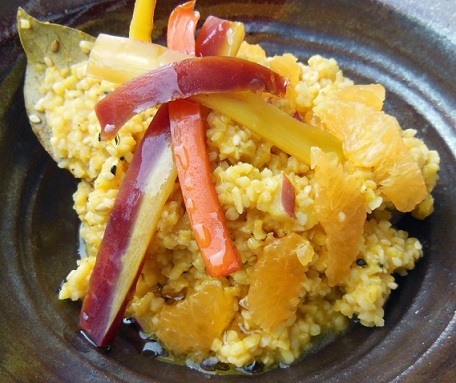 Procedure
Zest an orange and keep it aside. Juice the oranges and water to fill 1.5 cups. Take a large saucepan and heat oil over medium-high heat. Add ginger and garlic to it and cook for about 30 seconds. Now, add bulgur to it and cook. Introduce brown sugar, orange juice, and salt to the pan and bring to a simmer. Reduce the heat and cover the pan for another 15-25 minutes. Now, take a small dry skilled and toast almonds over medium-low heat for a couple of minutes. Add soy sauce, scallions, and reserved orange zest to the bulgur and use a fork to fluff. Sprinkle with almonds. Serve!