Blue waffles disease is nothing but a myth. It's a popular internet hoax
about a sexually transmitted disease affecting only women. This fake medical condition is supposed to turn a woman's vagina blue. It is however interesting to learn a bit more about the origin of this myth and how it became so popular. Keep reading to learn more about blue waffles disease images and why it's fake.
The Blue Waffles Disease Myth
Many people mention different reasons why the blue waffles disease images surfaced and became popular. One of the most popular theories is that someone might have seen a picture of a woman's vulva after she had used gentian violet to get rid of a y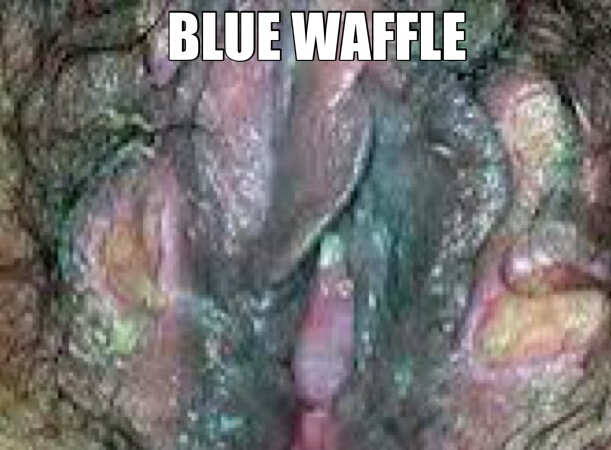 east infection and thought it's a horrific disease. Gentian violet is a highly effective treatment option to get rid of oral and vaginal yeast infections, but it can turn your skin purple. Some people rely on this method because they find it more natural.
The truth is that the color of a woman's vagina cannot turn blue simply because of having sex, unless of course she's been having sex with someone covered in blue dye. Still, it is quite interesting to see how many teenagers actually think that blue waffle is a real thing. The idea became popular so quickly because it goes well with the common narrative that it's wrong for a woman to have a lot of sex.
Prevention of Real STDs
Instead of worrying about blue waffles and checking blue waffles disease images, you should be more concerned about protecting yourself from real sexually transmitted diseases. The best way to avoid STD is to avoid having sex with anyone who has genital sores, discharge, a rash, or other symptoms. You can have unprotected sex but only when both you and your partner have sex only with each other. Still, it is a good idea for both of you to have yourselves tested for STDs before engaging in unprotected sex.
Here are some other precautionary measures you should take to avoid STDs:
You should always use condoms when having sex. Try latex condoms for better protection.
You may want to avoid using condoms with nonoxynol-9 because they may kill the infection-causing organisms but they may also irritate a woman's vagina.
You can use a lubricant, but make sure it is not oil-based. Water-based lubricant is better and won't dissolve your condom.
Wear condoms properly for better protection and reduce your chances of contracting a sexually transmitted disease.
Don't share underclothing and towels with others and wash yourself before and after intercourse.
Get tested for HIV and get a vaccination of hepatitis B.
It is important to understand that though these measures will greatly reduce your chances of contracting an infection, the only way to be sure of not getting infected is to not have sex at all.
Typical Signs of Real STDs
Blue waffles disease images are all fake, but many other STDs do exist in the real world. These diseases can be extremely painful as well as embarrassing. You're more likely to contract these infections when you don't follow safe-sex guideline. The good thing is that it is possible to treat most sexually transmitted diseases, but it is important that you know about your infection early.
You will always experience certain symptoms when you develop an STD. The most common signs are painful intercourse and painful urination. You may also develop open bumps or sores near your genitals or mouth. Swelling and itching in the genital area with unusual discharge may also mean you have an STD. Women may also notice changes in menstruation with fatigue, high fever, and nausea.
If you notice these symptoms, you should not ignore them and go see your doctor for further evaluation. It is true that you can feel safer with regular STD testing and safer sex, but you may still end up contracting an STD if you enjoy an active sex life. So, be sure to get more information about practicing safe sex and learning how to separate hoaxes from the real STDs.