Derived from mature coconuts, coconut milk is a great alternative to regular milk because of its nutrient profile. While it may be high in fat, it can still be an important part of your weight loss diet mainly because it contains vitamins and antioxidants. Interestingly, you can also use coconut milk on hair and skin, and it works because it contains folate, niacin, and other vitamins.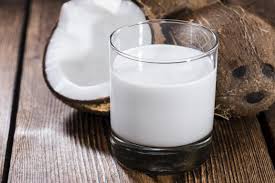 How to Use Coconut Milk for Hair
Coconut milk contains antioxidants, vitamins, and other nutrients that are good for your overall health. It helps improve blood circulation and prevent oxidative damage at the same time. You can also use it to keep your hair healthy. Here are some suggestions:
1. Coconut Milk to Nourish Your Hair
You can apply coconut milk directly on your scalp to have a cooling sensation. It also nourishes your hair by locking in moisture. Simply take homemade coconut milk and apply it to your hair. Be sure to massage for 3-5 minutes and wash your hair after 20 minutes. This will help restore weak, damaged, and dry hair and stimulate hair growth as well.
2. Coconut Milk to Prevent Baldness
You can use coconut milk with many other organic compounds to prevent baldness. Take 50ml of coconut milk and mix it with 100ml of plain water. Now, take some camphor solution (a few tbsp. would do) and add it to the solution. Mix well and apply it directly to your hair. Massage your scalp with this mixture and leave it in for a couple of hours. Use warm water to wash your hair.
3. Coconut Milk to Condition Your Hair
You can use coconut milk in place of your regular hair conditioner. After shampooing your hair as usual, simply take some coconut oil and apply it directly to your hair. Be sure to rub it on your hair from roots to tips. Do not forget the underside of your hair to enjoy maximum benefits.
4. Coconut Milk for Hair Growth
To grow your hair long, you can rely on coconut milk. Simply detangle your hair first and then soak a cotton ball in coconut milk. Apply it directly to your hair, scalp, and tips. Massage your head using your finger and then cover your hair with a hair cap. Remove the cap after 5 hours and wash your hair with your regular shampoo. Do not forget to condition your hair as usual. Repeat regularly to get great results.
5. Coconut Milk to Remove Dandruff
If you are struggling with dandruff, you may consider using coconut milk for good effects. To deal with dandruff, you actually need to use coconut cream. Apply it to your scalp and massage gently for a few minutes. Wash it off with lukewarm water after 20 minutes to remove dandruff. Do not shampoo your hair when using this remedy.
6. Coconut Milk for Dry Scalp
The sebaceous glands are responsible for keeping your hair and scalp moist all the time, but many factors like diet, stress, and environmental factors can limit the production of moisture or sebum. Coconut milk shampoo can help resolve the issue.
Take ¼ cup of coconut milk, 20 drops of essential oils of your choice, ¼ cup of liquid Castille soap and half teaspoon of almond oil. Combine all these ingredients in a jar, shake it well, and use it to wash your hair. You can also add some apple cider vinegar to the mix to improve the quality of your hair.
7. Coconut Milk for Gray Hair
If you have tried different ways to cover your gray hair but are still looking for a better alternative, try coconut milk for hair.
Take 10-12 hibiscus flowers, put them in a pan with 2 cups of coconut milk and boil for 20 minutes. Now, mash the flowers to make a smooth paste. Apply it to your scalp and massage gently for 10 minutes. Used strained hibiscus water to wash your hair after 10 minutes. Finish by washing with cold water. You can also use your regular shampoo. Repeat thrice a week to prevent gray hair.
8. Coconut Milk for Thick Hair
You can combine coconut milk with fenugreek to help grow thick hair. Fenugreek is packed with phytoestrogens that help regulate the balance of progesterone and estrogen in your blood and promote healthy hair.
Take a tablespoon of fenugreek and grind it well to make a smooth powder. Take 2 teaspoons of amla powder and half cup of coconut milk and add it to the fenugreek powder. Combine well to make a paste and then apply that paste on to your hair. Massage gently and then leave for an hour. Use your shampoo to wash your hair.
Can You Make Your Own Coconut Milk?
Coconut milk for hair really helps promote hair growth, but many people wonder if it is better to make coconut milk at home or buy it from stores. Well, it is a good idea to use fresh homemade coconut milk for maximum benefits.
In order to make coconut milk, simply add 4 cups of hot water to 2 cups of grated coconut in a bowl. Ensure that you use boiling water only.
Wait until the mixture cools down. Now, take a sieve lined with two layers of cheesecloth and strain the mixture into another bowl. Be sure to squeeze the cheesecloth hard to get whatever liquid is still there.
You can now bottle it and store in your fridge for up to 4 days. To make it usable up to a couple of months, store it in your freezer.