If you love a cup of coffee in the morning, you are certainly not alone. For so many people, a cup of Joe in the morning is like a ritual. But keep in mind that drinking too much coffee is not good for your health. It means you should never have 4-5 cups of a regular blend a day. It is recommended that developing teens avoid caffeine as much as possible, and under no circumstances should they be drinking more than 100 mg caffeine a day.
Coffee with High Caffeine Content
Heavy caffeine intake – more than 500-600 mg a day – can cause several side effects. You may develop problems such as restlessness, nervousness, insomnia, digestive problems, irritability, muscle tremors, and fast heartbeat. Therefore, it makes great sense to know more about your cup of coffee; in fact, having some information about coffee that has high caffeine content can actually help you control your caffeine intake.
1. Nescafe Ice Java – 117.6 mg/ounce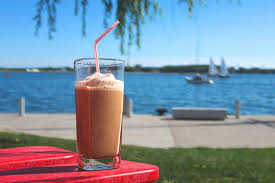 It is actually a type of syrup that you need to mix into milk or another beverage of your choice. A 470 ml bottle provides you with 1880 mg of caffeine, which means you should only be using no more than 2 tablespoons at a time. Even a small 0.85 ounce serving provides you with 100 mg of caffeine.
2. Chameleon Cold-Brew Coffee – 67.5 mg/ounce

Its contents are extremely concentrated. A bottle contains around eight, 40 oz. servings, and each of these servings provides you with 270 mg of caffeine. It is unsweetened and you can easily mix it with any beverage of your choice, such as smoothies, protein shakes, milk, and even ice cream.
3. Death Wish Coffee – 54 mg/ounce

It is one type of coffee with high caffeine content, mainly because it is brewed from robusta beans that contain 200% more caffeine. The company guarantees that it will be the strongest cup of coffee you have ever tasted. It has single-serve coffee capsules available for anyone looking for a shot fast.
4. Nespresso Coffee Capsules – 44.4 mg/ounce

While these capsules are a lot more expensive as compared to ground coffee, they are three times stronger as well. You get about 5-6 g of ground coffee out of each capsule. The good thing is that the coffee aroma stays intact after a long time, thanks to the hermetically sealed tops of these capsules.
5. Gloria Jean's Coffee – 33 mg/ounce

The franchises work under the name of "It's a Grind" within the United States. You can find many Gloria Jean's beverages with heavy emphasis on espresso; you can still get about 66 mg of caffeine from a single 2 oz. serving of espresso.
6. Shock Coffee Triple Latte – 28 mg/ounce

This pre-packaged coffee drink deserves to be on the list of coffee with high caffeine content because it contains three shots of espresso. You can also find a mocha version of the same.
7. Starbucks Venti Coffee – 21 mg/ounce

You can find many high-caffeine beverages sold by this leading coffee chain, but this one really packs a good caffeine punch. While it provides you with a good amount of caffeine, it may not be the same in every cup, usually depending on brewing time and other factors.
8. Dunkin' Donuts Large Coffee – 20 mg/ounce

This coffee with turbo shot can provide you with loads of caffeine. This medium-roasted ground coffee is stronger than its original blend. A 20-ounce serving provides you with a whooping 395 mg of caffeine.
9. Biggby Red Eye – 17 mg/ounce

You need something to help you with those red eyes – try this drink which is a strong blend of espresso and normal drip coffee. A cup of it will certainly get your motor running in the morning.
10. Peet's Brewed Coffee – 16 mg/ounce

Thanks to its deep-roast process, Peet's offers a variety of strong tasting coffee drinks. You will get more caffeine from its medium roasts, and that is the reason why the medium-bodied blend is their top seller.
What Factors Affect Caffeine Content?
Knowledge about coffee with high caffeine content helps you determine which one to buy and drink. However, you should also know about the factors that affect caffeine content to be able to make better choices. Here are a few things to consider when buying coffee.
Be sure to check the label and pay attention to the roast type which could be dark, medium, or light. This tells you about the flavor strength – the dark roasts are the boldest in terms of taste. These beans turn dark when they are roasted for long. These darker beans may have a strong taste but they have less caffeine, as caffeine is burned off during the roasting process.
Consider the types of beans roasted. Most brands use robust or Arabica coffee beans. While both types of beans contain caffeine, Arabica beans are much better if you are worried about your caffeine intake.
Consider brewing techniques. Long brewing time results in higher caffeine content. A traditional drip maker can have a longer brewing time, thus delivering a higher caffeine punch. A French press usually brews in a couple of minutes, so it usually contains less caffeine.
Opt according to brands. It may take a bit of research, but you will notice that caffeine content varies greatly by brand. You can check the labels, but if there is nothing mentioned, know that coffee with the most caffeine will usually be the priciest.