Lactose is a milk sugar that requires a special enzyme to properly digest and convert it into glucose and galactose. This special enzyme is called lactase and is found in the intestines. When individuals don't have enough lactase, they are considered lactose intolerant. People with lactose intolerance can suffer from a variety of stomach discomforts when drinking regular milk. Luckily, there is specially designed lactose-free milk.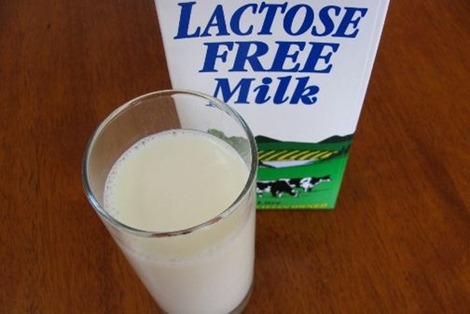 How Is Lactose-Free Milk Made?
Lactose-free milk can theoretically be made in two ways. The first is to remove the lactose from the milk. However, this is difficult; an easier, second option exists. Instead of removing lactose, manufacturers just add the enzyme, lactase, to the milk. This changes the lactose into glucose and galactose, two sugars that lactose intolerant individuals can digest without a problem. This is because the glucose and galactose sugars are smaller than lactose and can therefore be absorbed by the intestines.
How to Make Your Own Lactose-Free Milk
After knowing "how is lactose-free milk made", you can make your own lactose-free milk with the same rule.
Ingredients:
One gallon of milk (any type of your choosing)
Two capsules of Rainbow Light Lacto-Zyme Dairy-Eze
Directions:
Pour two cups of milk into a blender.
Empty both capsules by gently and carefully pulling apart each halve and pouring the contents into the milk.
Blend the milk for about 20-30 seconds so the contents of the capsules are fully dissolved in the milk.
Mix the two cups of treated milk with the remaining gallon and shake thoroughly so the dissolved capsule contents are now fully mixed with the rest of the gallon of milk.
Put the milk in the fridge for 24 hours. Enjoy whenever you want.
Differences Between Lactose-Free Milk and Regular Milk
1. Difference in Taste
Lactose-free milk is sweeter than regular milk. That's because the human tongue can more easily taste glucose and galactose than lactose. Human taste buds simply aren't designed to recognize complex sugars like lactose as easily as simpler sugars. Many people who drink milk with no lactose note that it tastes more "processed" as a result of its sweeter taste.
2. Shelf Life
How is lactose-free milk made? It has been answered. Lactose-free milk lasts longer on the shelf than regular milk, but it has nothing to do with the lack of lactose. Instead, it's due to the fact that milk free of lactose is ultra-pasteurized, by heating the milk to no less than 280 degrees Fahrenheit instead of the lower 170 degrees Fahrenheit for regular milk. This higher pasteurization temperature can extend the milk's shelf life by many weeks.
The reason for ultra-pasteurization is because lactose-free milk doesn't sell as quickly as regular milk and therefore sits on store shelves much longer.
3. Health Benefits
Drinking milk free of lactose doesn't have special health benefits beyond the prevention of symptoms of lactose intolerance. These symptoms can include diarrhea, gas, bloating and nausea.
How to Live with Lactose Intolerance
1. Avoid Sources of Lactose
Lactose is primarily found in dairy products, such as milk, yogurt and cheese. In addition to cow's milks, goat's milk and sheep's milk also have high amounts of lactose.
Some surprising sources of lactose include breads, cakes, chocolate, instant soup, cereal, mayonnaise, butter, cream and processed meats. When shopping, you need to carefully read food labels to see if they contain milk or dairy products.
2. Try Lactose-Free Foods and Drinks
Luckily, there are many foods and drinks that are lactose free. These include milk made of soy, rice, quinoa, potato, and almond. Some yogurts, certain cheeses and carob bars also don't contain lactose. Foods labeled "dairy free" or that are suitable for those with vegan diets are also free of lactose.
3. Take Lactase Substitutes
After reading "how is lactose-free milk made", you now know that certain ingredients can be added to milk to break down the lactose into simpler sugars that the body can digest. Instead of adding substances to milk, they can be put into liquid or pill form and sold as lactase substitutes.
These substitutes can then be added to foods containing lactose, or consumed by an individual before eating foods containing lactose. These lactose substitutes can break down lactose to reduce the symptoms of lactose intolerance.
4. Get Enough Calcium
Being lactose intolerant isn't of itself a nutritional problem since the body doesn't need the lactase enzyme to survive. But if you fail to consume enough dairy products because of lactose intolerance, you will not get enough calcium which is critical for proper growth, blood clotting, muscle regulation and strong bones.
So be sure to eat calcium from other sources, such as spinach, broccoli, tofu, nuts, kale, fish, nuts and anything made with fortified flour.