Sonogram like X-ray is a type of diagnostic imaging technique but unlike x-ray it gives doctors the chance to see soft-tissue images in a safe manner. A diagnostic medical sonographer or an ultrasound technician performs the task of using the diagnostic equipment which makes use of sound waves for taking images of the body.
How Much Does an Ultrasound Tech Make?
Diagnostic medical sonographers earn a median income of $67,530 annually or $32.47 hourly according to the May 2014 Occupational Employment Statistics provided by the Bureau of Labor Statistics. Median is the mark where half earn less and half earn more. The 25th and 75th percentile of sonographers earned up to $55,850 annually or $26.85 hourly and $79,410 annually or $38.18 hourly respectively.
Geography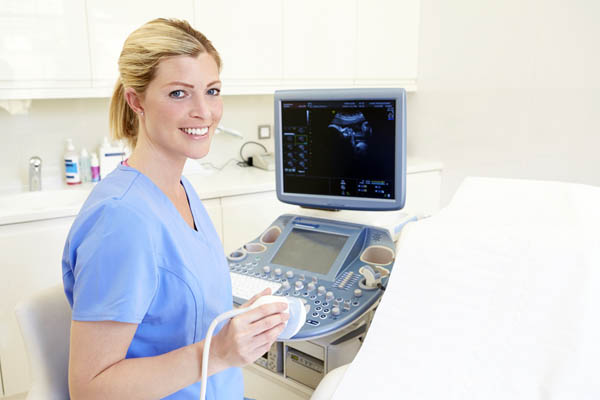 If you are wondering--how much does an ultrasound tech make in different parts of the country, the state-by-state sonographer's wage figures provided by the Bureau of Labor Statistics reveals that Washington boasts of the lowest average wage in the country at $36.69 an hour. California's average wage is the highest at $43.20 an hour or $89, 870 a year. Oregon, District of Columbia and Alaska are among the other states that have a better average wage than Washington.
How to Become an Ultrasound Tech
Overview
Interventional, breast, abdominal, vascular, ophthalmic, OB/GYN and cardiac are some of the many specialties in the ultrasound field. The operator's skills play a major role in ultrasound. This is why an ultrasound technician must know how to use the equipment and have a good understanding of the human physiology and anatomy. Ultrasound technicians perform jobs like choosing and capturing the best possible image, take down measurements, perform calculations and assess the preliminary results during an examination.
Education
How much does an ultrasound tech make really depends on his/her education. Sonography students must complete a post graduate program or an associate degree from an accredit college before they become eligible for the qualifying exams. If you are interested in becoming an ultrasound tech, you should pursue math, computer and science courses in high school.
Training
Training programs for ultrasound techs include both clinical practice and classroom sessions. Clinical practice is where ultrasound techs see, learn and get to practice their skills on patients under the guidance of expert sonographers. You can't take the qualifying exam until you have completed 1000 hours of clinical training.
Licensing and/or Certification
Registration is one of the biggest steps towards landing a job for an ultrasound technician. To get registration, you need to pass the qualifying exam offered by ARRT or ARDMS after you have completed your graduation from an accredited program. Completing the exam gives you the credentials Registered Diagnostic Medical Sonographer (RDMS).
Necessary Skills and Qualities
In order to become a sonographer, you must have certain qualities and skills in you. For instance, you must have good interpersonal skills and the capability to withstand the demands of the job.