Is almond oil good for face care? Of course! This dynamic natural oil is full of vitamins and antioxidants, perfect for promoting healthy skin. It contains beneficial minerals, acids and fats that are excellent for your health. Highly rich in nutrients, almond oil has been used for several medicinal purposes by many cultures and over several centuries.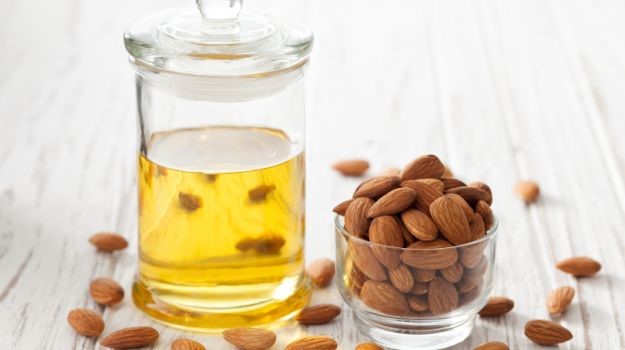 Benefits of Using Almond Oil for Face
1. Encourages Healthy Skin
Almond oil is perfect for sensitive skin as it is naturally mild. It is hypoallergenic, full of vitamin E and works as an antioxidant. The best way to apply it is at room temperature, same as your skin temperature. If you use it on a regular basis, it is a great method to fight UV damage and signs of stress.
2. Deeply Cleans Skin
Almond oil for face care is so effective because it is easily absorbed into your skin because it is very light. Because of this, your skin allows it to deeply penetrate into your pores and force out impurities. It is high in vitamin A, a natural acne-fighting agent.
3. Reduces Under Eye Circles and Unwanted Tans
If you suffer from darkness under eye circles, almond oil may be the solution to your problem. Applying it nightly will result in a noticeable difference in appearance within two weeks. If you have an unwanted tan, mix equal parts of a few drops of lemon juice and almond oil with a teaspoon of honey. Apply it to the area you want to fade every day until you get the color to the shade you want.
4. Promotes Younger Looking Skin
Your skin ages naturally, just like the rest of your body. However, when you use almond oil for face care, you can combat skin damage caused by too much sun, dehydration and the effects of smoking. Its vitamin content goes a long way in restoring your youthful and radiant skin.
5. Effective Sun Protection
Applying almond oil to your face is a great way to protect it from UV rays, as well as reversing any harm that has already occurred. It works to rejuvenate your skin, slowing down aging and promoting healthy cells.
How to Apply Almond Oil for Different Benefits
1. Facial Massage
Using almond oil for face massages is an effective way to reduce fine wrinkles, repair skin damage and combat facial lines. It deeply nourishes and moisturizes your skin with its beneficial vitamins and nutrients.
Rinse your face with warm water to remove dirt and makeup.
Heat one teaspoon of almond oil till very warm, but not hot and mix in 2-3 drops of vitamin E oil. You do not want to burn your skin so monitor temperature carefully.
Massage the oil mixture into your face by applying gently with your fingertips in a slow and circular motion. Massage for 5-10 minutes. Wipe the excess oil off your face with a soft cloth or towel.
Rinse by gently splashing your face with water and pat dry.
2. Radiant Skin
A simple way to promote radiant skin and improve the overall health of your skin is to use this beauty serum made of almond oil.
Mix one teaspoon almond oil, one teaspoon honey and ¼ pureed ripe avocado to form paste.
Apply the mixture evenly to your face and areas of skin that you want to see results. Leave on for 15 minutes. Rinse your skin with warm water and softly pat dry.
3. Eye Cream
The nutrients, vitamins and antioxidants in almond oil makes it a perfect ingredient for eye cream. It is a natural way to reduce under eye circles and puffiness.
Each night, apply two drops of almond oil under your eyes and pat in gently with only your fingertips.
In the morning, rinse the area with cool or warm water. Do not rub area.
Another mixture that works to reduce dark circles and puffiness is a few drops of almond oil and honey combined in equal parts. Like above, apply and leave overnight, rinsing off in morning.
4. Exfoliator
As dead skin cells accumulate on your face, it begins to look dull in appearance. The use of almond oil for face exfoliation is an effective way to brighten and polish your skin. It removes the dead cells and impurities, making your face more radiant and soft. Almond oil is a wonderful base for sugar scrubs.
Combine 1 tablespoon of almond oil with 1 tablespoon of sugar.
Gently scrub the mixture on your face and skin using gentle circular motions with your fingertips. This will buff away the impurities and dead skin cells.
Shower or wash your face to rinse off scrub.
5. Makeup Removal
Because almond oil is very light, it makes for a great makeup remover. The non-greasy texture leaves your skin feeling and looking clean. It also works as an anti-acne agent so it helps keep pimples from forming.
Simply apply almond oil directly on face with fingertips or a cotton ball. Use clean cloth to wipe away residue and dirt.
6. Acne Treatment
The fatty acids in almond oil work to pull impurities to the surface and dissolve them. It can reach deep into your pores, pushing bacteria to the surface. It is often used as an acne prevention and treatment.
Mix 1 tablespoon of honey and 1 tablespoon of almond oil.
Apply the entire mixture to your face, leaving it for 15-20 minutes.
Rinse with warm water and gently pat dry with soft cloth.