Coffee may be popular for being a daily morning companion, but its benefits go beyond just a caffeinated boost of energy. Caffeine also has several properties that are good for your skin, doing everything from diminishing under-eye circles, reducing inflammation and redness, and doing away with cellulite. If you want to reap the benefits of coffee for skin, add it to your skin care routine and find out how your complexion improves.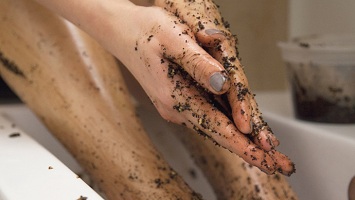 Benefits of Coffee on Skin
1. Skin Exfoliation
Coffee grounds work great as a face scrub because their texture helps exfoliate the skin and remove dead skin cells. The benefits include a smoother and cleaner face, and as an added benefit, the coffee also helps prevent dryness on your face. To use, simply make a scrub out of half a cup each of brown sugar and ground coffee, along with a quarter cup of olive oil. Mix well until it turns into a fine paste and apply it directly on your face, massaging in circular motions. When you're done, rinse thoroughly and apply moisturizer for best results.
2. Skin Softening
Easier and cheaper than a salon facial treatment is a coffee-cocoa face pack, which can quickly be made even in the comforts of your home. Simply mix two spoons each of cocoa powder and ground coffee, then add to three spoons of milk and a spoonful of honey. If your skin is oily, you may want to use yogurt instead of milk. This mixture can then be applied directly on your face. After about 30 minutes or so, you can wash off the face pack with clean water. The benefits of this face pack include softer, healthier, and hydrated skin. It can also tighten your pores.
3. Cellulite Reduction
Another one of the great benefits of coffee on skin is reducing cellulite. This is so because the caffeine in coffee dehydrates your fatty cells, causing the cellulite to appear diminished and making your skin look much smoother. In fact, studies have shown that skin creams which listed caffeine as an ingredient are up to 17% more effective when it comes to cellulite reduction. To make your own body scrub, just mix together coffee, pure aloe vera gel, and vitamin E oil in a 2:1:1 ratio, then apply the mixture and massage onto your skin. Make sure that the coffee you use is finely ground to achieve the best results.
4. Treating Dark Circles and Puffy Eyes
Yet another advantage of coffee is its ability to reduce the appearance of puffiness and dark under-eye circles. Because of its anti-inflammatory properties, caffeine can minimize the accumulation of blood under your eyes, therefore preventing dark circles. It is so effective that almost every product marketed as a way to erase dark circles has a certain amount of caffeine in its formula. However, take note that dark circles and under-eye puffiness can be caused by a number of factors, including dehydration, sleep deprivation, and allergies. Although it can remedy excessive blood flow, caffeine cannot remove dark circles that are caused by hereditary factors.
5. Anti-Oxidation
Coffee is very rich in antioxidants and surprisingly has a far higher content than even fruits and vegetables. This makes it a great remedy for skin damage caused by UV rays from exposure to the sun. Research has proven that applying coffee on the skin provides a layer of protection from harmful radiation. It does this by inhibiting a certain protein enzyme, thereby reducing the risk of getting skin cancer. Moreover, coffee's diuretic properties make it great for treating a condition called Rosaceae, relieving the discomfort caused by redness and irritation due to sun damage.
6. Skin Tightening
Adding to the long list of benefits of coffee on skin is its properties that allow for skin tightening. Caffeine is great for minimizing the appearance of fine lines around the face, and can also diminish puffiness in certain areas of the face. It is not a surprise that once again, coffee is added as an ingredient to many anti-aging beauty products that aim to tighten skin and reduce fine lines. Most importantly, caffeine has been shown to hinder the development of cancer cells in the body.
7. Skin Brightening
The key to having beautiful skin is to have healthy skin, and the best way to achieve this is to make sure that you are protected from viruses, fungi, and bacteria that can harm your face and affect your skin. To give yourself a radiant glow, mix coffee grounds and Epson salt in warm filter water and use this to wash your face. Afterwards, use the same coffee grounds to massage and exfoliate your face, rinsing again with the same coffee water.
8. Anti-Inflammation
Caffeine has anti-inflammatory properties that make it a great way to get rid of any redness and swelling on your face and skin. It works so well that a study has even shown that its performance is already comparable to that of aspirin when it comes to minimizing puffiness, at least on rats. Another experiment that involved testing the effectiveness of coffee as an added ingredient to anti-inflammatory creams yielded significant positive results, proving once again the benefits of coffee on skin.

DIY Coffee Face Mask You Can Try
This face mask is ideal for all skin types and effectively rejuvenates and repairs tired, dull skin. Making it is also easy and inexpensive.
What You Need
half a cup coffee beans, ground
half a cup unsweetened cocoa powder
one cup unsweetened whole or almond milk
one tablespoon lemon juice (olive or almond oil for dry skin)
one tablespoon honey (additional lemon juice for oily skin)
Directions
Combine the coffee with cocoa powder and add them into the milk, mixing until you form a paste. Gently fold in the honey and lemon juice, then apply the mask directly on your face in a circular motion. Let the mask set on your face for 20 minutes, then rinse. For best results, make sure the coffee is finely ground. The excess mask can keep for up to three days when refrigerated.