Grenade Thermo Detonator is a green tea-based supplement designed to promote fat loss, and was originally developed for use in the military. It is also said to control hunger pangs, provide continuous energy, and promote mental focus and alertness. But are these claims true?
Claimed Benefits of Grenade Thermo Detonator
Many people are looking for an effective fat burning supplement, including bodybuilders, gym-goers, and those who simply want to lose some excess pounds. Fat-burning pills contain stimulants that boost your metabolism and burn off surplus weight. What's more, they also decrease your appetite and raise your energy.
One of the fat burning products is Grenade Thermo Detonator, which is rich in green tea extract and caffeine, so you will soon notice the energy buzz it gives you. Green tea has many benefits for your health, including the promotion of fat burning through thermogenesis, as well as being full of antioxidants. In addition to melting body fat, the product is said to increase your mental focus, enhance your metabolism, and boost your energy levels.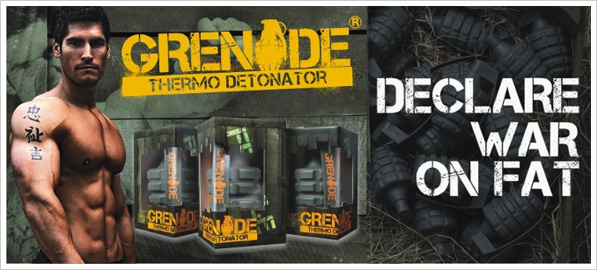 Ingredients
Grenade Thermo Detonator contains a variety of ingredients specially selected to boost your fat metabolism and reduce your appetite, to support effective weight loss. Here's a breakdown of each of the ingredients:
Green tea. Grenade contains one of the largest green tea quantities of any supplement, at 500 mg per dose. The tea extracts are carefully processed before adding them to the pills. Chemicals found in green tea known as "catechins" are specific polyphenol molecules found to help you get the body weight and measurements you want. Furthermore, the catechins exert marked antioxidant and other health-boosting effects.
Epigallocatechin gallate, one of these catechins, has been widely investigated in various research studies and was found to be one of the most effective naturally occurring legal chemicals for fighting fat.
Grenade Thermo Detonator also contains the largest amount of Bitter Orange Powder, which stimulates the hormones responsible for mobilizing and oxidizing (burning) energy.
The Caffeine Anhydrous in the pills is well-recognized for its effects in releasing fat from adipose tissues, which allows fat to be used as an energy supply.
Cayenne is a molecule extracted from hot peppers. It is widely known for its ability to stimulate heat production in the body.
Phenylalanine has been added to Grenade Thermo Detonator to promote metabolic activity through effective thyroid function.
Green Coffee has an unusual mix of compounds beneficial for weight management, such as chlorogenic acid.
Other ingredients include grapefruit seed extract, cocoa bean extract, raspberry ketones, DMAE, Yohimbe Bark Extract, Yerba Mate Leaf, Phenylalanie, etc.
How to Take Grenade Thermo Detonator
Swallow 2 capsules first thing in the morning, half an hour before you have breakfast. If you wish, you can take another 2 capsules 4-6 hours later with water, before lunch. However, make sure you don't have any capsules within 6 hours of going to bed.
To assess tolerance you can first take 1 capsule twice per day for the first 7 days.
DO NOT take more than 4 capsules in one day and drink at least 8 glasses of water every day.
For an explosive workout, take 2 capsules before your training. Keep the supplements in a cool, dry place, away from children.
Grenade Thermo Detonator Side Effects
Grenade Thermo Detonator tablets have many stimulating caffeine-based ingredients, and large amounts of bitter orange extract, so may produce the following side effects:
Hypertension
Restlessness
Headaches
Arrhythmia – an irregular heartbeat
Dizzy feelings
Nausea
Precautions for Taking Grenade Thermo Detonator
Make sure you don't go over the maximum recommended dose, or take it for more than eight weeks.
Don't use this at all if you are under 21 years old.
The Grenade pills have high doses of caffeine, so don't take any other products or medications containing caffeine or other stimulants, such as phenylephrine, synephrine, or thyroid boosting chemicals. Therefore you'll need to avoid coffee, tea, chocolate, soft drinks, and anything else with caffeine.
This product is not recommended for women who are pregnant or breastfeeding. You should speak to your doctor before taking it if you:
Are currently on any medication;
Have a thyroid disorder;
Are diabetic;
Have hypertension;
This is because there are issues with a lot of the ingredients in Grenade Thermo Detonator. For example, DMAE can adversely interact with certain antidepressant drugs and sedatives. Yohimbe also has bad interactions with antidepressants, and should not be taken by anyone who has prostate issues. Forskolin can alter blood pressure and affect heart disease medications. Finally, phenylalanine may exacerbate schizophrenia, and can interfere with certain Parkinson's disease drugs.
Grenade Thermo Detonator Reviews
Here's what some real-life customers say about Grenade Thermo Detonator. Some say it's effective, others doubt the effects.
"I had awful stomach pains when I first started using these capsules. The following day, I felt really dizzy, so I had to quit taking them."
"For the first few days, I did get some heartburn, but this disappeared when I drank more water. Don't take this medicine before bed – this is just common sense – as you won't get any sleep. Also if you have any insomnia issues, you should probably avoid this product altogether."
"Grenade say that their Thermo Detonator is the most effective fat-burning supplement available in the UK. They also declare that this product was awarded the diet pill of the year prize in both 2011 and 2012, although these claims cannot be proven, as they don't say who gave out this award."
"I received a sample of Grenade Thermo Detonator from one of my friends. I had previously tried Oxi Elite from USP Labs, but that didn't give me the same buzz I got from the Thermo Detonator. I was taking two Oxi Elite daily, but now I get the same effect from just one TD. This product comes in really cool-looking packaging, but the lid is really difficult to get off without spilling everything on the floor, so I'd recommend transferring the pills to a new bottle."
"When I first took this, my immediate thought was, 'What have I just done?' It really shocked my body into action – that shows it's effective. I followed the manufacturer's instructions: took two pills first thing in the morning, two before lunch, did resistance-only exercise, and drank loads of water. I've also been improving my health in other ways, taking conjugated linoleic acids (CLA) and 5,000 IU vitamin D each day. After 20 days, I've lost 19 pounds and feel fantastic. Just bear in mind that you need plenty of water to prevent any stomach issues. This is highly recommended - I'm getting my second bottle soon."
"I'm currently in the middle of a 12-week exercise schedule, and have been taking Grenade from weeks 4-9. I don't think this product is properly working for me. I feel slightly warmer if I take the pills half an hour before exercising, but don't get any other benefits from them. I've recorded steady weight loss throughout the exercise program, but I don't think the Grenade has made any difference to this, so it seems ineffective. Of course, I could be building up muscle at the same rate I'm burning fat, but I doubt it."