If you want to learn how you can impress your husband, you should first know these four types of chemical bondings. First and foremost is physical chemistry that generates arousal and desire between you two. Second is emotional chemistry that generates care, trust and feeling of attraction. Third one is, mental chemistry that is required to generate receptivity and interest. Fourth and last one is spiritual chemistry that opens your heart and creates love, appreciation and respect. Things you should know if you're wondering how to impress husband are discussed in this article to make your life more romantic.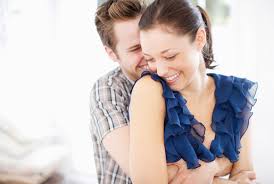 How to Impress Your Husband Romantically
1. Surprise Him in Every Way
Men love surprise sexual encounters. If you have been married for several years, you don't need to be boring at all, especially when alone. In order to excite him, try new surprises and gifts. You can also try new positions in the bedroom that you haven't tried for extra attention and love. Try putting on a new sexy outfit to drive him crazy by showing your hidden curves. Of course these extra spicy moves will make him want you more every day with increased passion.
2. Plan Something Special Together
Make plans for night outs, just the two of you. You can plan a special disco night, or a romantic dinner in town's best restaurant; may be something memorable just as your first date.
Take time out of your work and away from your children for a couple of hours. Apart from that, you can try a day out of town in your new attractive outfit; you may try a new hairstyle or makeup as well.
3. Treat Yourself Some Time
Focus on your appearance, spend some time and bucks to look gorgeous. No, we aren't asking you to go for a cosmetic surgery but just some pampering and treatment to enhance and maintain physical and emotional beauty. This can be done by getting a facial or simply shaping eyebrows, or a mani-pedi session or a bikini wax can also do wonders. Spend some time and money on yourself without feeling guilty, because the happiness on your husband's face after seeing you, will be priceless.
4. Keep the Gorgeous Side of You
Dressing can have great impact on ways to impress your husband. Dressing well when husband is coming home with a bunch of flowers can be a soothing and relaxing feeling that translates into great relationships and bonding. Following different reception styles also helps in surprising your husband, like how Indians welcome people with a tika on forehead, or simply a warm hug, a wet kiss or a handshake.
5. Give Him a Massage
Massaging your husband when he comes home from work can induce an instant feeling of rest and comfort to strengthen the bond of love. You can massage his shoulders, cheeks or even chest by unbuttoning his shirt to give him a romantic entry after a hectic day at work.
6. Shower Together and Light Fire of Romance
Ask your husband if he would like a warm shower with you. Show him the desire of you to get in a shower with him. You can also rub his back and caress his shoulders while taking him to the bathroom playfull. For more beautiful environment, decorate your bathroom with candles and flowers. Get your lingerie ready to wear after a bath. Let him remove your clothes instead of doing it yourself.
7. Be Kind and Show Your Love
Do small kind acts like not forgetting his birthday and special romantic holidays like Valentine's Day; while surprising him with beautiful and live-filled gifts.
You can also write him a letter.
Hug him whenever he leaves for work and comes back at night. He'll surely think of what you are up to when he's at work.
8. Do It First
How to impress husband? Take the initiative! Men usually initiate romance and sex first, but don't always wait for him to start. Make your initiating move, tantalize and tease him to forget the boardroom tactics in his head and think about the bedroom maneuvers only.
9. Show Your Interest in His Passions
If he's always busy in his electric gadgets and soccer and baseball matches on TV; don't nag to grab the attention. Trust me, most men hate it. Join him in his interests and enjoy to your fullest. This way he'll know that you are having fun in doing things he like. He won't feel guilty about his interests and both of you will start to enjoy your time together. Give attention to their interests and share yours with them. Men are like kids, try pandering in them occasionally.
10. Enjoy and Laugh Together
A friendly environment and laughter is very important for a healthy and alive relationship. If you have the ability to find some fun in everyday activities and share them with your husband. This will help maintaining that spark in your relationship and increase the attraction towards your partner.
How to Impress Your Husband as an Individual
You are aware of impressing him romantically but thinking how you can impress husband as an individual; we have some excellent tips for you.
1. Carry Your Pride
Carry pride in your physical appearance and do not let yourself change. Adopt a healthy approach and do not change your weight, hair, appearance or personality for your husband alone if you are not comfortable. Respect yourself and it will eventually earn you the respect of your husband. Your husband has the right to expect the same love and understanding from you.
2. Do Good Without Saying It Out Loud
In an indirect way, make him realize what you did for them instead of saying directly. This will make them feel appreciative. You'll have to remind him of things because most men forget easily. Make him notice the changes you adapted for him and how you you're your old ways, but still feel great because you have changed yourself and your choices for him. This will give him more pleasure and he'll be more impressed.
3. Show Love and Care
Every man feels good when the girl takes care of him a lot. Remind them indirectly how much you care for him and what he means to you. Don't eat alone if he gets late from work; instead wait for him to dine together.
4. Stop Nagging! Be His Friend!
Don't be all girly and try understanding your husband's point of view as a male. Husbands hate nagging so avoid it. Give him some space and respect him to boost up his ego. Don't always react like a wife; try to be his friend and listen to the queries he have.
5. Don't Hold Back Those Compliments!
Pass compliments for his achievements and good work, they love it. Small compliments with words like darling and honey will make him feel good. Appreciate him for his work, and praise for his abilities of work.
6. Respect His Need to Hang Out with Buddies
Let him go out and enjoy with his friends. No, not with the single girls with good height and looking for a partner. Men always need an all boy company to do all the boyish stuff and hang out. He will appreciate how you love to see him enjoying and happy, they'll be happier and won't mind when your own friends will call you when you'll be with him.
Read some more tips on how to impress husband:
https://in.answers.yahoo.com/question/index?qid=20090108233152AAVaWGe