Learning what to say during sex is really just that – learning. It doesn't come naturally to most people (even though if you watch only five seconds of porn, you will think that it does!). Many lovers are embarrassed by what they might say in bed. When the heat of passion overtakes you, what comes out of your mouth might be shocking, irreverent and even awkward. But it's an important skill to learn because it adds so much spice to your love life.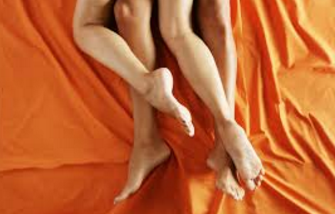 What to Say to Get Her Naked?
Getting to the point of getting it on? These might work for the woman in your life:
You want to make her swoon, and one of the ways to do that is to let her know that she looks hot, sexy, attractive, and yes – beautiful. But say it like you mean it. If you are insincere, she will know!
"You just breathe and it turns me on."
This tells her that everything she does is hot, and she doesn't even have to try to trip your trigger. She will love the thought that even the way she looks at you is enough to make you crazy.
Not only is she impossible to resist, it's to a point where you have never felt this way about another woman. Knowing that you are rarely so forward will definitely get her attention.
"It's not just about sex."
Want to really make her swoon? Making it clear to her that it's not about the physical, but about the total package, which will get her attention like nothing else. A man who is truly into her is hot!
"You are impossible to resist."
If you surge in too rapidly, she will think you do this constantly. Rather, let her feel like you are not that kind of men and you just can't help yourself with her. This will give her a sense that she is the best among all the ladies you've ever dated.
What to Say to Make Him Crazy?
Not sure what to say during sex to make him absolutely insane? These tips will get you started, and then you can put your own personal spin on things.
"You are absolutely perfect."
Men are creatures of ego, and stroking that ego will get him going much faster than anything else. If he has a great body, say so!
"You must have been working out!"
If he has a fantastic chest, abs that are to die for or even a back that looks strongas an ox, again, let him know that. He wants to know that he's strong and handsome for you.
By making it clear you want him, you are also making it clear that it's time to get it on without delay, and that's what any man is dying to hear from you.
"Give me some direction."
Don't know what to say during sex? You can try this one. A woman who is open and willing to do what he wants is a man's best dream. In fact, he might get entirely tongue-tied, because he wants to do it all and where should he begin?
A man who is given free rein to enjoy your body just might love you forever. At the very least, he will want to have sex with you all the time.
Knowing that you have a condom, that you are strong and responsible for your own health and willing to protect him, too, just made him even hotter for you.
Men are always worried about the size of their equipment. You want to make sure that he's confident with you, so praise him the moment you lay eyes on it.
Again, a little more praise goes a long way, especially when the heat is really on. Never hesitate to tell him exactly what you are thinking about how he feels to you.
Let's be honest: knowing what to say during sex isn't as important as the fact that you are simply saying it. Saying something while panting his name is even better.
Things You Should Never Ever Say During Sex
Knowing what not to say is just as important as knowing what to say during sex. These are things that you should never, ever say when you are in bed with someone – ever!
Yes, you might be surprised by how small he turns out to be, but that doesn't mean you should say it. Besides, he might be able to do things with his mouth and fingers that are out of this world.
"Let's just have a quickie."
Why would you want to do that? You've got someone who is ready, willing and able to get it on as long as you like. If you suggest a quickie, he or she will think that you are already regretting being in bed with him or her.
If your phone blows up during sex, don't answer it. Don't mention it, don't make any sign you heard it, and don't start talking about it.
"Let me do it on my own."
It takes some time for a new lover to figure out what gets you going. Let them take the journey. When you cut them short, that means that they don't get the chance to learn.
"What do you want me to do?"
Okay, sometimes a new partner can get a bit too creative and freaky. But don't freak out yourself. Respond with a level-headed answer, something along the lines of "let me think about that."
"My ex and I did this and it was awesome…"
No. Just no. Never bring the subject of your ex into the bedroom with you, no matter what it is. No one wants to think about your ex sexual partner, and you shouldn't either.