Who does not want healthy, shiny, beautiful hair? Women would try everything to make those tresses look awesome. Unfortunately, most of those so-called magical remedies do nothing to treat your damaged hair. To restore your hair to its original glory, you need to identify the underlying cause first. Prolonged illness, hormonal imbalance, stress, imbalanced diet, and hereditary reasons can all cause hair problems. Nevertheless, you can use henna to improve the texture of your hair and make it look better. Let's find out more about it.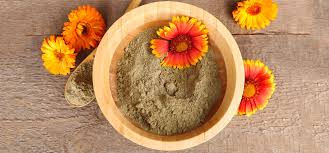 Benefits of Henna for Hair
Also known as "Mehndi" in India, henna can help repair damaged hair and improve the texture of your hair. Here are some of the reasons to try henna.
1. It Conditions Your Hair
You do not need to use your regular hair conditioner when you use henna. It conditions your hair gently and enhances the shine of your hair. While removing dryness, it strengthens your hair. Henna contains organic substances that leave a protective layer on your hair. This protects your hair from any damage caused by the external pollutants in the water and air. It also protects your hair from harmful UV rays. You can make it even more beneficial by combining it with coconut oil, olive oil, or yogurt.
2. It Clears Dandruff
It is never easy to remove dandruff from your hair, but one of many benefits of henna for hair is that it uses its powerful antibacterial and antifungal properties to get rid of dandruff. It proves beneficial when you have other skin conditions that may be damaging your hair. Simply mix two teaspoons of apple cider vinegar or lemon juice to henna powder and apply it to your scalp. Repeat twice a week to get rid of dandruff.
3. It Keeps Your Scalp Healthy
Not only is henna beneficial for your hair, it also helps keep your scalp healthy. Many people experience hair loss because of an acid-alkaline imbalance on the scalp. Regular use of henna can restore that balance and improve the overall health of the scalp.
4. It Promotes Hair Growth
By removing dandruff and keeping your scalp healthy, henna improves your chances of getting stronger hair. It can also promote hair growth and make your hair become thicker and longer. It also helps reverse the damage caused by shampoos and hair dyes.
How to Use Henna on Hair
Now that you know that henna is beneficial for your hair, you may be wondering how you can use it on a regular basis to get maximum benefits. Here are a few suggestions:
1. Henna for Hair Growth
To help promote hair growth, you can use a combination of henna and gingili oil.
Start by boiling 250ml of gingili oil and add 5 cups of henna powder to the oil once it starts to smoke.
Let the mixture boil for another 5 minutes.
Let it cool and apply to your hair twice a week to promote hair growth.
2. Henna to Stop Hair Fall
You can combine henna powder and mustard oil to make a solution that will help reduce hair fall in no time.
Take 250ml of mustard oil and boil it.
Take a few henna leaves and add them to the oil. Keep boiling.
Apply the mixture to your hair. Be sure to massage your scalp gently.
Repeat twice a week for good results.
3. Henna as a Conditioner
To condition your hair in a natural way, you can use a combination of henna, lemon juice, and curd.
Start by making a tea decoction and set it aside.
Add henna powder to the decoction and then add 3 tablespoons of lemon juice to it.
Add two tablespoons of curd after half an hour.
Apply it to your hair and wash with your regular shampoo after an hour.
4. Henna to Treat Dandruff
Regular application of henna can help eliminate dandruff from your hair. Here is how to proceed:
Take methi seeds and soak them in water overnight.
Grind those seeds in the morning and add mustard oil and henna to make a smooth paste.
Apply it on your scalp as well as hair. Leave it on for half an hour.
Use your regular shampoo to wash your hair. Condition your hair in the end.
5. Henna to Treat Scalp Itchiness
Henna has antimicrobial and antifungal properties that can relieve itchiness and soothe your scalp. Here is how to proceed:
Take a cup of henna leaves and half cup each of tulsi leaves and neem leaves. Add some water and grind them all to make a paste.
Apply the paste directly on your hair and scalp. Leave it there for an hour so.
Use your regular shampoo to rinse your hair.
6. Henna to Dye Your Hair
Instead of using chemical-rich hair dyes, you can use henna to cover gray hair. Here is what you can do:
Take some henna powder and add honey and egg to it.
Soak it in an iron vessel for some time.
Apply the paste on your gray hair only while making sure you do not apply it to the scalp.
Be sure to oil your hair after the procedure to prevent any dryness.
7. Henna to Repair Your Hair
Not doing anything to repair your damaged hair would lead to split ends that can aggravate the situation. Use henna for hair in the following way.
Combine 2 teaspoons of avocado oil, henna powder, and an egg.
Add some water to make a smooth paste.
Apply it to your hair and leave for a couple of hours.
Use your regular shampoo or simply rinse your hair with lukewarm water.