For a mother, it is natural to do everything to ensure that her baby does not suffer from any problem, but sometimes, you just cannot do anything to avoid diaper rash, which refers to the redness caused by inflamed skin on diaper area. It could happen due to a change in your diet and not changing diaper when required. Chemicals in baby wipes, lotions, and soaps can also cause this problem. Thankfully, you can try many home remedies and resolve the issue in a natural way.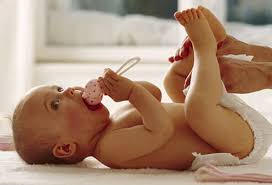 Home Remedies for Diaper Rash
It is important to take diaper rash seriously because it can lead to bacterial infection. Here are some simple remedies to make things better.
1. Always Keep Diaper Area Clean

You have to ensure that diaper area is not dirty or wet, and for this, you have to change diapers immediately after they are soiled or wet. You may even have to get up in the middle of the night to ensure that diaper area is dry. Be sure to apply a paste, cream or ointment after gently drying and cleaning the skin. You can always opt for petroleum jelly and zinc oxide. You can also give your baby an OTC diaper rash medication, such as Triple Paste, Desitin, Balmex, and Lotrimin. Be sure to talk to your doctor before giving anything to your baby.
2. Maintain Increased Airflow
It is important to increase the flow of air to the diaper region and you can do it in a number of ways. One simple solution is to not use a diaper for some time. Even if you do it thrice a day only for 10 minutes each time, it will work wonders to help treat that rash. Moreover, you can also use diapers that may be a bit larger. Be sure to avoid diaper covers and airtight plastic pants until the rash is gone.
3. Give Your Baby a Bath

Looking for home remedies for diaper rash? You should give your baby a bath daily without fail at least until the rash gets better. Use a soft cloth and warm water to wash the diaper area. Never use baby wipes that contain propylene glycol or alcohol because they can irritate your baby's skin and even spread bacteria on the skin. It is better to avoid soap, but you can use a mild one when the area seems very soiled. It is also better to stay away from using a blow-dryer on your baby's skin to get the diaper area dry.
4. Opt for Cornstarch
Using cornstarch for diaper rash is a good idea because it helps absorb moisture, keeping your baby's diaper area dry. It also works by reducing diaper friction. You can use it as a preventive measure as well because it keeps diaper rash from appearing in the first place.
To use it, start by washing the diaper area using lukewarm water and let the skin dry on its own. Now, sprinkle cornstarch on to the affected area and finish by putting a new diaper in place. Do not forget to use cornstarch every time you change your baby's diaper.
5. Try Coconut Oil

Coconut oil is good for many things, but many people do not know that it serves as one of the best home remedies for diaper rash. It helps reduce inflammation and heal irritated skin. Simply take some coconut oil and apply it directly to the affected area. You can continue to use the oil until the rash disappears.
6. Try Baking Soda Bath
Baking soda can help reduce inflammation and is a good remedy to treat any infection. Simply put a couple of tablespoons of baking soda into the bathtub and help your baby soak in it for at least ten minutes. You can repeat the same process thrice a day for better results.
7. Take Advantage of Vinegar

Apple cider vinegar has antibiotic, antibacterial, and anti-inflammatory properties, and is therefore a good home remedy for diaper rash. Add a teaspoon of apple cider vinegar to half cup of water and mix well. Apply it to the affected area using a clean cloth. Use it regularly to prevent infections.
8. Make Use of Shea Butter
Using shea butter is one of the most effective home remedies for diaper rash. In fact, it may prove effective when dealing with extreme diaper rash. It works because it has powerful antifungal properties. It reduces inflammation and accelerates the healing process. Just clean the affected area using warm water, let it dry on its own, and then apply some shea butter to the rash. You can use a new diaper after a few minutes.
9. Try Oatmeal

Oatmeal works because it contains protein that soothes your baby's skin. It also supports the natural protective barrier on your skin. The presence of a compound called saponins is another reason why oatmeal is effective – the compound helps remove dirt and excess oils from the skin pores. The next time you give your baby a bath you should add a tbsp. of oatmeal to bathtub. Help your baby soak in it for 15 minutes and finish by bathing your baby in it. Do it at least twice a day for good results.