It's a well-known fact that men and teenage boys often experience what are known as "wet dreams" – orgasms and/or ejaculations whilst they are asleep. Most people recognize this as a natural process and part of men becoming sexually mature, but how about women?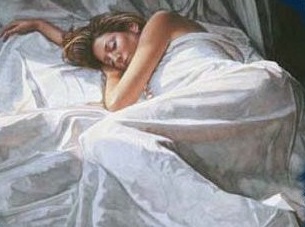 Do Women Have Wet Dreams?
As a matter of fact, women do have wet dreams, but as with other signs of female arousal, it may not be visibly obvious because there are no explicit events such as ejaculation. A woman can be woken by a strong orgasm, or even carry on sleeping once it's happened. Sometimes, the orgasm achieved during sleep is stronger than those experienced when awake.
Why Do Women Have Wet Dreams?
Although there is a lot more evidence for male wet dreams, women can have them too. However, as female reproductive organs are internal, women can't see what's happening to them, so not much is known about women's night time erotic experiences.
During the sleep phase known as rapid eye movement (REM) sleep, there is increased blood flow to the genitals, sometimes only a little, but other times as much as when you are masturbating or turned on by erotic movies. However, increased blood perfusion to the genitals does not necessarily result in orgasm, and you may need more stimulation, usually through squeezing the groin muscles, to make you come. It's not uncommon for women to wake and find that they have just had an orgasm or are incredibly turned on.
What Do the Wet Dreams Mean?
Most dreams are strongly symbolic in meaning and sexy dreams are no exception. Therefore, what you dream about should not be taken at face value and may suggest some other event in your life.
1. Experiment of the Mind
In your dreams, you may find yourself with someone other than your partner, or even with a stranger in public places. Except from wondering exactly "why do women have wet dreams", you may feel shameful and worried. But dreams are only the unconscious mind's way of sorting out all our thoughts, so they don't always seem to be acceptable to the everyday conscious mind. The dreams allow your mind to try out new experiments without having to deal with the reality of the situation. Remember that your dreams don't indicate that you want to cheat on your partner.
2. Menstrual Cycle
The stage you're at in the menstrual cycle can affect your dreams. Erotic dreams are most likely to happen when you're ovulating, which is also when your sexual desire is at its highest.
3. Psychological Union You Need or Had
A sexual dream about someone you know may not indicate that you want to have relationship with him or her, but merely that you would like greater psychological union between the two of you. For example, if you dream of your boss, you may wish for better communication with him, or greater support from him for a project you are undertaking. Just as you have brought his body into the dream, you may wish to bring his expertise to your work.
More Facts about Female Wet Dreams
1. They Happen More Often than You Think
Research conducted as far back as 1953 found that around four in every ten women aged 45 or over had experienced at least one wet dream or night time orgasm in their life.
2. You'll Probably Have More than One
According to a recent research, approximately 85 % of women who have orgasm during sleep do so several times a year.
3. They Often Start Happening in Puberty
Girls may notice their first wet dream during adolescence as their bodies are becoming sexually mature. If your daughter is at this age, you may want to speak to her about this, explaining the question "why do women have wet dreams" and telling her not to be shamed or confused by the experience.
4. They May Happen Without Your Knowing
Orgasms often occur during the REM phase of sleep, with increased blood flow to the genitals coupled with a deep state of unconsciousness. Therefore, you may not remember the wet dream, and unlike men's wet dreams, there may not be any evidence when you wake up.
5. Wet Dreams Are Nothing to Be Ashamed of
There is absolutely no shame in having sexy dreams and orgasms during the day or night. Erotic dreams are a form of sexual expression and should be accepted as part of normal sexuality.