Healthcare is based on preventing diseases from happening in the first place. This improves the quality of life for people and lowers healthcare costs. Eating a healthy diet can mean all the difference in prevention and disease management. Nutritionists can help fill that role in teaching people to eat a healthy diet that is best for them. If you are wondering, how much do nutritionists make, this article will give you a good idea of what this career involves and how much it pays.
How Much Do Nutritionists Make?
The answer depends on the environment they work in, the level of experience, and level of education. The average yearly wage for this position was around $56,300, according to United States Bureau of Labor Statistics report of May 2013. In smaller settings, the wage drops to around $34,500. Higher level pay is around $77,590.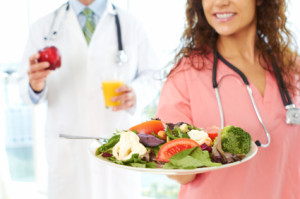 If you work full-time in an average facility like hospital or government facility, the median wage is about $60,000 per year. Schools and smaller community clinics tend to pay less, but have more flexible hours on a part-time basis. This works out great for moms that have kids in school or if you are going to school to further your own education.
The chart below shows the salary of nutritionists in the US, in different percentiles:
| | |
| --- | --- |
| 90 percentile | $78,720 |
| 75 percentile | $68,490 |
| 50 percentile | $55,920 |
| 25 percentile | $44,400 |
| 10 percentile | $33,980 |
Career Outlook and Job Growth
How much do nutritionists make in the long run? What are the outlooks? The career outlook for nutritionists is very good. The medical field is now focusing on prevention of disease before it has to be diagnosed and treated. The new focus is to teach healthy eating habits. This is where nutritionists play a large role in the communities. Outreach to those who may need "budget friendly" diet ideas and people who need nutrition education are key. The employment of nutritionists is expected to grow to over 21% by the year 2022.
Obesity is a very big issue in the United States where over 1/3 of adults are overweight. Diabetes, kidney disease and heart disease can be attributed to obesity. Healthy eating practices can prevent obesity and in turn, major diseases related.
As the population ages, the need for healthcare staff increases and nutritionists are one of those growing fields. Elderly patients who are homebound with little or no support system can benefit from nutritionist home visits. Working for a homecare agency can be a flexible and fun job.
Schools are teaching children and teens the importance and benefits of good nutrition to stay healthy. You may find a rewarding career working for your local school district doing nutrition counseling with kids or presentations to whole schools.
Community agencies may employ nutritionists to work with local food banks, health fairs for the community, and doing home visits.
Many healthcare facilities are turning to nutritionists to help patients learn how to control conditions with diet. Prevention is being taught just about anywhere so the number of jobs is increasing rapidly in this field.
What Do Nutritionists Do?
After knowing the answer to how much do nutritionists make, it is important to understand why nutritionists make what they do. This exciting career consists of helping people make good food choices to prevent diseases. You may be working with diabetic patients or expecting moms helping them choose the best foods to stay healthy. You may work in schools to help children learn about good food choices or on staff at a clinic. Let's take a look at the job:
Job Duties
Nutritionists provide dietary education to patients and people in the community. This helps with disease prevention and the management of diseases that need dietary control. The duties include:
Looking at dietary needs and what people eat to meet those needs
Talk to people about healthy nutrition and ways of eating healthy
Make up meal plans and help people find what they like to eat to make healthier choices
Teach people how to eat on a budget
Look at meal plans and make changes if they aren't working
Doing presentations to large numbers of people on healthy eating
Study new approaches to dietary management
Keep in contact with doctors about their patients
Workplace
Nutritionists may be employed by government entities, health clinics, schools, hospitals, and even your local grocery store talking to customers about making healthy shopping choices. Different places a nutritionist might work are:
Hospitals
Community Clinics (WIC program, public health department, Free clinics)
Schools
Diabetic Education Centers
Home Health Agencies
Restaurants
Self-Employed
Doctor Offices
Nutritionists may work part-time or full-time. They can also work doing consulting on a case-by case basis. It depends on the needs of an employer.
Education and Qualifications for a Nutritionist
The answer to "how much do nutritionists make" depends on your level of education and your experience. To get the needed education, you need to:
Graduate high school. You will need to focus high school courses in science and do well in these courses. You will need your high school diploma or GED to get into college.
Obtain a Bachelor's Degree. You will need a four-year Bachelor's degree in science based courses such as dietetics, food management, nutrition, foods, biology, chemistry, and psychology. Let your admissions counselor know that you want to be a nutritionist.
Clinical Hours. In order to become licensed or certified in nutrition, you will need to do clinical hours in the field. Your school will arrange for an intern position in the field of nutrition and you will complete a few hundred hours.
Certification. After you complete your clinical hours, check with your state for certification requirements. These usually require an examination and the requirements vary from state to state.
The certification is handled by the Accreditation Council for Education in Nutrition and Dietetics, and they require continuing education to keep up your certification.
To be a good nutritionist, the following qualities are important:
Good at analyzing
Empathy and compassion
Being a good listener
Organizational Skills
Dependable
Good problem solving
Good speaking skills