Healthcare systems around the world rely on safe and reliable blood collection and handling. Blood samples are used to diagnose many health conditions, and having blood and blood products ready-to-hand is crucial for surgical operations. Phlebotomists are responsible for blood collection. They often have salaries on the lower end of the pay scale for medical laboratory technicians.
How Much Do Phlebotomists Make?
Phlebotomists' salaries vary according to company size, where they work, their industry, education, and how long they've been practicing.
A 2013 survey conducted by The American Society for Clinical Pathology discovered that certified phlebotomists made on average $15.93 an hour, 13.8% more than uncertified phlebotomists, who earn $13.87 every hour. Laboratory supervisors and managers earn $34,757 a year. The average yearly wage for all phlebotomists in May 2014 was estimated by The U.S Bureau of Labor Statistics (BLS), to be $31,890 with $30,670 median annual wage, and $15.33 mean hourly salary.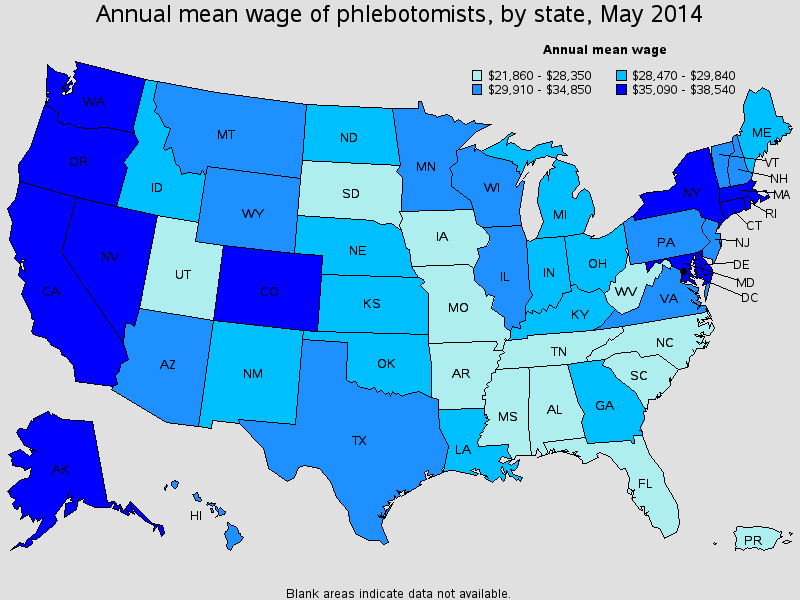 Salary by Industry
The same survey found these average annual phlebotomist salaries by industry (the mean hourly wage is in brackets): $32,660 ($15.70) for medical and diagnostic laboratories, $31,180 ($14.99) for general hospitals, $31,470 ($15.13) for physicians' offices, and $31,780 ($15.28) for other mobile health care services. The highest average yearly salary was for those who worked for insurance carriers - $42,870 ($20.61), and the second highest was for those based at specialty hospitals - $36,850 ($17.71).
Salary by Location
The BLS data also revealed that the best place to be a phlebotomist, according to average salary, was Alaska, with an average yearly wage of $38,540 and an average hourly wage of $18.53. This was followed by District of Columbia ($37,820; $18.18), New York ($37,790; $18.17), California ($37,770; $18.16), and Maryland ($37,190; $17.88). The states with lowest average yearly salaries for phlebotomists (in the $21,860-$28,350; $10.51-13.63 range) include Alabama, Arkansas, Florida, Missouri, South Dakota, Tennessee, Utah, and West Virginia. Other average phlebotomist salaries measured include those of Illinois ($33,850; $16.27), Pennsylvania ($31,190; $15.00) and Texas ($30,230; $14.53).
Salary by Experience
How much do phlebotomists make varies according to their experience. According to payscale.com, medical phlebotomists with fewer than five years' experience earned $19,421-$39,652 in September 2015. With 5-10 years' experience, this average salary increased to $20,347-$43,000, and after 10 years, phlebotomists can expect to earn $23,422-$40,695.
Phlebotomist Job Outlook
The number of phlebotomists is estimated to grow about 27% from 2012 to 2022, which is markedly more than the average for all jobs. This increase is thought to be due to growth in the numbers of patients entitled to health insurance and medical assistance. Together with an aging population, this increases the demand for phlebotomists. Many places require phlebotomists' expertise; for example, phlebotomists are employed by hospitals, clinics, labs, and blood donor centers.
How to Become a Phlebotomist
Education
Phlebotomists usually begin their career with a post-secondary non-degree award from a specialist phlebotomy program, provided by technical schools, vocational schools, and community colleges. Students attend classroom lessons and laboratory sessions, and learn how to identify, label, and track blood samples. The course typically lasts less than a year, and following successful completion, students gain a certificate or diploma. Alternatively, students with a high school diploma can be trained on the job.
Licenses, Certifications, and Registrations
Companies nearly always prefer to take on phlebotomists with professional certifications over those without. Four states - California, Louisiana, Nevada, and Washington – require certification for all phlebotomists. Phlebotomists can gain Phlebotomy Technician certification from a number of different organizations.
Most certification applicants will require some form of classroom education and clinical experience. For certification, candidates normally have to complete a written examination and practical testing, although the exact requirements vary.
Important Qualities
When considering a phlebotomy career, you should not only consider how much do phlebotomists make, but also your skills and personality. Desirable personal characteristics for a phlebotomist include:
Dexterity. You need to use the equipment properly and effectively.
Attention to details. A phlebotomist's tasks include drawing the appropriate vial of blood for the test ordered, tracking the blood vials, and entering the right data into a computer. A mistake at any stage could result in losing a sample, or worse, harming a patient.
Good coordination. You need to be adept at drawing blood to avoid causing discomfort.
Compassion. Many people are scared of needles and/or the sight of blood, so a phlebotomist needs to be understanding.