Most careers in the medical field involve demanding and stressful situations to some extent or another. Surgeons, anesthesiologists work closely together with surgical nurses to ensure surgery goes as well or better than planned. Surgical technicians are part of the operating room team and work closely with these other professionals to cover all the bases primary surgical teams do not have the time for.
Generally, surgical technology programs are either certificate programs or Associate's Degree programs requiring a high school diploma or equivalent GED certification for entry. Once you become involved in the field, you will know if it is right for you.
What Is a Surgical Tech?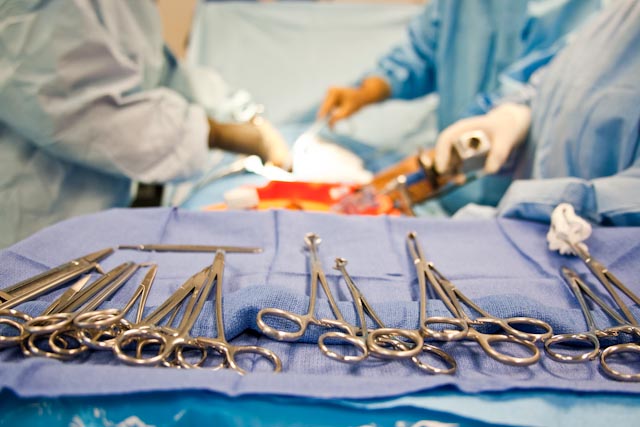 Surgical technicians are responsible for preparing the operating room for sterile conditions. You will have to make sure all materials and surgical tools are ready for sterile operations. As you are considering how to become a surgical tech, consider you might be in the lead for making sure surgical environments are perfect and this is no small task. You will also help with monitoring patient statistics and vital signs in addition to providing clean dressings and surgical covers as the lead Surgeon dictates. At more advanced levels of the job, you may be required to close surgical incisions and provide training for newer surgical technologists.
Finally, once surgery is concluded, you are responsible for cleaning up the surgical area and room as a whole. Essentially, you have to sterilize it once more before the next surgical tech comes in to sterilize it again before the next round, which could be soon. You may be on shift for all tasks in a series of surgeries.
How to Become a Surgical Tech
Steps 1: Basic Education
You will need to obtain a High School Diploma or GED equivalent to even be considered for schooling in surgical technology.
Step 2: Professional Schooling
Depending on your level of schooling experience after high school or equivalent certification, you are looking at one to two years of schooling to become a surgical technician. You will study math, computing, technology operations, human anatomy and physiology, laboratory skills and much more in your training.
You may be under the impression your learning is finished as soon as you get your certification or degree. This is hardly the truth. You will need to put in some clinical time before you can even graduate and pop the bottle of champagne you have been saving.
Step 3: Certifications
How can you possibly be ready for the responsibilities? Schooling will train you, but there are also certifications required in many States. This requires you to pass certain tests in order to ensure and prove your readiness as a surgical technician in the active arena of practice.
Also, ongoing education will also be required in many States so that you can keep up with the latest developments in surgical technology and always be prepared.
Additionally, certifications such as the CST or Certified Surgical Technologist credentials, obtained from the National Board of Surgical Technology as well as the NBSTSA for Surgical Assisting will go far in making you a more hire-worthy prospect as you are seeking employment in the field. Regardless of State Certification requirements, these certificates improve your chances of employment.
Step 4: Land a Job in the Field
Of course, a critical step in how to become a surgical tech is getting a job. But, the jobs are not handed to you with your graduation. Larger hospitals, particularly in larger cities are currently your best bet, as are delivery rooms. Check all possible prospects. Even if you have to begin on the lower-scale of pay, experience and further certifications can go far for employment options.
Step 5: Career Advancement
When you have the schooling completed with top marks, you have built a positive portfolio of certifications, and obtained a job as a surgical technician, you will need some time in the field in order to gain the real experience employers are looking for. By this time, you may be able to advance your career with further schooling and certification to become a First Assistant. This will make you the lead surgical technician, providing you with more responsibilities and typically higher compensation and benefits.
How Long Does It Take to Become a Surgical Tech?
Though it varies for different programs, the overall time is about 2 years excluding the time for high school.
If you have not finished high school, it is going to be best to do so with the best grades you can make and finish your high school diploma, which usually takes about 4 years. However, you can gain entrance to many Associate's Degree Programswith a GED as well.
The Associate's Degree Program typically takes 2 years, but if you have prior college, you may only need to spend one year and then complete your certifications (about 3 months), before finding a job.
Skills Required for a Great Surgical Tech
Teamwork and attention to detail go hand in hand with skills needed for how to become a surgical tech. You will be working in a surgery team, responsible for clear, concise communication with your team. Additionally, if you can pay strong attention to detail, this is essential. Sterilization of tools and equipment positioning is vital and you can never lose your attention span.
Part of good communication skills is being a good listener. You cannot get anything wrong and good listening will tie in with strong attention skills to make you a great surgical tech.
Steady hands with good dexterity will also be essential. Being sensitive to problems or the likely hood of foreseeing potential problems is a deeply required skill.
Lastly, you have to be able to monitor equipment and your entire surgical team for the proper duties of a strong surgical technologist.