During pregnancy, your body is going through incredible hormonal changes. These changes can affect your skin, teeth, hair, body and emotion. Mood swings during pregnancy are normal. Sometimes simply understanding and ensuring that the people closest to you also understand is all you need to do. Some women may be affected by depression while pregnant. If your mood swings are making you more down than up or you have any concerns, your doctor or midwife can help recommend further support.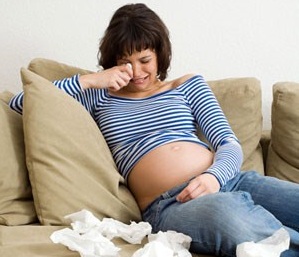 What Cause Pregnancy Mood Swings?
1. Hormones
While sudden shifts in mood during pregnancy can be traced to fatigue, physical stress and changes in metabolism, hormones are a major cause of seesawing emotions during this period. After you conceive a child, your hormone levels are surging as the amount of estrogen and progesterone in your blood increases. These increased hormone levels can affect your mood, making you feel tearful or easily irritated.
2. Worries in Pregnancy
Much of your moodiness, though, may simply be due to the fact that pregnancy is a time of tremendous change. Some common worries in pregnancy include:
whether you'll be a good parent
how having a baby will affect your relationship
whether your baby will be born healthy
how you're going to cope financially
your changing body and whether your partner still finds you attractive
3. Concerns About Health Problems
In addition, you may find you're ground down by some of the common health problems of pregnancy, such as: heartburn, fatigue, morning sickness and frequent urination. All these concerns may take your emotions on a rollercoaster ride.
When Do Pregnancy Mood Swings Start?
You will tend to notice the most mood swings in the first trimester, or the first 12 weeks of pregnancy. It may be hard to control your emotions, you may have a short temper or the smallest thing may bring you to tears. As your body stabilizes and adapts to pregnancy and hormone changes, mood swings will decrease, usually until the last few weeks of pregnancy or just before labor.
How to Cope with the Mood Swings
Mood swings are a normal part of pregnancy, just like morning sickness and a growing belly. However, there are some steps you can take to minimize the intensity of your mood swings.
1. Maintain Healthy Lifestyle
Stay healthy and nurture yourself with sleep and a wholesome diet. Mood swings will be exaggerated if you become rundown and ragged.
2. Exercise
If it is approved by your doctor, exercising at least once a day will help to lift your mood and reduce your pregnancy mood swings.
3. Pamper Yourself
Try taking a trip with your partner, visiting old friends, joining a prenatal yoga class or booking a manicure/pedicure with your friends. Purchase a couple of flattering maternity outfits which can be found gently used for a great price.
4. Bond with Your Partner
A new baby can add a lot of pressure on your relationship. While waiting for your baby's arrival, take time to check in with your partner. Take a special trip that you've been talking about. If you're having relationship problems, be sure to schedule time with a counselor because it is not likely that things will be better once the baby comes.
5. Join a Support Group
Check with your local hospitals, public health clinics or health care organizations about expecting mother support groups, especially if you're single or don't have close friends and family. If you don't have a partner, try to identify a close friend or relative who can provide support before, during and after the birth. For those who can afford to hire a woman to serve that role, consider a doula.
6. Talk with Your Doctor
If you begin feeling depressed, especially if the depressed feelings last for longer than two weeks, be sure to speak with your doctor. Your doctor can help you find a treatment, medication or support that is safe for your pregnancy.
What Can Your Partner Do for Pregnancy Mood Swings?
1. Be Patient
Channel your inner saint. Pregnancy only lasts nine months and they will be much more tolerable for both of you if you can pleasantly respond to her fluctuating mood swings.
2. Help Her Regulate Her Mood
Rather than pointing out her moods, offer her a healthy snack or suggest a before or after-dinner walk around the neighborhood. Both of those activities can help her feel better without blatantly addressing her mood swings.
3. Go the Extra Yard
Finally, go the extra yard to make her feel special or let her know that you care. Often this will be in the form of chores – doing the laundry, unloading the dishwasher, going to the supermarket and so on. She will appreciate your effort and you will appreciate her pleasant mood.
4. Be Tender
You may have heard the phrase, "it's the hormones talking". Pregnancy mood swings are inevitable and she will be so grateful if you indulge her moods with tenderness and understanding even though she may not thank you at the time.