Many athletes who are serious about their fitness routine have embraced a product called Six Star Pre Workout Explosion. So what exactly is this product and how does it work? It is a supplement that enhances your workout experience providing you with a continual energy level so you can get all the benefits of your exercise session.
The customers who have bought this product have been instructed to take one dose with water about 30 minutes before they begin their workout. You are warned to not take more than two servings within a 24 hour time frame.
Background on the Six Star Pre Workout Explosion
The Six Star Explosion was developed with fitness professionals in mind. The formula for the product was well researched so that it would deliver a powerful boost of energy to the user. Their goal is to give you the best work out of your life. The company stands behind their promise and conducted a study on 31 subjects who were regular athletes. After 10 days the athletes were able to confirm that the Six Star Explosion increased their muscles by 18.6%.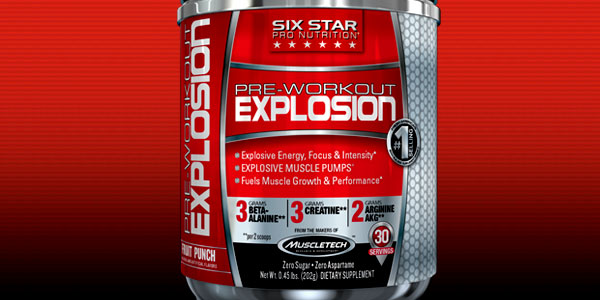 What's in It?
Six Star Pre Workout Explosion reviews can give you some ideas concerning the effectiveness of the product, but you need the detailed information of what is in it to understand whether it really helps and if any harmful ingredients are present.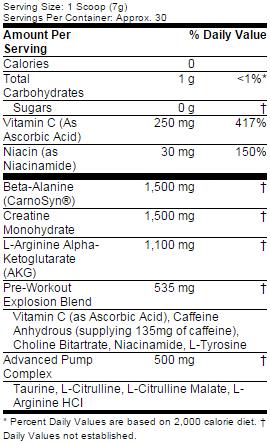 Other Ingredients:
Artificial and Natural Flavors, Citric Acid, Malic Acid, Maltodextrin, Sucralose, Silicon Dioxide, Calcium Silicate, FD&C Red No. , Acesulfame-Potassium
Six Star Pre Workout Explosion Reviews
The following reviews will help you decide whether you would like to invest in the Six Star Pre Workout Explosion.
Effectiveness
"I'm not going to make a lot of inflated promises about this product. The truth of the matter is this pre workout supplement works. It delivers everything it promised and at a really good price. Make sure you take it about a half hour before your workout and you will be pleasantly surprised."
"After having to take some time off from my workouts due to an injury, I found that within the past two weeks I am getting back to my old workout schedule. My energy levels remain consistent and without the jittery feeling that comes with too much caffeine."
"I tried this product and had to take twice the number of scoops to get a decent boost and even that didn't last that long."
"I didn't feel like this gave me that strong of a workout."
"I have been on this supplement for the past week and I can really tell the difference when I work out. My energy level is definitely elevated and my muscles don't burn out so I am able to do more reps and get in a better workout."
"After taking this supplement today I experienced an explosion of energy and it stayed with me even after I completed my workout. I have sensitivity to caffeine and I was not affected at all by the level of caffeine in this product. I did not experience any of the typical jittery feelings you can get with caffeine high."
Taste
"The good news is that the Six Star Pre Workout Explosion supplement tastes good. The bad news is that the only flavor that they offer is fruit punch. Having to take the same flavor all the time is boring. Maybe they can take a hint and add a few more flavors to their lineup."
"After trying this product I did not feel any increase in my energy levels. It doesn't taste great but it isn't the worst supplement I've tried."
Value
"This is the best pre workout supplement I have used – and I have tried them all. It is also available at a great price."
"With so many positive Six Star Pre Workout Explosion reviews I had my doubts; I mean could this stuff really be that good? I am happy to say Yes! It delivers everything it promised and even more. I am so happy I tried it and the results are starting to show."