Spaghetti Bolognese is a delicious Italian dish of spaghetti pasta served with a tomato and meat sauce. When eaten in moderation, it is a nutritious meal that can be incorporated into a healthy diet balanced with plenty of exercise. By substituting a few ingredients, you can make even healthier spaghetti Bolognese or fine-tune the dish to meet any dietary needs.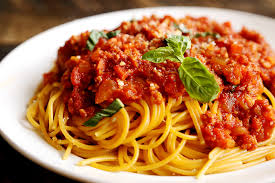 Spaghetti Bolognese Calories
Bolognese usually consists of minced beef, onion, celery, and carrots mixed into a tomato-based sauce. Variations on the basic recipe include adding various herbs and spices, using different types of ground meat, and replacing the spaghetti with other kinds of pasta. Vegetarians often make Bolognese using bean, mushroom, soy products, or lentils instead of the meat.
For regular Spaghetti Bolognese you eat at a restaurant, here is a list of the nutrients typically found in different portions of spaghetti Bolognese and the calories for each serving:
| | | | |
| --- | --- | --- | --- |
| Serving Size | 1 oz | 100 g | 1 cup |
| Calories | 41 | 146 | 364 |
| Fat (g) | 1.45 | 5.11 | 12.73 |
| Carbohydrate (g) | 5.16 | 18.18 | 45.28 |
| Protein (g) | 2.02 | 7.12 | 17.73 |
| Sodium (mg) | 58 | 205 | 511 |
Spaghetti Bolognese Recipe
For delicious homemade spaghetti Bolognese, try this recipe, which serves eight people. The spaghetti Bolognese calories for this dish are 352 calories per serving.
To make the Bolognese:
Fry one medium onion and two tablespoons crushed garlic in one tablespoon of olive oil until the onion is golden and transparent.
Add 800 g minced beef to the mixture. Cook until the meat has turned completely brown, then carefully drain off any excess fat.
Mix in 15 chopped medium mushrooms, four tablespoons tomato paste, 180 ml red wine, two crushed beef-flavored stock cubes, 440 g tinned chopped tomatoes, three bay leaves, a splash of tabasco sauce, a tablespoon of olive oil, and a teaspoon of dried mixed herbs.
Gently simmer your Bolognese until the beef has softened, and all the ingredients are mixed well and heated through.
Serve your Bolognese sauce on top of any type of cooked pasta.
Here's another delicious and healthy Spaghetti Bolognese recipe:
Tips and Tricks
To make your spaghetti Bolognese even tastier without adding many Spaghetti Bolognese calories, try these simple tips:
Ground beef can sometimes be a bit dry, so to make the meat juicer, try mixing the beef with some minced pork.
Try cooking with fresh tomatoes instead of tomatoes sauce from a packet. You'll need to peel off the skins, then mash the tomato fruit.
Fry the onions and other vegetables together with the beef to allow the flavors to mix. Simply add the ground meat to the frying vegetables once they have softened. Separate the mince with a wooden spatula to get the small pieces you want and to obtain a good blend.
Prior to mixing in the tomatoes, add a couple of tablespoons of red wine to the meat and vegetables. This can hide the raw meat odor, as well as giving the meal a tasty aroma. You can also use white wine, although the effect is not as strong. Once most of the wine has boiled off, mix in the tomatoes.
When you've added the tomatoes, thoroughly mix all the ingredients together, then bring your sauce to the boil. Add a tablespoon of sugar to the mixture, and stir through. This softens the acid taste from the tomatoes, and gives your sauce a rich flavor, but won't make the Bolognese sweet in any way.
Dried herbs, particularly oregano, basil, and thyme, can be mixed into the Bolognese to add flavor and aroma to the meal. You can also try bay leaf, ground pepper, rosemary, or a small pinch of savory.
Before you boil your pasta, add a tablespoon of olive oil and a teaspoon of salt to the water.
Don't wash the pasta with cold water after it's cooked. Simply pour it into a colander, then wait a few minutes before dishing it out. Be careful not to let the spaghetti become dry.