Super Beta Prostate has a ranking of number one in this country. It is claimed that this formulation has improved the prostate health and life quality for men numbering in the millions. New Vitality features this optimal dietary supplement with an objective to improve male health with a focus on prostate health. Claims and testimonials agree with decreased difficult with prostatic inflammation and associated urinary frequency. However, Super Beta Prostate reviews vary a lot in terms of its true effects.
New Vitality and Super Beta Prostate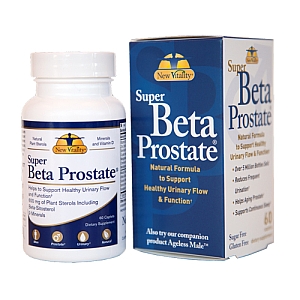 New Vitality manufactures optimally functional nutritional supplements with a focus on longevity results for older men and women. With an A rating on the BBB scale, it stands as one of the most helpful brands offering premium customer service to suit all your maturing nutritional needs. All products are GMP-certified, ensuring you high-quality, effective products in areas of men and women's individual health needs.
Super Beta Prostate reviews indicate some mixed results, as all reviews do. New Vitality has a history which is controversial. Not all users have been satisfied and high prices have been an issue.The supplement shows some weak scores and could appear to be poorly formulated. However, this supplement contains some vital nutrients to help men maintain prostate health.
User Reviews for Super Beta Prostate
Understand, not all dietary supplements work for all people. There are health differences and gender differences as well as genetic factors to concern. As is clear, the jury is out, so to speak when it comes to these Super Beta Prostate reviews. Perhaps taking a look at some of the user reviews will help clarify the situation and help you make the right purchase decisions for the product.
"When I ordered this product I really thought that the product would do at least what the ads claimed. But not only was I wrong about the product…in addition to the product not being able to provide any relief from the effects of an aging prostrate. And my urinary problems did not get any better, if not worse. I found it a nightmare trying to get removed from the auto-ship program." -Tony
"My husband has used this product for a couple of years. The product is really good at relieving the symptoms…he doesn't have to get up so many times as he used to and by now no side effects occur." –SeaMomma
"At first, I bought the product from the manufacture directly. However, after some time I started buy from elsewhere because of the auto-order hook. It really works for me and now I only have to get up one during the night. Sometimes I even did not have to get up at all if I did not drink too much fluid. What's more, the price was half lower than before. And if it did not work for you, maybe you should try reducing the dose and see what happens." – Larry Shindler
"I wish I had read some reviews here before buying online, nowhere does it say when you buy online, or on the receipt that comes with the product, that you are signing up for Automatic shipping and billing!! And if you want to return what you did not order, they will not refund all your money, they don't want anything back, and they will keep at least $15. This tells me that is their cost for 2 bottles and shipping. The product did not work very well with me after using it for almost 2 months." –Gary
"I'm 56 and was using the bathroom 3 or 4 times a night. It must have come on slowly, so I guess I figured 'that's just the way things are for men'. About 2 days after starting the twice daily use of this product I'm now waking up once during the night to do 'business' I'm just about ready to get some more. One other thing, I don't notice any side effects at All. Don't know if anyone else has any, but I Have None. Give the stuff a try." –Gary inn. California
"I started Super Beta Prostrate about 30 days ago. It does offer some relief although nothing close to what the TV ads imply.I still need to get up at night a couple of times but the extreme urgency is gone and urine stream has improved. I plan to continue with this product as results help and worth the price." –JAK
"About 2 million men bought Super Beta Prostate under the premise that it would help alleviate the symptoms of an enlarged prostate. This condition, known as benign prostate hyperplasia (BPH)…it appears that not only does this product not work, but it also caused some side effects such as nausea and diarrhea…" –Carey
"The product does have some decent minerals/vitamins in it, but honestly, no more than your basic Multivitamin." –T. Smith
"Yes, I agree with reviewers on this product and others such as Beta Prostate. I didn't read every review but the ones I did read are missing the basic point. You can buy PURE BETA SITASTEROL (the active ingredient in these products) much cheaper." –Ronald Brackney
Super Beta Prostate Ingredients and Facts
The reality is simple when it comes down to the ingredients of this formula. Some of the ingredients are indeed applicable to supporting prostate health. The dosages are fairly low and a proprietary blend is included at the end of the Supplement Facts before the ingredients are mentioned. To a trained supplement expert, this would not appear to be the most effective choice for a man seeking to support optimal prostate health. A clear critique of the ingredient combinations and ingredient forms could be made to state an either/or argument in favor of this supplement or not.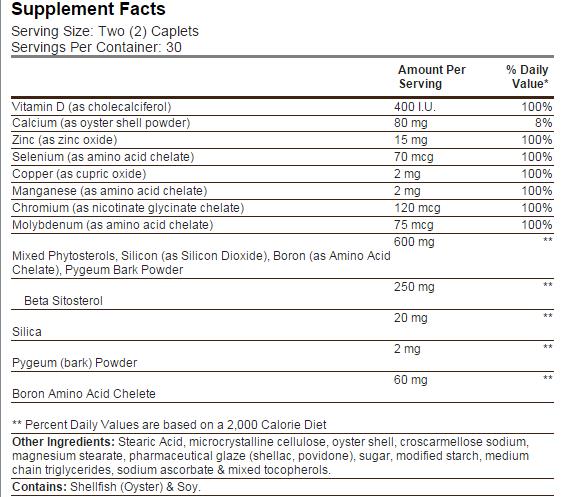 Possible Side Effects
According to eMedTV, the product would cause some side effects like heartburn, irregularity, nausea, diarrhea, or indigestion. Besides, there is also the possibility that the beta-sitosterol contained in this product would have influence over male hormones, causing sexual side effects such as decreased sex drive and erectile dysfunction. And the beta-sitosterol is also related with decreased vitamin absorption.