Long distance relationships aren't for everyone. It feels great in the beginning, but it is never easy to pass the time when you two are physically apart. The lagging times in the middle can make things difficult, and if you cannot deal with your doubts and life-sized fears, everything will eventually fall apart. You will have to find answers to so many questions when you two are not together. You may even think you're fooling yourself by this long distance relationship. Want to make things work out? Keep reading and you will discover some simple yet highly effective ways to maintain a strong long distance relationship.
How to Maintain a Strong and Sweet Long Distance Relationship
It is true that maintaining a long-distance relationship requires lots of understanding, patience and trust in each other. Here are some suggestions that will help make it easier to continue with your long-distance relationship and even make it stronger than ever.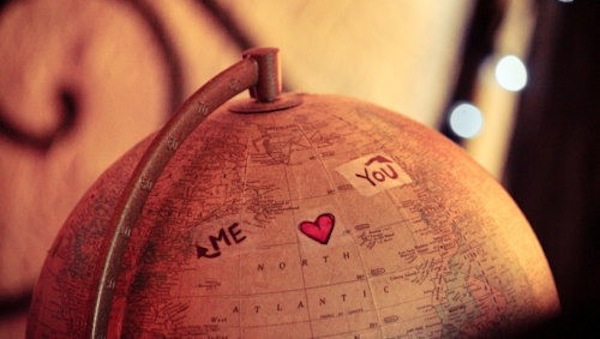 1. Stay in Contact
You won't see each other in person, so it is important to find a way to keep in touch. Unless you do something to stay in contact, you will find it difficult to maintain an emotional connection. You really don't need in-depth conversations. Communicating frequently is important. Look into different technologies available today and opt for your partner's preferred method for communication.
2. Don't Communicate Too Often
While it is important to talk frequently, you should avoid excessive communication or you will lose the charm and thrill of a long distance relationship. Don't try to be possessive and never make the mistake of thinking that you should compensate for the distance by communicating more often. Just give your partner some space and talk without exhausting yourself.
3. Talk About Little Things
Communication is important even if it's just a few minutes. You really don't need a specific topic to start a conversation. Talking about everyday things, such as doing chores around the house, grocery shopping, or redecorating will help foster connection and lay the foundation of a better long distance relationship.
3. Get to Know Each Other
Whatever the mode of communication, be sure to learn about each other through conversation or simple gestures. Find out what your partner likes most. Get familiar with that topic, so you could have more to talk about when you two connect again. Learn more about each other's preferences to lay the foundation of a strong relationship.
4. Don't Put Yourself in Awkward Situations
You should be open to your partner. If your partner doesn't like you to go drinking with other friends or spend a night in the club, you should do your best not to do it. In case you want to go out with friends, be sure to tell your partner beforehand to avoid getting in any "dangerous" situation later. Doing anything that your partner doesn't like and then lying about it will make your partner extra suspicious, and there is no way to fix this when you're in a long distance relationship, which may ruin everything in the end.
5. Know People Aren't Perfect
While you may want to believe that your partner is perfect, they are not. It is natural in a long-distance relationship to idealize your partner, but don't take things too far or you will have trouble reuniting with the actual person.
6. Support Each Other
Even when you're apart, you should forward your emotional support when your partner is in trouble. Make yourself available to help them and let them know you care. Support each other as much as possible, even over the distance, to create interdependence which is extremely important for a long distance relationship.
7. Talk About Your True Feeling
Try to be honest with your partner. Don't lie when talking about your feelings of insecurity, fear, apathy, jealousy and everything else. Always keep in mind that you are in a long distance relationship and how you communicate your feelings will help your partner know more about you.
8. Gift a Personal Object
Exchanging gifts will give your partner something that they could use to remember you all the time. Gift a personal object to make it even more special. Anything from a keychain, a ring, a bottle of fragrance or a CD of songs and videos will do.
9. Remember Little Things
Do you remember the day when you two started your long distance relationship? When was the first time you two had a video chat? What was the first gift you received from your partner? Think about these things, share your feelings and tell your partner that you still remember all of it.
10. Don't Be Manipulative
You two have to understand that you have other responsibilities as well. It may not always be possible to talk to your partner whenever you want. In this situation, it is important that none of you try to be manipulative and allow dishonesty to creep in your relationship. It can be damaging to your long distance relationship.
11. Snail-Mail It
Instead of writing emails, write letters and mail postcards to your partner. Flower deliveries on anniversaries, birthdays and Valentine's Day will make things even more special.
12. Try Video Call
Make use of the technology and video call your partner. It feels great to look into each other's eyes and share your innermost thoughts with your partner.
13. Find Pet Name for Your Partner
Giving each other great pet names will bring joy to your relationship. It's kind of cute and keeps your relationship going.
14. Learn Together
Enroll in an online class and learn a foreign language with your partner. You can choose other projects that you both love to do. Spending some time playing multiplayer games together may also help strengthen the bond.
15. Discuss the Nature of Your Relationship
Be sure to talk about the nature of your relationship. It may be something you have started casually but it may have turned into something you really care about. Share your feelings and tell your partner where you want your relationship to go.
16. Stay Positive
It is natural to think negative about your relationship since you are not physically together. Don't let those negative feelings take control of you. Know that the distance will help strengthen your relationship and bring you two close to each other.