Exercise is important to promote good health, but it is not always easy to find the time to do it. Walking is a great form of exercise that anyone can do without hassle. Not only can walking burn calories, but it can also increase your leg muscle strength. Walking also helps many to clear their mind and make them generally feel better. It is suggested that you try to walk 10,000 steps every day.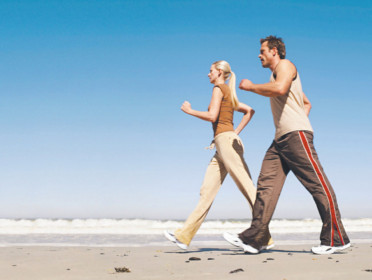 How Many Calories Does Walking 10,000 Steps Burn?
The amount of calories you burn whilst walking depends on how fast you walk, how much you weigh and how much weight you are carrying. On average, for 10,000 steps, calories burned are about five hundred. This is based on the assumption that you would walk five miles in 10,000 steps. This figure can increase or decrease when you walk fast or slowly and when the walk involves any uphill or downhill treks.
Can Walking 10,000 Steps Help Me Lose Weight?
Yes, to put it simply. Studies have shown that those who briskly walk around 10,000 steps a day can lose a significant amount of weight after a year. In order to maximize your weight loss potential, follow the guidelines below.
Set a Daily Goal
In order to maximize your weight loss potential, it is important to set yourself a daily goal for the minimum amount of steps you take in a day. This can be decreased or increased, depending on whether you have performed any other physical activity, or if you want to push yourself harder.
Keep a Diet Journal
If you haven't achieved the walking goal of 10,000 steps, calories burned can be added by doing some other exercises or simply cutting down a little bit on your calorie intake. Keeping a diary of what foods and drinks you consume will help you keep track of your progress. Maintaining a good and well-balanced diet is extremely important for weight loss.
10,000 Steps a Day FAQs
Q 1: 10,000 steps sounds like a lot. How is it possible to achieve that in a day?
There are many ways you can increase the amount that you walk in a day, such as walking short journeys, as opposed to driving or taking the bus, or getting off the bus earlier and walking the remaining distance, or avoiding lifts and taking the stairs. You can also walk your children to school (if it's close enough), or walk the dog if you have one.
Q 2: Walking is boring. How can I make it more interesting?
Walking with others can help to make it less tedious. You can also try taking an MP3 player to help entertain you whilst walking. There are also various exciting routes and trails that can be explored, so don't stick to the sidewalk.
Q 3: What if I'm unable to walk for a few days due to a holiday or an illness?
Missing a few days should not have any negative effects, although it will have no positive effects either. Walking is a light exercise, meaning a few days off shouldn't make it hard to continue again. You could always decrease the amount of steps you walk in a day and progressively build back up.
Q 4: Is walking all I need to do? Should I consider other exercises as well?
As long as you walk enough steps, it is sufficient. It is not to say that doing other exercises won't be beneficial, as it most certainly would be. Including more exercises into your regime can prevent you from becoming bored with the same routine.