Cocoa butter or theobroma oil is a meltable natural oil from cocoa bean. Cocoa butter is used to make chocolate and give it the silky, alluring and melt-in-your-mouth feel. It works like other healthy sources of fatty acids such as coconut oil and shea butter to heal dry, sensitive skin naturally. Cocoa butter is edible and is used to make skin lotions, chapsticks and lip-glosses.
7 Great Cocoa Butter Benefits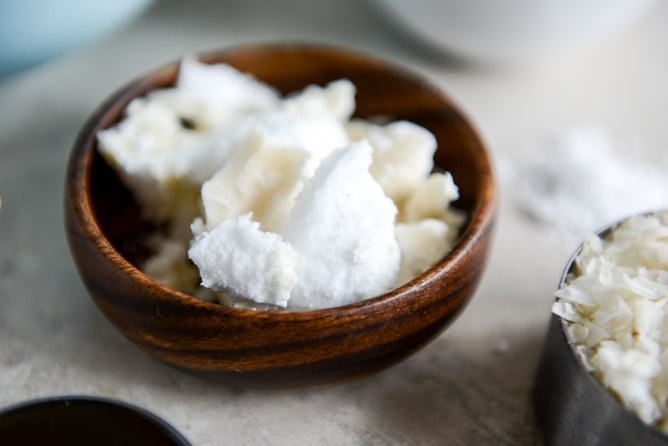 1. Reduces Inflammation
Cocoa butter contains high amounts of fatty acids and antioxidants, which are ideal for reducing skin inflammation. Applying cocoa butter on inflammations such as eczema, psoriasis and rashes gives an immediate soothing relief with a nice aroma. You can also get this relief from eating cocoa butter in chocolate. Though excess fat have a negative effect on the cardiovascular system, taking cocoa butter in moderation relieves inflammation in the heart.
2. Fights Against Aging Effect
Cocoa butter is rich in antioxidant compounds that include palmitic, oleic and stearic acids. These compounds are beneficial fatty acids and help in neutralizing free radicals in the body especially in the skin. Cocoa butter reduces the aging signs such as age marks and wrinkles by reducing oxidative stress levels. In addition, cocoa butter reduces the appearances of scars and boosts skin health.
3. Promotes Skin Health
One of the cocoa butter benefits is its effect on the skin. Cocoa butter is an excellent moisturizer that hydrates and heals the skin from the inside out. Cocoa butter contains the same natural antioxidants as cocoa beans and dark chocolates. The antioxidants boost heart health and promote cognitive functions. The saturated fats in cocoa butter heal dry, cracked skin because the skin absorbs them easily and retains them for hours. Cocoa butter is also an excellent solution to hydrating sensitive skin because it causes little irritation on sensitive skin as it locks in moisture. It prevents skin dryness and peeling.
4. Heals Chapped Lips
Cocoa butter is popularly used on the lips in homemade lip balms. It is combined with other essential oils such as orange, grapefruit, peppermint and vanilla oils to make lip balms. The balms have a good flavor and are beneficial in hydrating delicate skin. Cocoa butter as an emollient protects lips from dryness by adding a protective hydrating layer on the lips. This layer protects lips from effects of indoor heat, sun damage, and extremely cold temperatures, which cause dryness on the lips.
5. Benefits Shaving
You can add a bar of cocoa butter to shave lotions and experience a smoother shave. Cocoa butter makes shaves smooth and less irritating and leaves your skin smooth after the shave.
6. Enhances Scar Healing
One of cocoa butter benefits is its healing properties. It contains antioxidants that combat stretch marks, scratches, and scars. Cocoa butter accelerates the regeneration process. Applying cocoa butter regularly on scars from a cut and acnes or other discolored areas on your skin makes them lighter. They might even disappear with time.
7. Protects Hair
You can use cocoa butter for your hair in many ways. You can apply it before washing your hair to act as a hair mask. For this purpose, melt a little amount of cocoa butter and then massage into your hair. Leave it in for 10-15 minutes and then rinse. Leaving for a longer period allows it solidify, which makes it hard to remove.
You can use cocoa butters as a conditioner after shampooing your hair. Simply apply small amounts of butter on your hair roots to get desired results. You can also use cocoa butter as hair pomade by applying a little amount of the butter over your hair.
There're some more cocoa butter benefits to your hair:
It moisturizers your hair deeply.
Cocoa butter makes your hair strong and healthy.
It reduces hair loss.
Cocoa butter helps in repairing dry, damaged hair.
Applying the butter makes your hair more manageable.
Cocoa butter rejuvenates chemically processed hair.
It prevents further damage to your hair.
Cocoa butter should be part of your daily hair and skin routine. Apply a slab of cocoa butter to your skin and hair every day. Alternatively, you can start by using skin and hair products that contain cocoa butter and experience a healthy change.
WARNING
Cocoa butter has high amounts of calories. Some of them are beneficial to some parts of body. However, individuals with obesity and those trying to lose weight should not rely on cocoa butter. Instead, such individuals should rely on other vegetable oils that have the same health benefits but do not lead to excess weight gain.