Are you taking essential oils for pregnancy? Did you know that the essential oils can affect gut bacteria, your hormones and other aspects of your body? Most oils are considered safe during pregnancy, particularly after the first trimester. However, it is still advisable to consult your doctor before using essential oils or any other herbs for pregnancy. Every woman is unique and the oils that work well with other women may not work for you.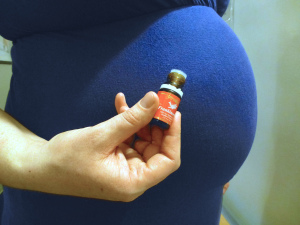 Is It Safe to Use Essential Oils for Pregnancy?
Essential oils are generally safe since they are concentrated substances acquired from plants. When you are pregnant, however, using essential oils requires more caution. Essential oils' molecules are quite small and they can make way to your unborn child. Various studies have been conducted with an aim of understanding the effect the essential oils have on the baby. However, there is no conclusive result.
Essential oils are mostly used for aromatherapy. They contain chemicals that your body can absorb. You can breathe them in when put in a vaporizer. Most mothers enjoy aromatherapy as it eases the issues that come with pregnancy, like swollen ankles, backache and nausea. A base or carrier oil can be used to dilute them and used for massage purposes.
Essential Oils Safe for Pregnancy
1. Bergamot
It is light and has a citrus refreshing aroma. It lifts spirits, assists with prenatal/postnatal depression as well as relieves pain and indigestion.
2. Lavender
It is multipurpose oil that relaxes both the body and mind, offering relief to pain and giving a sense of peace and tranquility. It can also be used to get rid of stretch marks.
3. Lemon
It is good for massaging varicose veins and when inhaled, it helps stop morning sickness.
4. Neroli
It relieves several pregnancy issues like digestive issues, birth and parenting anxiety, fluctuating emotions, depression and problems sleeping. It promotes skin cell generation and may keep your skin glow during pregnancy.
5. Rosewood
It is sweet smelling oil that has sedation properties and improves mothers' sleeping quality.
6. Sandalwood
It helps with cystitis during pregnancy and is also an effective anti-depressant.
7. Tangerine
It helps with sleep problems and treats stretch marks.
8. Geranium
It offers relief to pain and other pregnancy discomfort like swollen ankles, legs, breasts and backache. It is not advisable to use in the 3rd trimester.
9. Chamomile
It soothes headaches, muscle aches and indigestion. It calms the body and mind as well.
10. Eucalyptus
It is an antiviral and helps ease colds and coughs during pregnancy.
11. Frankincense
It works well for women in labor by relieving pain, encouraging the woman to focus and breathe steadily.
12. Grapefruit
It eases water retention and helps with digestion.
13. Ylang Ylang
It brightens, calms and assists in restoration of focus when being stressed out.
How to Use Essential Oil for Pregnancy Safely
If you want to use essential oils for pregnancy, you should take the following precautions:
1. Avoid essential oils during the 1st trimester.
2. It is not advisable to use essential oils daily – limited use to relive insomnia and nausea is recommended.
3. For topical application, 3 % dilution for a large area and 1 % dilution for a small area. It is not recommended to use the oils undiluted. To dilute, use one teaspoon of base oil to mix with one drop of essential oil. Smooth it over your skin or add it to your bath. Sweet almond oil and grape seed oil are good base oils.
4. Caution should be taken when doing steam inhalation – diffusion is preferred.
5. Internal use is not advisable.
6. Avoid solvent-extracted essential oils or any absolutes and synthetic essential oils.
7. You can put a few drops of oil in the vaporizer, but it should not stay for more than 10-15 minutes per hour.
How to Relive Pregnancy Symptoms with Essential Oils
1. Indigestion
Apply three to five drops of fennel, peppermint or ginger on the base of your feet or abdomen or under the nose.
2. Heartburn
To a glass of almond milk, add two drops of peppermint. If you can tolerate it, add three drops of peppermint to one glass of water and drink throughout the day.
3. Morning Sickness
Mix ginger, sandalwood or lavender with fractionated coconut oil and massage on your abdomen. Other recipes include:
Add three to five drops of peppermint, ginger or fennel in a capsule
Mix one to two drops of lemon oil and ginger with water and honey
Put three drops of peppermint or grapefruit into a diffuser and place it next to your bed
4. Insomnia
Massage the bottom of your feet with lavender oil. You can also add it to water and spray your beddings. If your insomnia is severe, try the combination of dream blend and patchouli oil.
5. Lower Back and Leg Pain
Add a maximum of three drops of Ylang Ylang or lavender oil to your warm bath to ease muscle aches. Use a carrier oil to massage geranium on the painful part.
6. Swelling and Water Retention
When taking a glass of water, add three to five drops of grapefruit, lime and or lemon oil. You can also put three to five drops of lavender, lemon, ginger and geranium in a roller bottle together with fractionated coconut oil. Roll it over your feet and ankles in upward movements.
7. Stretch Marks
Mix four drops of helivhrysum, frankincense, lavender and the liquid from six vitamin E capsules in one ounce of organic coconut oil, then store in a jar. Apply the mixture on the stretch marks every morning after the first trimester.
8. Hemorrhoids
To one tablespoon of organic oil, add one drop of marjoram, lavender, cypress and five drops of geranium. Apply the mixture on the hemorrhoids or soak in a sitz bath with the mixed oils.
9. Yeast Infections
Soak for 10 minutes in bath with a few drops of lavender, melaleuca and two tablespoons of bath salts.
Essential Oils to Avoid During Pregnancy
| | | | | |
| --- | --- | --- | --- | --- |
| Arnica | Birch (sweet) | Basil | Boldo leaf | Bitter almond |
| Calamus | Buchu | Camphor (brown and yellow) | Cassia | Broom |
| Nutmeg | Coriander | Clove (stem, leave or bud) | Cinnamon | Thuja/cedarwood |
| Origanum | Deertongue | Costus | Clary sage | Chervil |
| Parsley (large doses) | Hyssop | Horseradish | Wormwood | Elecampane |
| Pennyroyal | Jaborandi leaf | Melilotus | Mustard | Mugwort |
| Pine (dwarf) | Rue | Savin | Sassafras | Savoy (summer) |
| Rosemary | Wintergreen | Tonka | Thyme red (large doses) | Tansy |
Note
There are circumstances when it is not advisable to use essential oils at all, including:
History of miscarriage
Virginal bleeding during pregnancy
Epilepsy
Heart problems
Blood clotting problems, diabetes or thyroid, kidney or liver disease