Black-eyed peas are characterized by cream-colored skin and a black spot. They are one of the most easily recognizable legumes. Black-eyed peas are also called cowpeas or black-eyed Susan's. The origin of these peas is Africa and was introduced to America by slave traders. Traditionally, black-eyed peas are enjoyed in the Southern United States as a Hoppin' John recipe which features rice and black-eyed peas. It is said that Hoppin' John eaten during New Year's Day can bring good luck.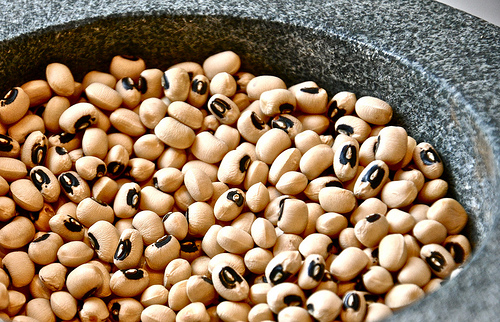 How to Cook Black-Eyed Peas
The steps are as follows: (Liquid per cup of legume: 3 cups)
With Soaking
Put dried peas in a pot with water, cover and let it boil in 2-3 minutes.
Remove the pot from the burner and let it stand for an hour to one and a half hours.
Drain water and replace it with fresh water. Cook until tender.
Without Soaking
Rinse black-eyed peas with cold water. Add the peas and water to a pot.
Place the pot on the burner, cover and let it boil.
Once it begins boiling, reduce the heat and simmer it. Tilt the lid slightly to allow excess steam to escape.
Leave the peas to cook until for an hour or so, or until it is tender to your liking.
Delicious Black-Eyed Peas Recipes

1. Hoppin' John
Ingredients
2 onions peeled and cut in large pieces
2 garlic cloves peeled
1 red bell pepper deseeded and cut into large pieces
3 sticks of celery cut into large pieces
Scotch bonnet chili to taste, depending on your preference
1 tablespoon chopped ginger
1 tablespoon olive oil
Twelve slices of smoked bacon cut in thin strips
500 grams or 2 ¼ cups of black-eyed peas soaked for two hours and rinsed
4 cups of chicken or Maggi stock
Salt
2 bay leaf
1 tablespoon dried thyme
4 spring onions or scallions chopped finely
Ground black pepper
Instructions
Wonder how to cook black-eyed peas in Hoppin' John? Follow these steps:
Place pepper, onion, garlic, celery, ginger, and chili in a food processor and chop roughly.
Heat oil and fry bacon slices until they are crispy. Remove a ¼ of the bacon and set aside to use as garnish later.
Add chopped vegetable mixture into the bacon and fry for about ten minutes.
Add in the stock, peas, thyme and bay leaves, and bring to boil.
Reduce the heat, and let it simmer for 60-90 minutes, depending on your preference of tenderness. You may add more stock if it dries out.
Add pepper and salt to taste.
Serve the black-eyed peas mix over rice. Top it with set-aside bacon and spring onions to garnish the food.
2. Spicy Black-Eyed Peas Salsa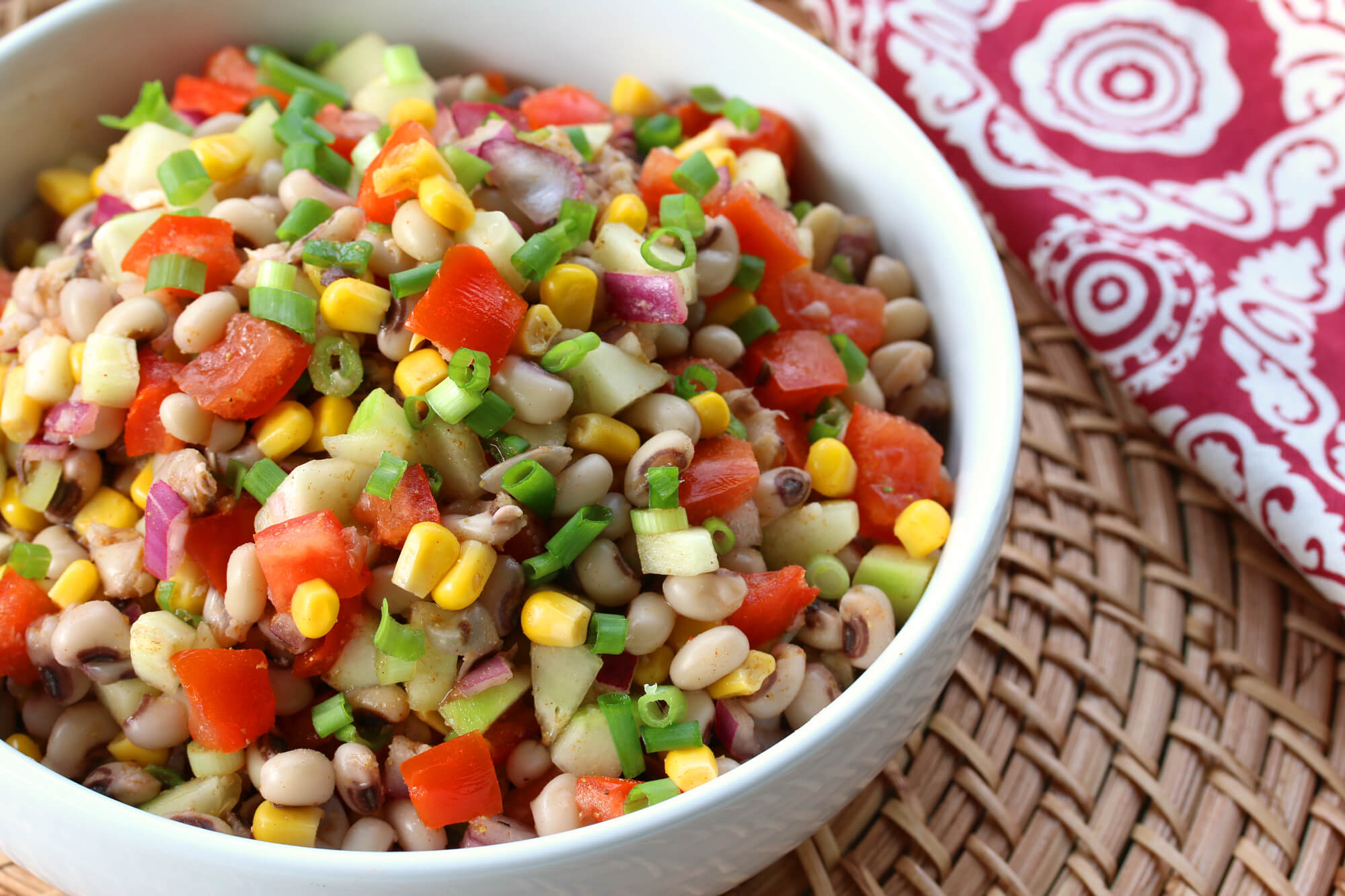 Ingredients
1 can of black-eyed peas
1 can of black beans rinsed and drained properly
½ cup chopped onions
1 cup of whole kernel corn drained well
1 cup of Italian-style salad dressing
1 can of diced jalapeno peppers
½ cup of chopped green bell pepper
½ tablespoon of garlic salt
1 can of diced tomatoes well drained
Instructions
After learning how to cook black-eyed peas, try this easy and delicious recipe.
In a medium bowl, combine black beans, corn, black-eyed peas, tomatoes, and green bell pepper, onion, and jalapeno peppers.
Season the mixture with garlic salt and Italian-style salad dressing.
Mix well, cover, and refrigerate the mixture for flavors to blend.
3. Texas Caviar
Ingredients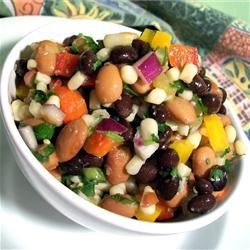 2 cans of black-eyed peas well drained
1 can of petite diced tomatoes well drained
1 small onion cut into small dices
2 fresh medium jalapenos, stemmed, seeded and minced
6 tablespoons of red wine vinegar
¼ cup finely chopped cilantro
½ teaspoon salt
6 tablespoons olive oil, avoid extra virgin oil.
1 teaspoon dried oregano
½ teaspoon garlic powder
½ teaspoon ground black pepper
1 ½ teaspoons of ground cumin
Instructions
Mix all the ingredients listed in a medium bowl.
Cover and refrigerate it for 2 hours to two days, depending on your taste and preference.
Prior to serving, add seasonings to improve taste, such as salt, pepper, and extra vinegar.
Transfer the mixture to a serving bowl. This is how to cook black-eyed peas using Texas caviar recipe.
Nutrition Facts of Black-Eyed Peas
Black-eyed peas not only taste well, but also are very nutritious.
1. Macronutrients
Proteins, fat, and carbohydrates make up macronutrients. Black-eyed peas have a moderate amount of protein, high amount of carbs and low fat. A cup serving of cooked peas has 5g of proteins, 33.5g of carbs and less than 1g of fat. One cup of black-eyed peas has 160 calories. Proteins and carbs from peas are digested slowly; therefore, you can have extended energy levels throughout the day. Recommended daily intake of carbohydrates is 130g. Men should take 56g of proteins and women 46g.
2. Fiber
Fiber is non-digestible carbohydrates that are classified as either insoluble or soluble. Soluble fiber absorbs water and prevents absorption of cholesterol, thereby stabilizing blood glucose levels. On the other hand, insoluble fiber helps in adding matter to stool, reducing chances of digestive disorders and constipation. Black-eyed peas contain more soluble fiber. One cup serving of the peas has 8g of total fiber.
3. Potassium
Potassium is an essential compound in enhancing electrolyte balance, which aids in muscle contractions and heart functions. Black-eyed peas have 680mg of potassium in one serving and daily recommended intake is 4700mg.
4. Vitamin K
Black-eyed peas are known to have a high amount of vitamin K which is important in accentuating blood clotting. A cup of black-eyed peas has 44mg of vitamin K. The daily recommended intake of vitamin K is 90mg. Patients on blood thinners should eat black-eyed peas under the doctor's guidance.
5. B Vitamins
Vitamin B complex is essential in breaking down macronutrients to energy, producing red blood cells, and aiding in the function of central nervous system. Black-eyed peas are rich in vitamin B and they contain 24mg of riboflavin, 2mg of thiamin, 210mg of folate, and 2.3mg of niacin in one cup. Recommended daily intake of niacin is 14mg for women and 16mg for men. Both genders should strive to 400mg of folate intake daily.
6. Vitamin A
Vitamin A is also called retinol and it promotes good vision. This vitamin is also crucial in skeletal tissue and skin strength. Recommended daily intake is 900mcg for men and 700mcg for women. A cup serving of black-eyed peas has 66mg of vitamin A.