All of you must have heard about gluten, a type of protein that is found in grains such as wheat, barley, rye and triticale. Gluten binds food together to maintain their shape.
This undeniable binder is a boon to food products, but for those allergic to it, gluten can sometimes prove to be fatal too. If you are a Risotto (a famous Italian dish) fan and allergic to gluten, you must really want to know whether risotto is gluten free or not. Here you will get all the answers.
Is Risotto Gluten Free?
If you are a hard-core gluten lover, you
can take a breather because 95% of the risotto that you are having is safe and gluten-free. This can relieve those suffer from a celiac disease and non-celiac gluten sensitivity. But then again, there is still a 5% rate that risotto can cause all sorts of troubles for you! Here comes the detailed explanation:
Gluten Free for 95%
In fact, most risotto utilizes short-grained Arborio rice which carries a high content of rice gluten. But this gluten is way different from the "gluten" we are talking about.
Actually, this kind of gluten gives the dish a rich and creamy consistency and a distinct texture. Besides, you can add broth, cheese, meat, shrimp, pepper, fish, etc. to the risotto to make it even tastier. As long as the ingredients are gluten-free, your risotto will definitely be free of gluten and can be enjoyed by all.
There Is Still a 5% Risk
Is risotto gluten free? We can only say almost because the uncertainties revolving around the restaurant brought risotto need to be considered:
The type of broth they use to cook the rice. There are chances that the commercial broth used can potentially have traces of gluten in it.
There are many food joints that forgo the traditional Arborio rice, replacing it or mixing it with gluten-containing grains for the necessary binding process.
In case of risotto fried patties or cakes, flour is probably one of the ingredients. This make your risotto contaminated with gluten.
This forcefully added gluten is very alarming for those who are under gluten-free diet. If you are eating out, unless you know for sure that the risotto served is gluten free, be extra cautious about your risotto.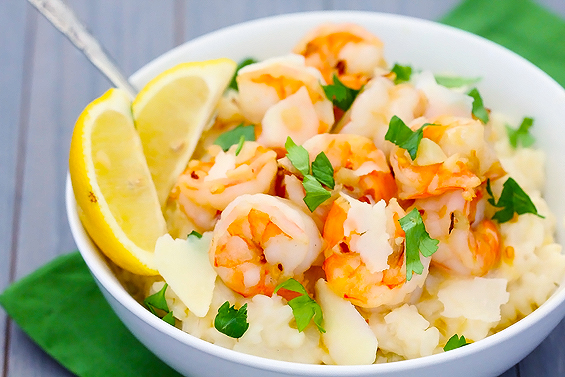 How to Make Your Own Gluten-Free Risotto
If you love having risotto, but the possibilities of confronting harmful gluten is bothering you, a home-made risotto is a perfect solution and rid the question "Is risotto gluten free" out of your mind. Here are 2 great gluten-free recipes for you:
A Simple Gluten-Free Risotto
Ingredients
| | | | |
| --- | --- | --- | --- |
| Ingredients | Amount | Ingredients | Amount |
| Butter or Margarine | 2 tbsp. | Lukewarm water | 1 cup |
| Onion (chopped) | ½ cup | Ground Pepper | To taste |
| Dry white wine/Apple juice | ½ cup | Shredded Parmesan cheese | ¼ cup |
| Arborio Rice (uncooked) | 1 ½ cup | Salt | To taste |
| Broth (of your choice) | 2 cups | Chopped Parsley | To taste |
Time & Yield
| | |
| --- | --- |
| Total Time | 40 minutes |
| Serving | 6 servings |
Directions
Take a 12-inch skillet and prop it over medium heat and add butter to melt. Add chopped onion, stir frequently and cook it until the onions gets tender.
Now, pour wine/apple juice to the mix and cook until it thickens. Add rice and let it cook for 5 minutes, uncovered. Keep on stirring the mixture in the skillet.
Mix broth and water together, and add 1/2 cup of the broth mix in the skillet containing rice and let it absorbed as well. Keep on adding the remaining broth, 1/2 cup at a time until the rice gets cooked.
Serve this creamy and tender dish after garnishing it with parsley, cheese, salt and pepper.
A Tasty Wild Mushroom Risotto
Are you worrying question like "Is risotto gluten free"? Try this great recipe to get great gluten-free risotto!
Ingredients
| | | | |
| --- | --- | --- | --- |
| Ingredients | Amount | Ingredients | Amount |
| Olive oil | 2 tbsp. | Arborio Rice (uncooked) | 1 cup |
| Rosemary (chopped) | 1 tsp. | White wine | ½ cup |
| Sweet onion (diced) | 1 | Vegetable or chicken stock | ¼ cup |
| Minced garlic | 2 | Chopped chives | To taste |
| Mixed mushrooms (cleaned, trimmed, and chopped) | 1 ¼ cup | Salt, Pepper, Parmesan Cheese | To taste |
Time & Yield
| | |
| --- | --- |
| Total Time | 40 minutes |
| Serving | 4 servings |
Directions
Take a large saucepan or Dutch oven and add olive oil to it. Lightly sauté the mushrooms until they are brown, for approximately 5 minutes.
Add rosemary to the mix and let it cook for another minute. Make sure the water released by mushrooms is all evaporated and then move the mix to a clean bowl.
Add olive oil to an empty pan and brown onion and garlic in it. After that, add rice and let it cook until the rice turns opaque, for like 2 minutes.
Now, pour wine and salt to the pan and cook until the mixture is reduced to half. In the process, you can warm the broth in the microwave.
After the rice looks ready, add 1 cup of the stock to the mix and bring it to a simmer. Cook until the broth gets absorbed fully and repeat this process by adding half cup of broth each time for 25 minutes.
Add mushrooms and pepper. Garnish with chives and cheese before serving.