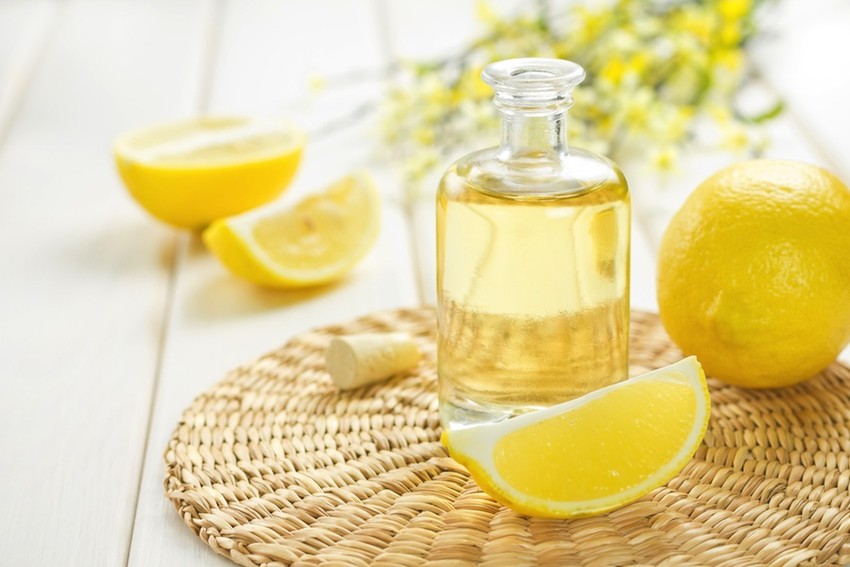 Essential oil offers numerous health benefits. If you are looking for an essential oil that will help you support metabolism, cleanse and nourish your skin, etc. you should start using lemon essential oil from today, which can work to eliminate toxins from your body, and stimulates lymph drainage and rejuvenates energy as well. Keep reading to learn about some other interesting uses of lemon essential oil.
Lemon Essential Oil for Health and Beauty Uses
You can use lemon essential oil in many different ways to achieve different goals. Here we list some common lemon essential oil usesfor health and beauty.
1. Lemon Oil for Dental Health
Lemon has antibacterial properties, and gargling with a mixture of lemon oil and water will help eliminate bacteria and prevent cavities. It also helps freshen up your mouth.
How to use: You can just take a glass of water and add 5 drops of lemon oil to it. Make sure the mixture is warm. Use it to gargle for some time. Ensure that you let the mixture reach the throat and the tonsils as well.
2. Lemon Oil for Hair
One of the best lemon essential oil usesis for your hair. It works amazingly well to eliminate dandruff. You can always use it in shampoos, herbal washes, and conditioners.
How to use: Take about 300ml of water and add 4-6 drops of lemon essential oil to it. Use this mixture to wash your scalp. After washing your hair, apply some hair oil and comb your hair gently to get rid of dandruff.
3. Lemon Oil for Respiratory Distress
If you have breathing difficulties, such as coughing in bronchitis, asthma, sleep apnea, pneumonia, or COPD, you can make use of lemon essential oil to find some relief. It works because it contains limonene, a substance that relieves asthmatic symptoms.
How to use: You need to diffuse lemon oil inside your room using a diffuser, oil burner, or vaporizer for good effects. Talk to your doctor about it before trying.
4. Lemon Oil for Pain Relief
One of many interesting lemon essential oil usesis that it helps relieve severe headaches, lower back pain, facial aches, neck pain, and other acute or chronic pain. Research shows that lemon oil aromatherapy helps reduce pain signals in your brain.
Additionally, lemon essential oil has many uses in aromatherapy. Thanks to its refreshing aroma, it works great to relieve anxiety, boost concentration, reduce exhaustion, and alleviate sore throat.
5. Lemon Oil for Weight Loss
Regular use of lemon essential oil may prove beneficial in losing weight. It works by dissolving body fat, suppressing weight gain, and reducing appetite. The presence of limonene makes it effective in maintaining a healthy body weight. Limonene can break white adipose tissue, which makes it difficult for your body to store fat.
How to use: You can prepare a fat dissolving solution at home by mixing 7 drops of lemon oil, ¼ cup of sweet almond oil, and 7 drops of grapefruit oil.
6. Lemon Oil for Morning Sickness
One of the worst things to deal in pregnancy is morning sickness, but you can now use lemon essential oil to keep things under control. Studies show that lemon oil aromatherapy may help pregnant women deal with morning sickness, and makes nausea and vomiting less severe. Inhaling lemon oil may also reduce the feelings of nausea and reduce queasiness as well.
7. Skin Toner
Lemon essential oil is an astringent and works great to tone your skin. It is among the best lemon essential oil uses because it works great to constrict bodily tissues to make your skin look young. It cleanses your skin and shrinks pores as well. It is also a great choice for people with oily skin because it reduces the amount of sebum.
How to use: To make the right use of lemon oil as a skin toner, you need to prepare a mixture by combining half cup of witch hazel, 40 drops of lemon oil, and half cup of water.
Lemon Essential Oils for Household Uses
Lemon essential oil uses are not limited to health and beauty, but you can use it in many other ways in your daily life. For instance:
1. Eliminate Bad Odor
It helps eliminate bad odor from blenders, juicers, and kitchen utensils. All you have to do is soak a cotton ball in lemon oil and place it in the area where you notice foul odor. You can even use a vaporizer to spread lemon essential oil around your house to eliminate any bad odor.
2. Get Rid Of Grease
It is not easy to clean greasy hands after working on a mechanical device with lubrication. To clean your hands or any other item with grease on it, you need to place it in a solution prepared by adding 10 drops of lemon oil in a mug of warm water. Then you can easily wash off the grease with soap.
3. Sanitize Your House
It has the ability to kill pathogens, so you can use it to clean anything you like. Simply add 5 drops of lemon oil to a bottle of cleaner and use it to wash your kitchen countertops, desks, tables, and any other item.
4. Work as Insect Repellant
Simply coating a ping-pong ball in lemon oil and placing it in your closet will help keep insects away. Its citrus smell makes it effective and keeps moths and other insects out of your home.
5. Good Laundry Detergent
Take 3 cups each of washing soda, borax, and baking soda, and add 2 bars of castile soap and 30 drops of lemon oil to it. You now get your all-natural laundry detergent ready, which is free of chemicals and is biodegradable.
6. Polish Wood
If commercial wood polishes leave your skin, eyes, and respiratory tract irritated, you can use lemon essential oil for better effects. Just add 10 drops of lemon oil to half cup of olive oil to prepare your homemade wood polish.
7. Improve Life of Fresh Fruit
Add a couple of drops of lemon oil to a bowl of cool water and drop fresh fruit into the water. Coat it well with lemon water and store.
Tips and Cautions
There are many interesting lemon essential oil uses, there are some tips you need to bear in mind. Regular use of lemon oil can make your skin sensitive to the sunlight, so be sure to wear a hat and avoid going in direct sunlight after using lemon essential oil. Also, lemon oil can cause skin irritation in some people. If that is the case, consider diluting the oil by using carrier oil such as coconut oil.