Have you ever notice some people with lean legs but big bellies, or women storing most of the fat in butt, thighs and hips? This demonstrate how the body distribute fat, meaning where the body typically stores fat, whatever your weight is. It's vital to know your fat distribution because it may indicate certain health risk. The waist to hip ratio or WTH ratio is commonly used to measure fat distribution.
Waist to Hip Ratio Chart
Waist to hip ratio not only can help record your weight loss program, but also warn you about your potential health risk related to overweight, like heart disease, stroke or diabetes. If you want to know what your body shape says about your health, you have to refer to 2 charts for waist to hip ratio as listed below:
Females

0.80 or below

Low health risk

Pear body shape

0.81 to 0.85

Moderate health risk

Avocado body shape

0.85+

High health risk

Apple body shape
Males

0.95 or below

Low health risk

Pear body shape

0.96 to 1.0

Moderate health risk

Avocado body shape

1.0+

High health risk

Apple body shape
So the next question is how to get your correct measurements and calculate your waist to hip ratio at home. Here comes the savoir:
Encircle your measuring tape at the smallest circumference of your natural waist that lies just above your belly button and note down the measurements.
Use the same measuring tape to measure your hip circumference that is the widest part of your buttocks and note it down as well.
For determining the ratio, simply divide your waist measurement by your hip measurement and tally it with the appropriate chart provided for both women and men. See where your number lies in the waist to hip ratio chart to know your health risks level.
How Do Waist to Hip Ratio and Body Shape Affect You?
We are not aware of it, but our waist to hip ratio and body shapes have a great impact on our health. The determining factor of body fat lies in the exact storage location of it. It can make you look plump even when you are lean or lean when you are heavy.
1. Pear Body Shape
As mentioned before, women with a waist to hip ratio of about 0.80 or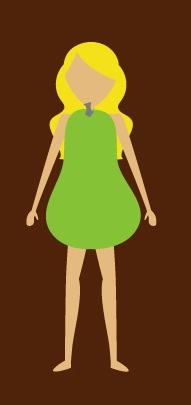 below and men of about 0,95 or below are consider to have a pear body shape. People with a pear body have a well-defined waist. Like the fruit, they have a heavy bottom, but the ample bottom is a gift of subcutaneous fat rather than visceral fat, which minimizes the chances of health hazards like heart attacks or diabetes in a person.
The Good and the Bad
In females, a pear shape body almost kills off chances of infertility and boosts conception, which is a good thing.
With benefits comes some health troubles and in the case of a pear body, it is mostly related to problems regarding blood circulation that causes venous insufficiency and fluid retention especially in ankles and feet. Other than that, high levels of oestrogen increases the risks of breast cancer.
According to scientific researches, a person having a pear body shape faces more trouble in losing weight when compared to other body shapes like apple. This means you have to work much harder to burn fat stored in your thighs, hips and bottom in order to lose weight.
2. Avocado Body Shape
In terms with the abovementioned waist to hip ratio chart, women with a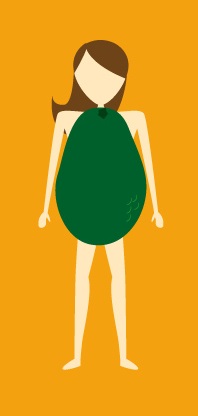 WHT ratio of about 0.81 to 0.85 and men of about 0.96 to 1.0 have an avocado body shape. With a wide chest, wide hips and no such accentuated waist, it cannot be considered as slender, rather very stocky.
The Good and the Bad
With the even distribution of fat in the body, these people are free from the health troubles related to visceral fat. But it also can lead to some health risk as listed below.
According to the natural therapists, this body shape is influenced by the inefficient thyroid in the body, making easy to gain weight but very difficult to lose it. They may put on weight while suffering from emotional states such as anger and depression, paving way for heart troubles.
It has also been noticed that to such people, stress comes with no effort, interfering with sleep and physical activities. It has been seen that with every stress spurt, the liver releases fats into the blood vessels, increasing their chance to develop plaques related to arteries.
These people are low on energy and are easily fatigued. Besides, it has also been noticed that being emotionally unbalanced can even launch you into the arms of coronary heart diseases. So, stay healthy and try controlling your extreme mood swings.
3. Apple Body Shape
According to the above waist to hip chart, women with a WTH ratio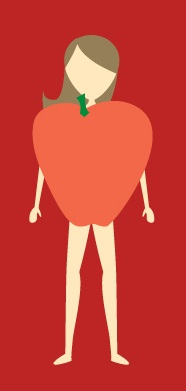 above 0.85 and men above 1.0 are considered to have an apple body shape. In this case, the weight is focused on the person's abdominal and hip area, forgoing the limbs. The fat on their tummy area can be a play of hormones such as testosterone and oestrogen, along with stress hormones like cortisol and adrenalin and mood enhancers like dopamine, in the body.
The Good and the Bad
Females with an apple body shape can have a little high level of male hormones or androgens making their tummy bulging out and buttock small.
Having an apple body shape indicates a stressed out lifestyle, wrong eating habits and a little or no exercise, for woman and men alike.
There are many health risks surrounding people having this body shape. Research states that the plump belly is all due to the accumulation of hazardous visceral fat which poses threats, such as colon and breast cancer, diabetes, high blood pressure.
Be alarmed if you see warning signs when comparing your WHT ratio to the waist to hip ratio chart. But, as a good sign, apple body shapes are most likely to lose weight easily when compared to other body shapes.