Summer time is the best time to share with friends, family and neighbors. Outdoor gatherings, block parties, and dinners are even more exciting when you can serve yummy, simple meals that do not need a lot of effort to prepare. Hummus is a great option. Wondering what to eat with hummus? Wrong question! What you should be asking is what cannot be eaten with hummus since this delicacy can be eaten with just about anything.
What to Eat with Hummus
1. Eggs
Whether you like it hard or soft, split your peeled egg into 2 or 4s and arrange it on your hummus. You can sprinkle extra virgin oil, paprika, add flourish of flakey sea salt, and, if you like, put some za'atar or parsley on it. You can also top up with hot sauce, pickles, diced avocado or tomatoes.
2. Veggies
You can get a high heat oven to get your vegetables nice and crispy, put them on top of hummus, spicing with lots of cumin and garlic, and at last finish it with a twirl of extra virgin oil and fresh herbs.
3. Salad
You might not want your lettuce getting soggy after placing it on your hummus. Instead, go for some spicy baby arugula and some fresh herb leaves such as chopped scallions to make delicious salad. You can also use chopped cucumbers and radishes or fresh tomatoes as salad toppings. Add toasted pine nuts or even make chimichurri. The more fresh green things you can add, the better.

4. Spiced Meat
What to eat with hummus? Ground meat, sauteed with garlic and chopped onions and spices is awesome on hummus. Any meat can do. Add greens to make your dinner healthier.
5. Bruschetta
Bruschetta is made of grilled sliced bread topped traditionally with a combination of basil, onion, olive oil, garlic and chopped tomato. It is everybody's favorite. To have a more fulfilling serving of the Italian appetizer, top a piece of grilled baguette with hummus before adding tomato topping. You can complement the flavor with dill, parsley or chives.
6. Other Beans
On top of your hummus, you can add crispy roasted chickpeas. You can try this with different beans. Try a traditional Middle Eastern dish ful medames which tops hummus with stewed fava beans. You can also try marinated gigantes beans found in olive bars.
7. Other Foods to Eat with Hummus
Hummus works well with hamburgers. You can use hummus for beef, turkey or veggie burgers instead of the usual condiments like mustard, barbecue source, ketchup or mayonnaise.
Hummus does well as an appetizer on grilled tortilla triangles or toasted whole wheat pita pocket crisps. Whole wheat crackers complement hummus flavor.
In place of cream cheese, you can spread hummus on your whole grain bagel and sprinkle chopped olive.
Hummus is a wonderful condiment for falafel (baked or fried crispy ball made of spices, bulgur and chickpeas).
What to Eat with Hummus: 3 Great Recipes for You
Still wondering what to eat with hummus? Here are 3 amazing recipes to try out:
Hummus with Crusted Chicken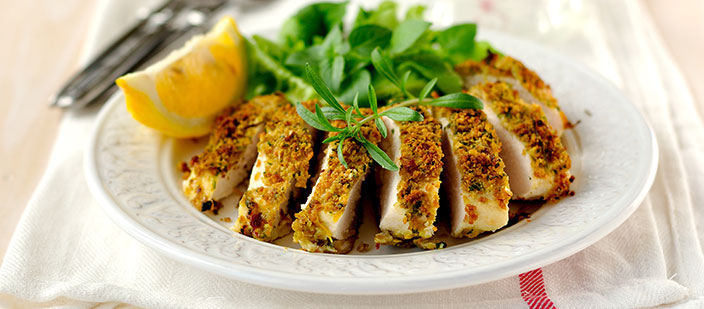 | | |
| --- | --- |
| Ingredients | Amount |
| Skinless, boneless chicken breasts | 4 |
| Chopped zucchini | 1 |
| Chopped yellow squash | 1 |
| Chopped medium onion | 1 |
| Store bought or homemade hummus | 1 cup |
| Olive oil | 1 tbsp. |
| Lemons | 2 |
| Sumac or smoked paprika | 1 tsp. |
| Pepper and salt | |
Time & Yield
| | |
| --- | --- |
| Total Time | 35 mins |
| Yield | 4 servings |
Directions
Preheat the oven to about 450 °F. Using cooking spray, prepare a large baking dish and 2 smaller ones.
Pat the chicken dry and generously season the chicken with salt and pepper. In a large bowl, mix the zucchini, onion, and squash with some olive oil until it is evenly coated.
If you are using one dish, place all the veggies at the bottom with an even layer and place the four pieces of chicken on top. Cover each piece with hummus and squeeze lemon over the veggies and chicken. Sprinkle sumac or smoked paprika on the pan. Place thin slices of the remaining lemon between the veggies and chicken.
If you are using 2 dishes, use one for the veggies and the other for the chicken.Bake for about 25 to 30 minutes until the veggies are tender and the chicken well cooked.Serve immediately.
Hummus and Mushroom Soup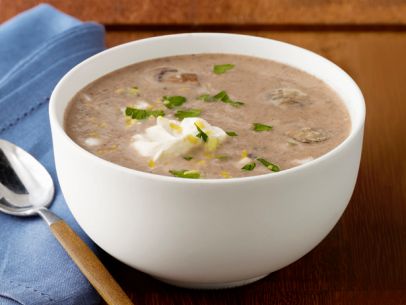 | | |
| --- | --- |
| Ingredients | Amount |
| Extra-virgin olive oil | 2 tbsp. |
| Minced shallots | 2 |
| Sliced cremini mushrooms | 1 ¼ pounds |
| Minced garlic cloves | 2 |
| Madeira wine or brandy | 2 tbsp. |
| Low sodium chicken broth | 2 tbsp. |
| Thyme sprigs | 2 |
| hummus | ¾ cup |
| Grated lemon zest and juice | 1 lemon |
| Roughly chopped parsley | 2 tbsp. |
| Roughly chopped scallions | 2 |
| Freshly ground pepper and kosher salt | |
| Greek yogurt for topping | |
Time & Yield
| | |
| --- | --- |
| Total Time | 1hr 30min |
| Yield | 4-6 servings |
Directions
Heat the olive oil in a medium saucepan over medium high heat. Add the shallots and cook until soft. Add the mushrooms, cook until the liquid they hold evaporated and season with salt and some pepper.
Add the garlic and cook for a minute. Add the Madeira wine and cook for 2 minutes removing the brown bits stuck on the pan. Add the thyme and broth. Simmer gently and stir occasionally for 30 minutes.
Remove the thyme springs, stir hummus into the mixture. Pour half the mixture into a blender and puree, and then return it to the pan. Let it simmer for 15 minutes. Turn off the heat, stir in lemon juice and season with salt and pepper. Mix the scallions, parsley and lemon zest into a small bowl. Pour the soup into bowls and top it with the parsley-lemon mixture and yogurt.
Delicious Hummus Muffins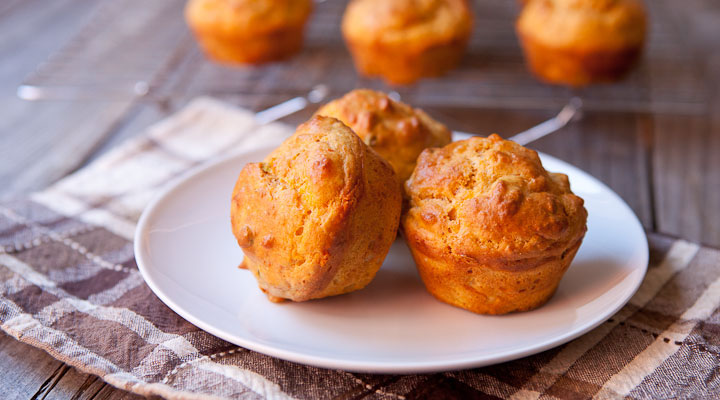 | | |
| --- | --- |
| Ingredients | Amount |
| Sabra supremely spicy hummus | ½ cup |
| Milk | 1/3 cup |
| Large eggs | 3 |
| All-purpose flour | 1 cup |
| Baking powder | 1 tsp. |
| Chili powder | ½ tsp. |
| salt | ¼ tsp. |
| Grated cheddar cheese | ½ cup |
| Minced scallions | 2-3 |
| Unsalted butter | |
Time & Yield
| | |
| --- | --- |
| Total Time | 45 min |
| Yield | 4-6 servings |
Directions
Preheat the oven to over 400°F. In a large bowl, whisk together eggs, milk and sabra hummus. Make sure you get rid of any lumps in the hummus. In a different bowl, mix baking powder, flours, scallions, cheese, salt and chili powder.
Whisk the wet mixture into the dry mixture forming viscous batter. If it is too thick, you can add a few tablespoons of milk to get the desired texture. Grease the muffin tin and add the batter almost to the top.
Bake the hummus for 30 minutes at 400°F until they are well cooked and the tops are cracking. Remove the muffins from the oven and then cool them for a while before removing them from the tins. Serve while warm.