Egg noodles are among the leading noodles in the world, found in most supermarkets and many households across the world. Famous for their chewier and thicker feel, egg noodles are often used in stews and soups. They are a great comfort food. However, considering that eating gluten causes digestive problems for some people due to celiac disease, non-celiac gluten sensitivity or wheat allergy, then do egg noodles contain gluten? Keep reading to find out the answer.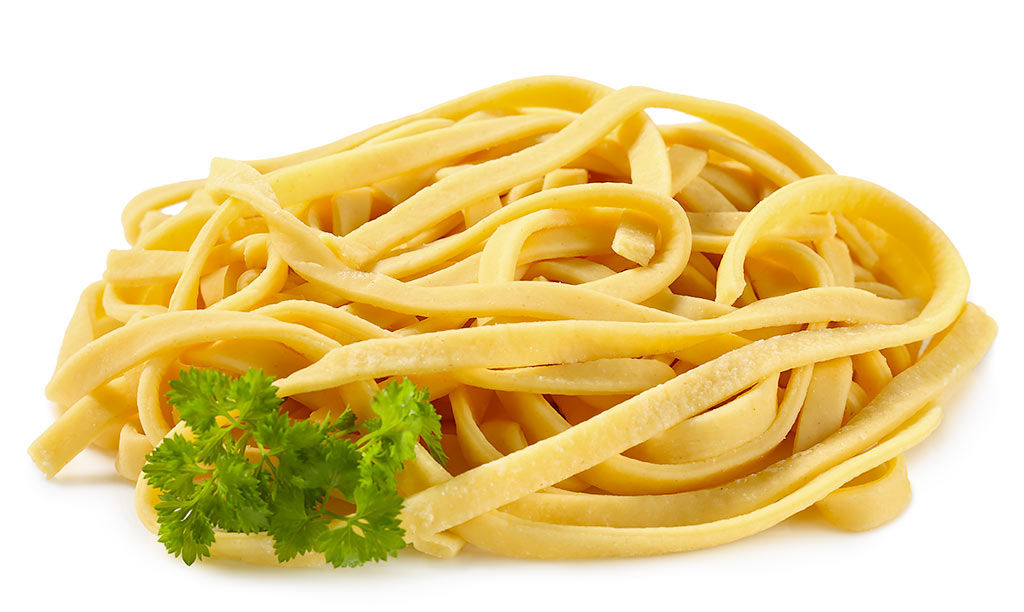 Are Egg Noodles Gluten Free?
Flour and eggs are the main ingredients of egg noodles, and in most cases the flour comes from wheat which contains gluten. For this reason, most egg noodles contain gluten.
If you want to buy gluten-free egg noodles, read the label to find out its ingredients. Look for those that are not made with wheat flour. But finding these noodles could be difficult. For this reason, you can consider making your own gluten-free egg noodles.
Gluten-Free Chicken Noodle Soup with Homemade Egg Noodles Recipe
Try this delicious recipe with homemade gluten-free egg noodles.
Ingredients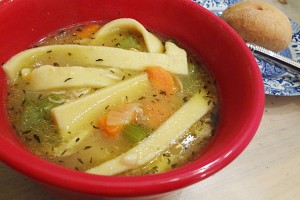 Chicken and Broth
1 fryer chicken
2 or 3 carrots, peeled and cut into thick slices
2 or 3 stalks of celery cut into thick slices
1 tbsp chicken-flavored Better Than Bouillon
1 onion cut into quarters
1 or 2 tsp kosher salt
5 cloves garlic
1 or 2 tsp pepper
1 tsp chili flakes
1 tbsp dried thyme
1 or 2 tbsp onion flakes if desired
1 tbsp dried rosemary
1 bay leaf
4 quarts cold water or more to cover the chicken
Egg Noodles
2-cups Better Batter Flour
3 medium size eggs
1 egg yolk
3/4 tsp salt
1 tbsp water
Soup
1 tbsp butter
1 tbsp olive oil
1 diced onion
3 minced garlic cloves
2 peeled and diced carrots
2 diced celery stalks
1 tsp dried thyme
salt and pepper to your liking
chicken
Directions
Are egg noodles gluten free? Don't worry this question with this recipe.
Rinse the chicken and place it in a stock pot. Add water, stalk vegetables and the broth spices. Boil, and then simmer until the chicken is cooked. Drain the broth using a fine mesh strainer.
Prepare the vegetables for the soup.
For the noodles, pour the flour into a bowl and make a well in the center. Whisk eggs, egg yolk, salt and water in a small bowl. Pour the mixture into the flour well and mix to uniform and stiff dough. Place the dough on the counter and knead it, pouring a little water to your hands if the dough gets too dry. Roll the dough to 1/16-inch. Cut into ½-inch by 2-inch strips.
Bring the broth to a boil. Add the noodles. Stir occasionally so that the noodles don't stick together.
Melt butter in a sauté pan and add olive oil. Saute the onions, celery and carrots on medium-high heat for 5 minutes. Add the garlic at the 4-minute mark. Pour the vegetables into the soup to finish cooking with the noodles.
De-bone the chicken and shred larger pieces.
When the noodles are almost finished cooking, heat your chicken in the sauté pan and then add it to the soup.
Serve!
More Gluten-Free Noodles Options
Still searching and wondering "are egg noodles gluten free?" Get these 10 gluten-free noodles from grocery stores or Asian markets.
1. Dotori Guksu (Acorn Noodles)
These Korean noodles are made using acorn flour mixed with buckwheat. Slightly sweet, chewy and nutty, they are great in cold noodle salads or as soba substitute.
2. Bean Threads (Cellophane Noodles)
Bean threads are also known as bean vermicelli or glass noodles. Made into translucent threads from mung bean starch, they are popular in East and Southeast Asia. Use them in soups, salads and stir fries.
3. Buckwheat Vermicelli
Also known as Naeng Myun, buckwheat vermicelli are made with buckwheat, Korean sweet potato or arrowroot. These clear, chewy noodles are normally served cold.
4. Harusame
These Japanese noodles are made with sweet potato, potato, mung bean or rice starch. You can use the thin, translucent noodles in dishes where bean threads are traditionally used, or in salads.
5. Kelp Noodles
These Korean noodles are made from seaweed (kelp). They are clear, crunchy and almost flavorless. You can eat them raw in salads or cook them in soups and stir fries. You will get them in the refrigerated items section. They are a good option if you wonder "are egg noodles gluten free?"
6. Rice Noodles
The soft-textured noodles are popular in East and Southeast Asia. As the name suggests, they are made with rice flour. The thin noodles are called vermicelli, and the thick ones are called sheets, sticks or ribbons.
7. Shirataki (Konnyaku)
These are Japanese noodles made from starch of the konjac tuber (devil's tongue), or tofu. While you may eat them raw, you can neutralize the fishy odor by rinsing and boiling.
8. Soba
Soba are Japanese noodles made with buckwheat flour. They may be flavored with seaweed, green tea or mugwort. Soba noodles have a slippery texture and a nutty flavor.
9. Tapioca Noodles
These Southeast Asian noodles are made with tapioca starch. Chewy and translucent, they work well in soups or fries.
10. Tofu Noodles
These Chinese noodles are made by pressing tofu. They may be sold dried or refrigerated, and can be used in stir fries, soups and salads.
Note: While most of these noodles are wheat-free, some may contain wheat or have been made in shared facilities. Read the labels to make sure they don't have gluten.