Omelets (or omelettes) are a common breakfast food. They are versatile and not complicated to make. They consist mainly of eggs and whatever you put in them. But are omelettes good to health if you eat them every day?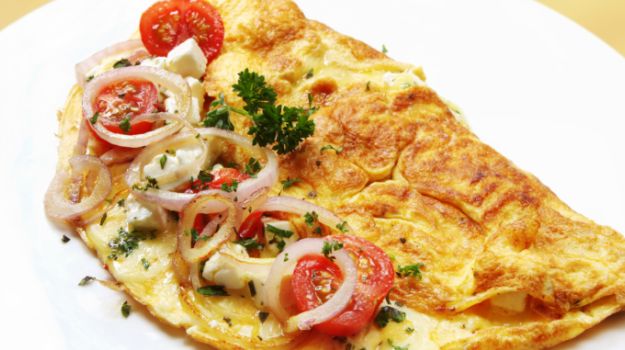 Are Omelettes Healthy?
Omelettes are a good part of a balanced diet. They are mainly composed of eggs which are rich in protein, vitamins, and minerals. When people wonder if omelettes are healthy, they may be concerned about two things: calories and cholesterol.
Calories
The U.S. Department of Agriculture states that one omelet (about 61 grams) contains approximately 94 calories. This is about 4.7% of a woman's total recommended daily calorie intake and around 3.9% of a man's caloric intake per day. This estimate does not include any fillings in the omelette. To keep your overall caloric intake low, fill your omelette with vegetables and low/reduced-fat cheese.
Cholesterol
Eggs contain cholesterol (186 milligrams/egg). However, dieticians say that it is healthy to eat one egg a day if you do not have a history of high cholesterol, heart disease, or diabetes. If you do have any of these medical problems, limit egg consumption to just two pieces per week. Besides, egg white contains less cholesterol than egg yolk.
How to Make Omelettes in a Healthier Way
Are omelettes healthy? Yes, if you make them in the following ways.
Choose eggs that come from free-range chickens. These chickens produce eggs that have lower cholesterol and saturated fat, but higher omega-3 fatty acids and vitamins.
Cook using healthy oils than processed oils. You can also try cooking with less oil.
ŸAdd vegetables, such as bell peppers, zucchini, tomatoes, onions, and artichokes to add flavor and nutritional value to your omelet.
Use less cheese to cut down on fat and calories intake.
Use lean meats such as ham, turkey, or sausage and use in small servings to reduce fat and calories in your omelette.
Pair your omelet with fruit and whole grain toast to add fiber, vitamins and minerals for a healthy diet.
Healthy Omelette Recipes
Are omelettes healthy? Yes. Try the following three tasty recipes.
1. Broccoli and Cheese Omelet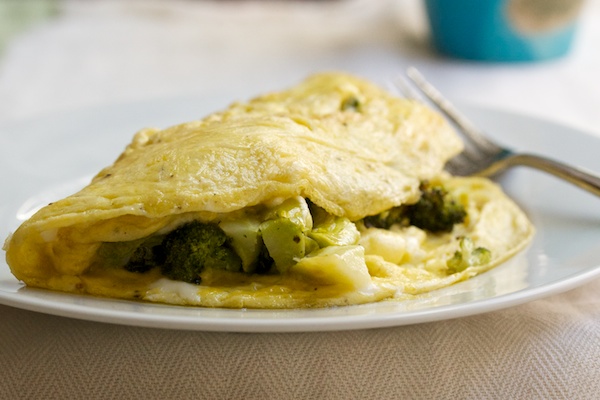 Ingredients
1 1/4 c broccoli florets, thinly sliced
1/2 tsp extra-virgin olive oil
1 thinly sliced scallion
Coarse salt
Freshly ground pepper
1 tbsp + 1 tsp grated Parmigiano-Reggiano cheese
1 large egg + 2 large egg whites
Red-pepper flakes, crushed
Directions
In a skillet, heat oil over medium heat. Cook the broccoli and scallion, stirring occasionally, for 4 minutes until tender.
Season with salt and pepper; then transfer to a plate.
Place cheese on the skillet. Cook in medium-high heat until it melts into a golden color.
Reduce heat. Add eggs. Keep the egg yolk intact. Use a spatula to spread the whites evenly in the pan.
Cover the skillet and cook until whites are set but yolk is runny, about 1-1 ½ minutes.
Top with broccoli and scallion, and fold the omelette over. Sprinkle with red-pepper flakes.
2. Eggs and Ham Omelet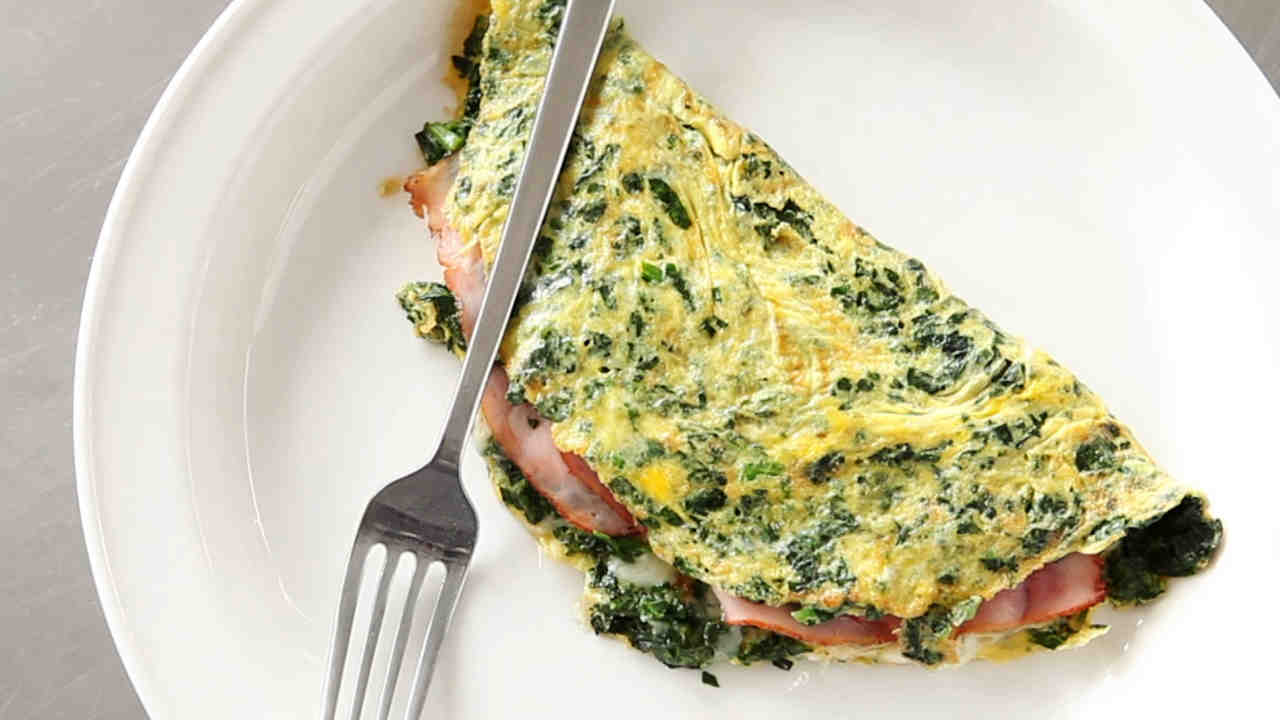 Ingredients
2 medium eggs, beaten
1/2 c chopped kale
1/2 tsp fresh garlic, chopped
1 slice ham
1/2 avocado, sliced into cubes
Salt and pepper
Cooking spray/butter
1 tbsp salsa
1/8 c shredded cheese
Directions
Are omelettes healthy? Don't worry the problem with this recipe. Preheat a pan on medium heat. Coat with butter or cooking spray.
Fry ham until warm and slightly brown. Set aside.
Saute the kale until they wilt. Add garlic. Cook until fragrant for about 2 minutes.
Add eggs and stir. Cook until set.
Add chopped avocado; then top with ham. Sprinkle with salt and pepper. Fold omelette in half.
Reduce heat and allow to finish cooking. Top with salsa and shredded cheese.
3. Spinach and Mushroom Omelet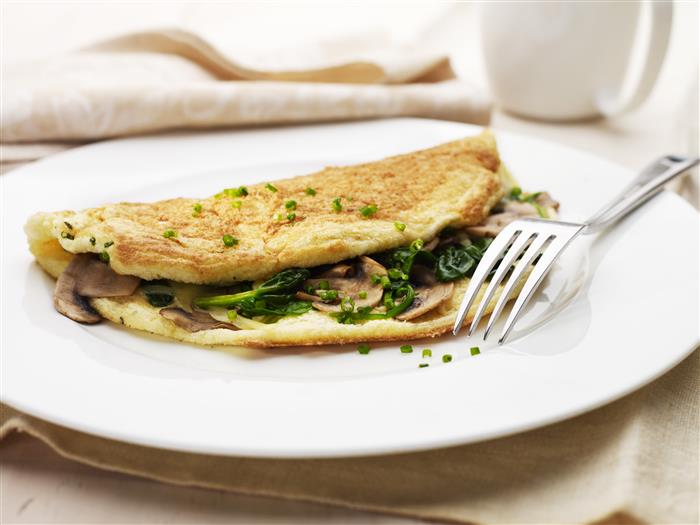 Ingredients
1 egg + 3 egg whites
1 tbsp shredded cheddar cheese
1 tbsp grated Parmesan cheese
1/8 tsp red pepper flakes
1/4 tsp salt
1/8 tsp garlic powder
1/8 tsp ground black pepper
1/2 tsp olive oil
1/2 c fresh mushrooms, sliced
1/4 c green onion, diced
2 tbsp red bell pepper, finely chopped
1 c fresh spinach, torn
1/2 c fresh tomato, diced
Directions
Beat eggs in a bowl. Add Parmesan and cheddar cheese, red pepper flakes, salt, pepper, garlic powder, and nutmeg.
Heat oil in a skillet. Cook mushrooms, green onions and bell pepper, stirring until tender for 5 minutes.
Add spinach and cook until wilted. Add diced tomato and then the egg mixture.
When the eggs set, lift the edges and let uncooked egg portion flow underneath. Continue cooking until eggs set, for about 10-15 minutes.
Cut and serve while hot.