Having a party at home? This implies that you have to prepare appetizers, main course meal and desserts. It becomes quite a task to cook so many dishes. Now you don't have to take stress about hosting a party and maintaining a healthy diet at the same time. This article lists recipes for some easy appetizers that are not only delicious to taste but also healthy.
Easy Appetizers for a Party
1. BLT Cups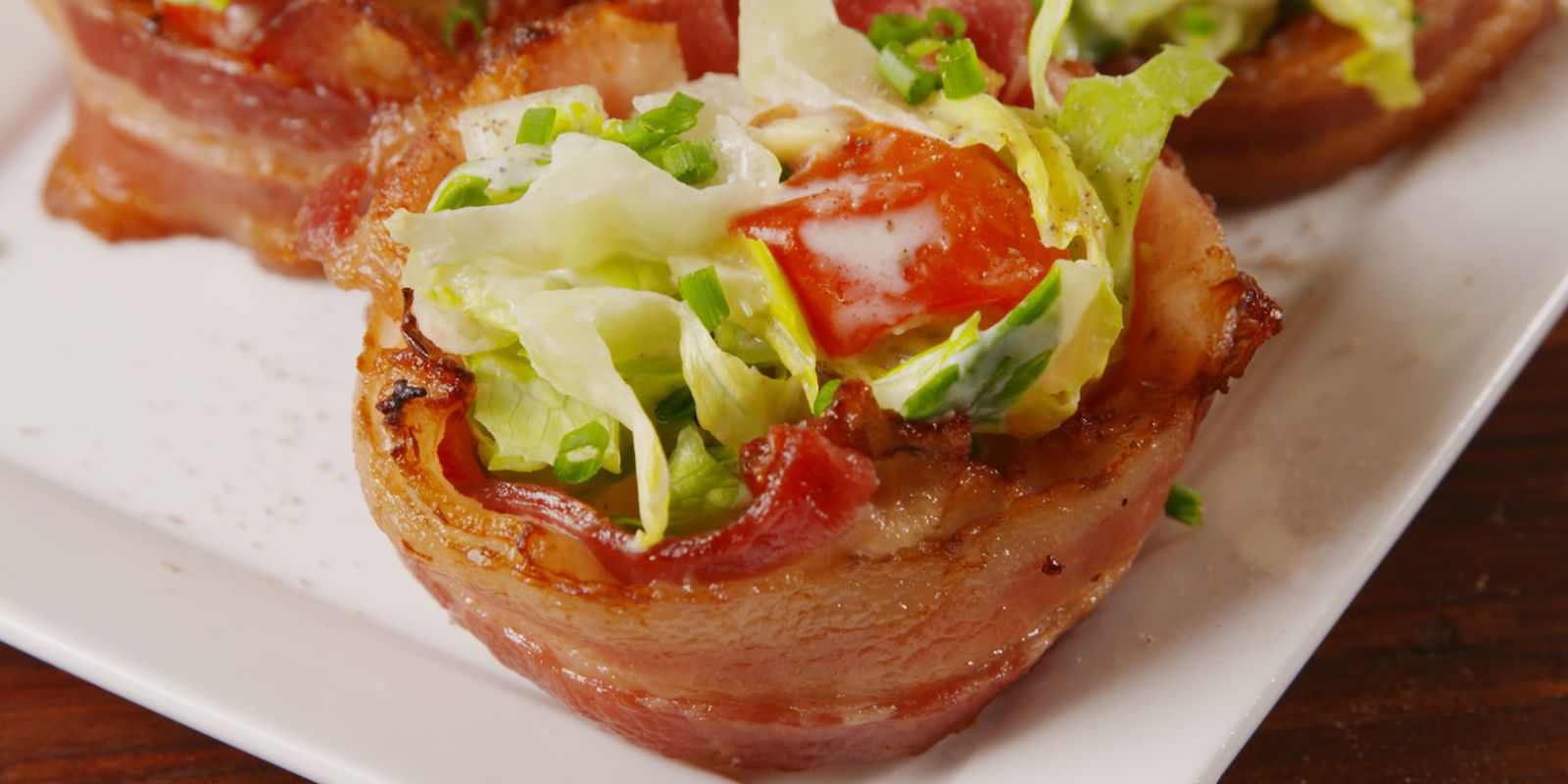 Ingredients
Bacon-12 slices
Greek yogurt-1/2 cup
Lemon juice-2 tsp.
Chives, chopped-2 tbsp. plus some more for garnishing
Kosher salt
Black pepper, freshly ground
Cherry tomatoes, halved-2 cup
Romaine lettuce, chopped-1 head
Avocado, chopped-1
Directions:
Take a large baking sheet (rimmed) and put a muffin tin inverted on it. Keep the baking sheet into a preheated oven.
Cut bacon in half crosswise. Put 2 of the strips on the inverted muffin tin cup, making the shape of a cross. Wrap the whole cup with cut strips of bacon.
Bake for 20 minutes or until crispy. Let them cool for 15 minutes.
To prepare dressing: Take a bowl and whisk Greek yogurt, chives and lemon and season with pepper and salt. Add lettuce and tomatoes and mix to coat.
Remove cups of bacon from muffin tin. Filled with coated tomatoes and lettuce. Garnish with chives to make easy appetizers for a party. Serve immediately.
2. Greek Feta Dip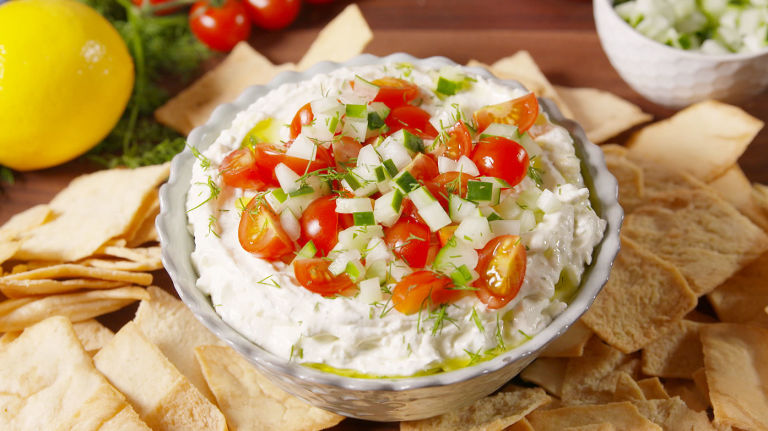 Ingredients
Feta-12 oz.
Greek yogurt-1 cup
Cream cheese-8 oz.
Extra-virgin olive oil-1/4 cup
Zest and juice-1 lemon
Dill, chopped-2 tbsp. and more for serving
Kosher salt
Red pepper flakes, crushed
Cucumber, chopped-1/2 cup
Cherry tomatoes, halved-1/2 cup
Directions:
Take a large bowl and mix Greek yogurt, feta, olive oil, cream cheese, lemon zest and juice. Mix with a hand mixer until fluffy. Season with red pepper flakes and salt, and add dill.
Transfer the mixture to a serving tray. Top with tomatoes and cucumber. Drizzle olive oil. Serve as a dip with pita chips.
3. Zucchini Nachos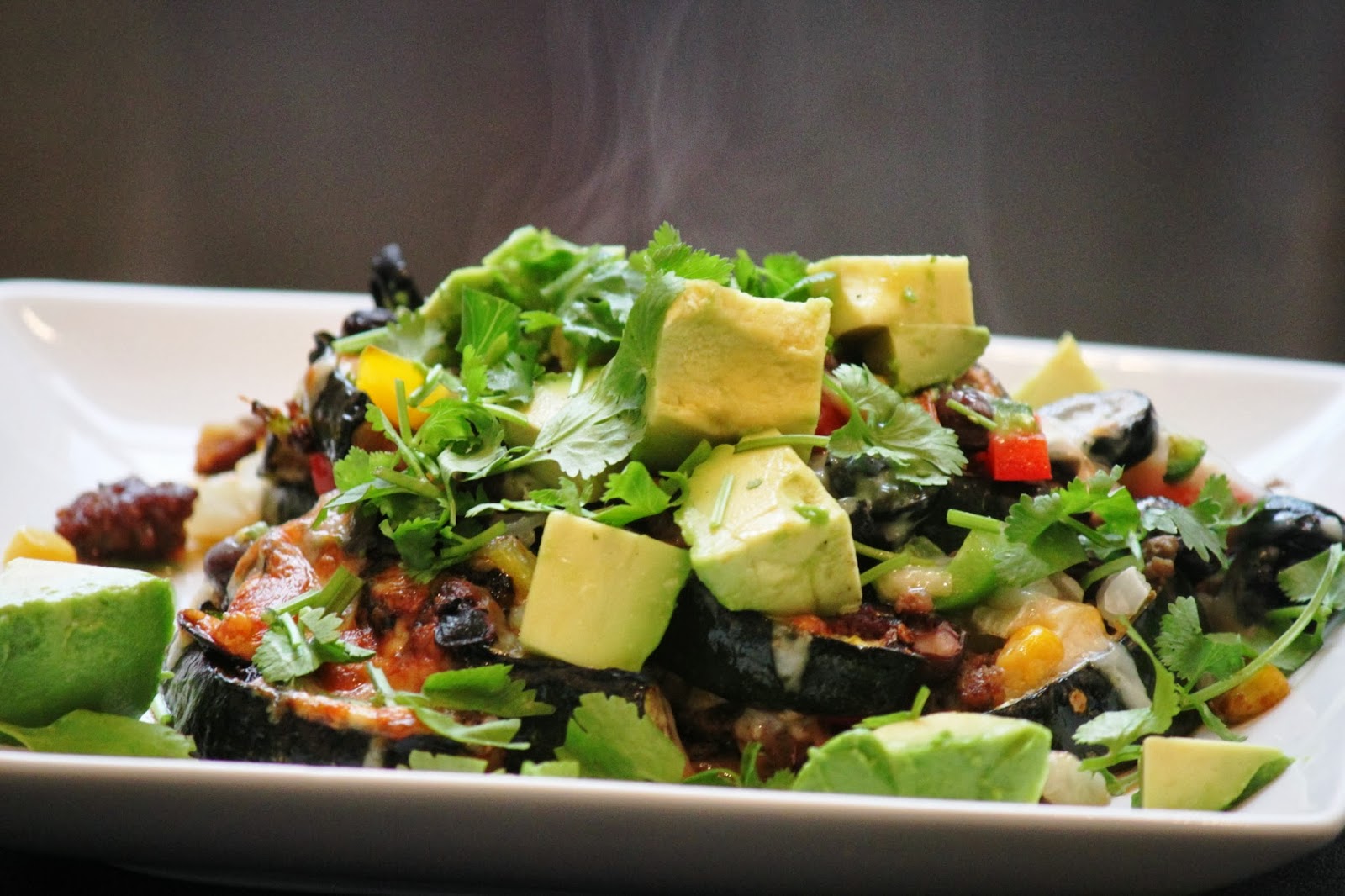 Ingredients
Zucchini, large, sliced into ½" rounds-3
Cumin-1 tsp.
Chili powder-1/4 tsp.
Smoked paprika-1/4 tsp.
Kosher salt
Black pepper, freshly ground
Cooked chicken, shredded-3/2 cups
Monterey Jack, shredded-1 cup
Red onion, chopped-1/2
Avocado, cubed-1
Pico de Gallo
Jalapenos, pickled
Directions:
Make a single layer of all sliced zucchini on a baking sheet. Toss with cumin, olive oil, paprika and chili powder. Season with pepper and salt. Bake in a preheated oven at 400 degree until tender for 5 minutes.
Now top the rounds with shredded Monterey jack, chicken and red onion. Bake for another 10 minutes.
Now top with pico de gallo, avocado, and pickled jalapenos to make easy appetizers for a party.
4. Greek Pita Cups
Ingredients
Pitas-3
Garlic hummus-1 large container (17 oz.)
Extra-virgin olive oil-2 tbsp.
Cucumber diced-1/2 cup
Kalamata olives, pitted and chopped-1/4 cup
Parsley, chopped-2 tsp.
Dill, chopped-2 tsp.
Feta cheese, crumbled-1 container (3 oz.)
Grape tomatoes, halved-9
Directions:
Spray some cooking spray on muffin tin cups. Slice pita into 6 slices. Put each triangle of pita in a muffin cup.
Bake in a preheated oven (at 350 degrees) for 5-7 minutes. Let them cool for 8-10 minutes. Now put hummus in each cup until half full.
In a bowl, mix cucumbers, olive oil, parsley, dill and olives. Put a spoonful of the mixture on each hummus cup. Top with feta and a halved grape tomato. Serve.
5. Wedge Salad on a Stick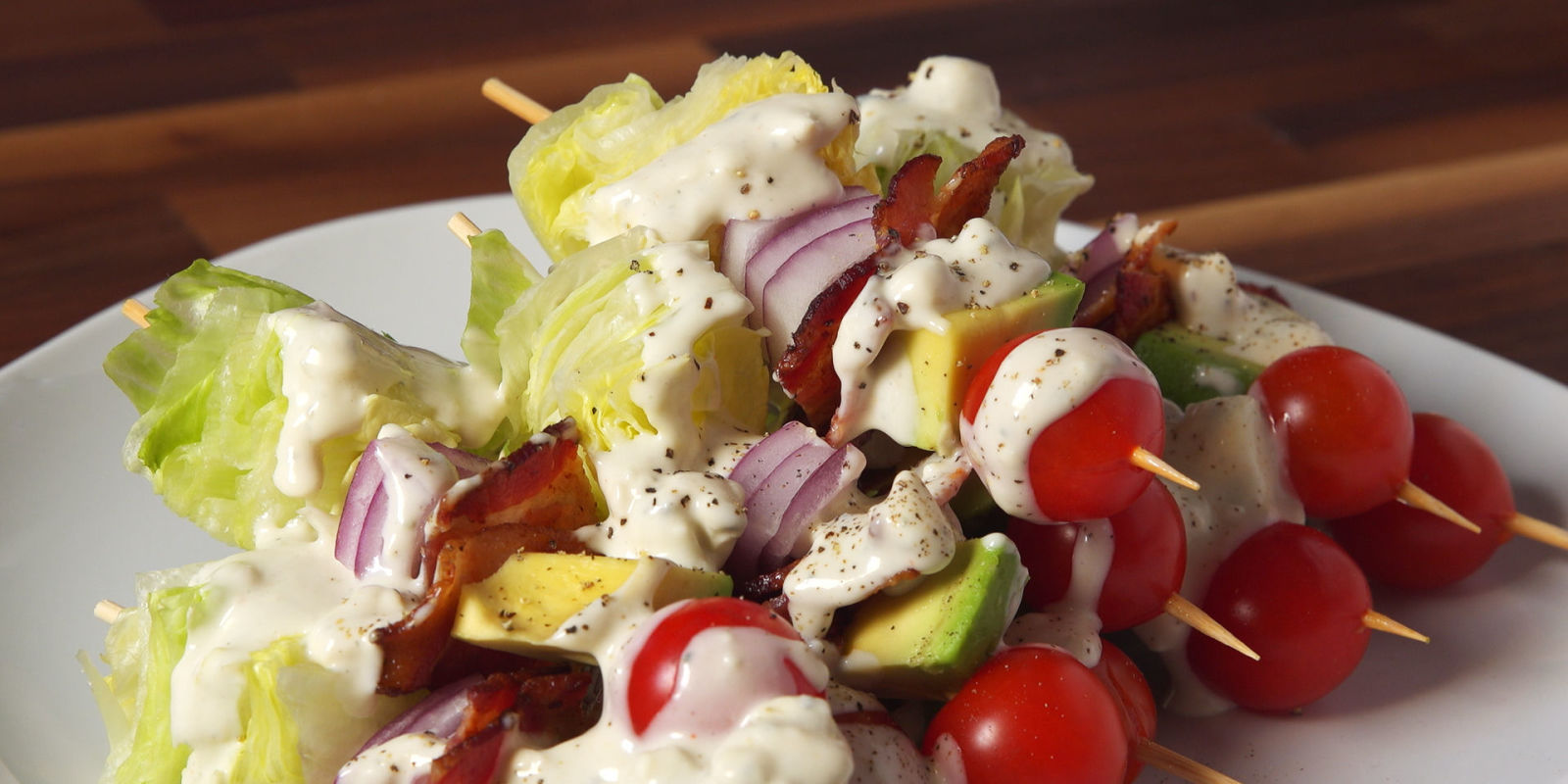 Ingredients
Cooked bacon, chopped into quarters-5 slices
Iceberg lettuce, chopped into 10 bite-size chunks-1/2 head
Red onion, chopped roughly-1/2
Avocado, ripe, diced-1
Cherry tomatoes-10
Blue cheese, for drizzling
Black pepper, freshly ground
Directions:
Take a skewer and add 1 piece of lettuce, 2 pieces of bacon, few pieces of red onion, a single piece of avocado, and a cherry tomato. Repeat to make a total of 10 skewers.
Drizzle blue cheese and season with freshly ground black pepper and it makes easy appetizers for a party.
6. Shrimp with Tarragon Aioli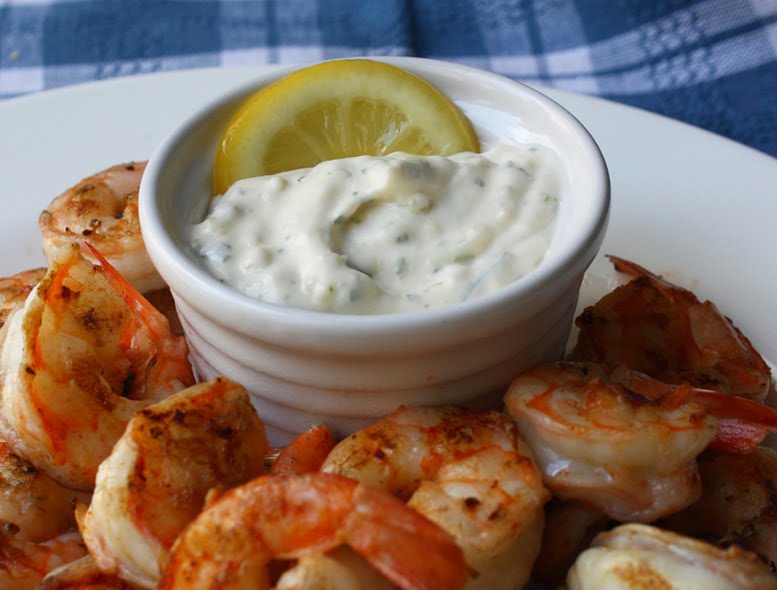 Ingredients
Mayonnaise-3/4 cup
Dill pickles, chopped finely-1/2 cup
Tarragon, fresh, chopped-2 tbsp.
Kosher salt
Black pepper
Large shrimp, cooked, peeled and deveined-5/4 pounds
Cocktail sauce-1 cup
Directions:
Take a bowl and mix pickles, mayonnaise, salt, pepper and tarragon. Serve with cocktail sauce and shrimp.
7. Endive with Ricotta, Almonds and Raisins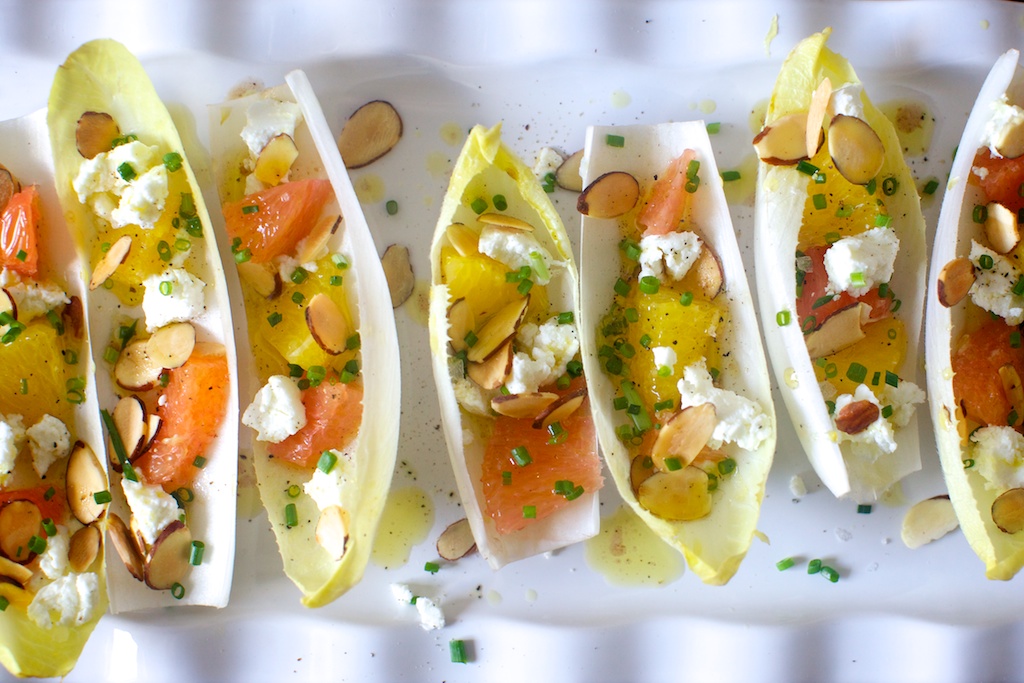 Ingredients
Roasted almonds, unsalted-1/2 cup
Golden raisins-1/2 cup
Fresh chives, chopped-2 tbsp.
Extra-virgin olive oil-3 tbsp.
Kosher salt-1/8 tsp.
Pepper-1/8 tsp.
Endives, leaves separated and ends trimmed-4
Ricotta-3/2 cups
Directions:
Take a bowl and mix raisins, almonds, oil, pepper, salt and chives.
Place the leaves of endives on a serving plate and top with a dollop of ricotta and a spoonful of raisin almond mixture.
8. Cured Salmon with Dill-Horseradish Cream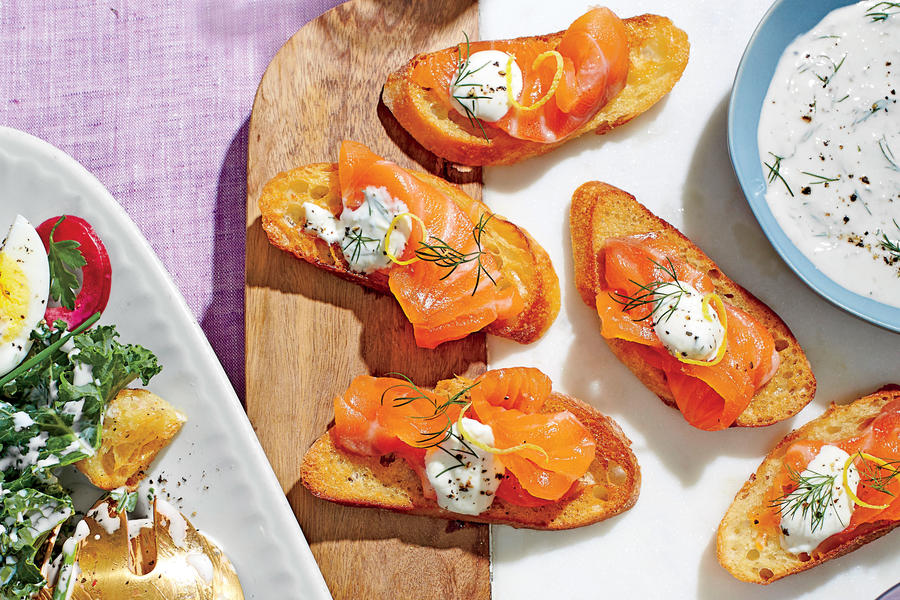 Ingredients
Kosher salt-2 cups
Granulated sugar-1 cup
Lemon zest-1 tbsp.
Lime zest-1 tbsp.
Orange zest-1 tbsp.
Skin on salmon fillet (thickness 1")-1/2 lb.
Dill-horseradish cream
Toasted sourdough bread slices
Directions:
Mix together the first five ingredients in a bowl. Apply 1/2 of the mixture on both the sides of the salmon. Place it in a baking dish with skin side down.
Apply the remaining salt mixture on the flesh of the salmon. Cover in a plastic wrap and chill for 36 hours.
Rinse salmon with cold water. Dry it and remove the skin. Slice salmon thinly. Serve with toasted bread slices and dill horseradish cream.