The best thing about going for finger foods for party is that they are easy to prepare and even easier to eat without forks or spoons. It also means that you can clean up with utmost ease as soon as the party is over. You just need to go for a variety of option, especially if you are arranging an all-appetizer party. Some great options include warm spreads, chip and dip, easy pickups, and one-bite salads. Let's find out about some other great options.
Finger Foods for Party
Easy-to-pick-up party foods have many benefits, and the biggest plus is that you do not need to go through a lot of hassle to make them in the first place. Here are some amazing recipes for some amazing party foods.
Blue Cheese and Walnuts

Ingredients
24 fresh Mushrooms
Half cup dry bread crumbs
1/3 cups each of sour cream and parmesan cheese (grated)
2 tbsp of fresh parsley
½ cup of blue cheese (crumbled)
¼ tsp of black pepper
2 cloves of garlic (minced)
¼ cup of toasted walnuts (chopped)
Nonstick cooking spray
Directions
Start by preheating your oven to 425F. Take a baking pan (15x10 inches) and place mushrooms in it with stemmed sides up. Be sure to remove its stems first.
Take a small bowl and add other ingredients. Also, stir in walnuts and blue cheese.
Now, take mushroom caps and spoon mixture in it. Coat them with cooking spray and bake for about 20 minutes. You can finish by topping with parsley and blue cheese.
Shrimp and Chorizo Kabobs
Ingredients
¼ cup of olive oil
2 pounds of jumbo shrimp (fresh and frozen)
2 tbsp of ground ancho chile pepper
1/8 tsp of chile pepper (ground chipotle)
1 tsp of salt
3 cloves of garlic
12 ounces of chorizo sausage (cooked and smoked)
Directions
Thaw shrimp first, peel it, rinse it, and use paper towels to pat dry.
Take a large bowl, and combine ancho chile pepper, olive oil, chipotle chile pepper, salt, and garlic in it.
Add shrimp to it and coat well. Use a plastic wrap to keep the bowl covered. Leave it in the refrigerator for half an hour.
Drain it to discard marinade. Now, carefully tuck a slice of chorizo into the crook of the other one and thread onto a skewer. Use a 12-inch skewer and ensure that it passes through the chorizo and one side of the shrimp and comes out of the other side of the shrimp. Repeat the same with the rest of the shrimp and chorizo.
On a charcoal grill, grill skewers on the rack over medium-hot coals. Grill for 5-6 minutes only.
Potato Fries with Garlic Ketchup

Ingredients
2 tbsp of olive oil
1 ½ pounds of sweet potatoes
¼ tsp of black pepper
¾ tsp of sea salt
3 cloves of garlic
3tbsp of onion (finely chopped)
1/3 cup of agave-sweetened ketchup
Directions
Start by preheating the oven to 450F. Get a rimmed baking sheet and line it with nonstick foil with sweet potatoes placed over it. Add a tablespoon of olive oil and toss gently. Add salt and pepper and bake for half an hour.
Take a small skillet and heat the remaining olive oil in it. Go for medium heat only. Add garlic and onion and cook for a couple of minutes. Be sure to stir occasionally. Add ketchup and then serve with fries.
Sugared Bacon-Wrapped Smokies
Ingredients
Nonstick cooking spray
15 slices of bacon
1 16-ounce package of smoked sausage links
¾ cup of brown sugar (packed)
Directions
Heat your oven to 350F and line a baking pan with foil. Opt for a 15x10x1-inch pan and coat it with cooking spray.
Take a bacon piece and use it to wrap sausage link. Be sure to overlap the piece at the end and press its end to seal it. You can use a wooden toothpick to secure it.
Take a large plastic storage bag and add brown sugar to it along with bacon-wrapped sausages. Seal it and shake gently to coat well.
Take those sausages and place in your prepared pan. Repeat the same with the remaining ingredients.
Bake for about half an hour and serve!
Gingered Nuts

Ingredients
1 pound of nuts (unsalted)
¾ cup of ginger (minced)
¼ tsp of cayenne pepper
2 tsp of coarse salt
2 tbsp of sesame seeds
¼ tsp of ground pepper
¼ cups each of sugar and water
Directions
Your oven should be preheated to 350F first.
Take a large bowl and combine candied ginger nuts, salt, cayenne pepper, sesame seeds, and pepper.
Take another saucepan and combine water and sugar. Place it over medium-high heat and bring to a boil.
Take the sugar syrup and place it over your nut mixture. Mix well and arrange in a single layer – use a parchment-lined rimmed sheet for this purpose.
Bake for about 15 minutes and do not forget to stir occasionally.
Stop when the nuts are golden. Let it cool completely and then cut into bite-sized pieces.
Bacon-Wrapped Potatoes
8 bacon slices
16 potatoes
Directions
Preheat your oven to 400F to make one of the best finger foods for party.
Take a potato and wrap bacon piece around it. Now, use a toothpick to secure it properly and place in a baking dish.
Stop baking when bacon is crisp – ensure that the potatoes are tender.
Serve!
Delicious Fish Cakes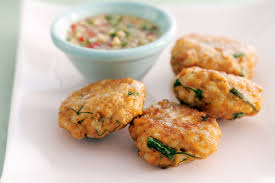 Ingredients
500g of skinless cod or Pollock fillets
250g of Maris Piper
4 tbsp of plain flour
Olive oil
200ml mayonnaise
2 tbsp of green herbs, such as chives, dill, or parsley
Directions
Chop the fish first. Peel the potato and grate it properly.
Take some flour in a bowl and add grated potato to it along with sea salt and black pepper.
Make flat patties using your hands and leave in your fridge for some time.
Take a heavy-based pan and heat oil over a medium-high heat. Cook your fish cakes for a couple of minutes on each side or until they become crisp. Remove from heat and place over kitchen paper to drain.
Chop the herbs and stir through the mayonnaise.
Serve with the fish cake!