Oysters are becoming even more popular. Oysters can be cooked, grilled, steamed, roasted or fried. When served as raw, small oysters are the best, while larger oysters such as Pacific oysters are best when cooked. Learn the recipes to cook tasty oysters.
How to Cook Oysters
1. Steamed Oysters
In order to prepare the oysters for steaming, you need to wash them carefully with a scrub brush under running and cold water. This will help remove all the dirt from oysters. If any oysters are opened or their shell is cracked, you need to discard them as this is a sign of a dead or compromised oyster. Wash the oysters just before cooking them for a better and fresh taste.
Once you have washed your oysters thoroughly, you will need to prepare the steaming liquid. For this purpose, pour 2 inches of water into a pot. Add one glass of wine or a half glass of beer for a better flavor and taste.
In order to hold the oysters, place a metal steamer tray into the pot. Arrange the oysters on this tray. Let the streaming liquid boil and then cover the pot with a lid.
You will need to steam the oysters for about 5 minutes if you want medium cooked oysters or for about 10 minutes if you want well-cooked oysters. Eat only the oysters that have opened and discard all those oysters that did not open.
2. Grilled Oysters
How to cook oysters? Grilling is an excellent way to eat them. Try this recipe.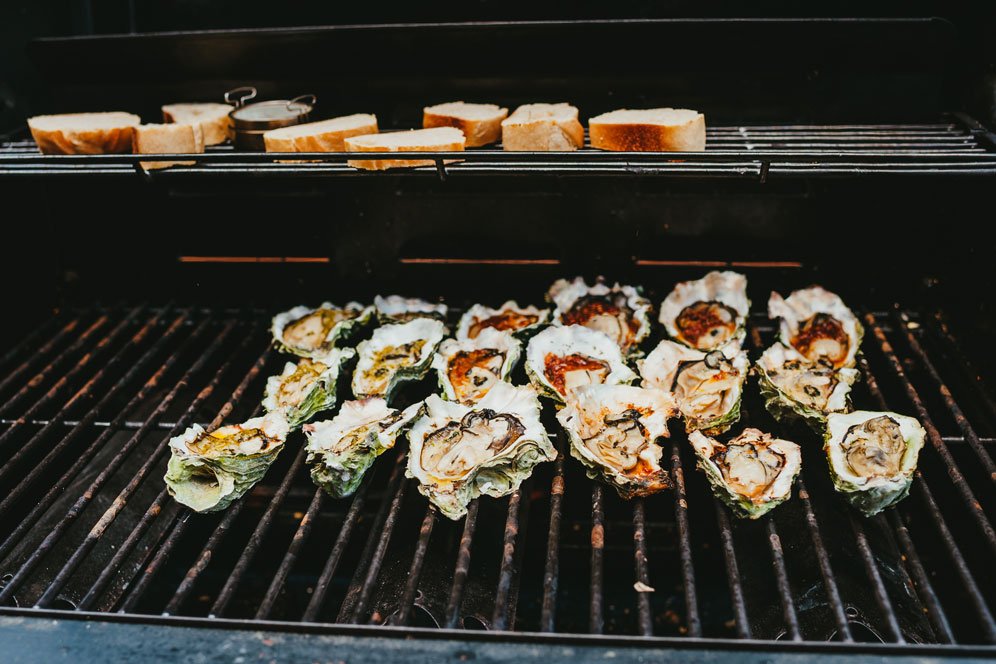 Ingredients:
3 dozen fresh and raw oysters in their shells
¼ cup of olive oil
1 ½ tbs. of Emeril's Original Essence
1 pound of unsalted butter
½ cup of minced garlic
¼ cup of chopped parsley
¾ cup of grated Pecorino Romano
¾ cup of grated Parmigiano-Reggiano
Crusty French bread
Directions:
Preheat the grill.
Mix the butter, garlic, olive oil, and Emeril's Original Essence into a medium saucepan. Put this saucepan over medium heat and cook it until the butter has melted. Remove it from the heat and let it cool down.
Stir in the parsley.
Open the oysters with the help of an oyster knife. Make sure to leave the oysters in the side of the shell that has a better cup-shape.
Place the oysters on the preheated grill and put about 2 tsp. of the above-mentioned mix over the oysters.
On top of each oyster, pour some grated Parmigiano-Reggiano, and Pecorino Romano cheese.
Close the grill and let the oysters cook for about 5 minutes.
Remove the oysters from the grill once cooked, and serve them with crusty French bread.
3. Fried Oysters
How to cook oysters? You can fry them if you prefer.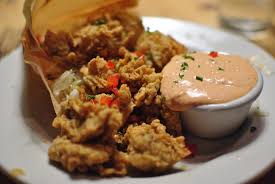 Ingredients:
1 pint of shucked oysters, usually not more than 20 or 30 oysters
1 pint of buttermilk
2 ⅓ cups of cornmeal
2 ⅓ cups of all-purpose flour
1 tsp. of kosher salt
1 tbsp. of Creole seasoning
½ cup of Creole mustard
1 cup of mayonnaise
1 tbsp. of honey
1/8 tsp. of cayenne
½ tsp. of file powder
¼ cup of minced green onion
2 tbsp. of hot sauce
Directions:
Put the buttermilk in a separate container.
Mix all the dry ingredients in a bowl until they are all well blended.
Place the oysters in buttermilk once at a time and remove them from the buttermilk.
Bread the oysters in the dry ingredient.
Pour about 2 inches of peanut oil in a deep-frying stockpot.
Make sure to keep the heat steady at 375 degrees Fahrenheit.
Fry oysters in batches until they get a beautiful golden brown color.
Remove the oysters from the pot and drain them on a paper bag plate.
Serve them immediately with remoulade.
For the remoulade, mix the mayonnaise, honey, Creole mustard, hot sauce, file powder, cayenne, fined chopped garlic and minced green onion in a bowl until the ingredients are all well mixed and compact. You can refrigerate the remoulade, for up to 1 week.
4. Baked Oysters
How to cook oysters? You can bake them if you prefer.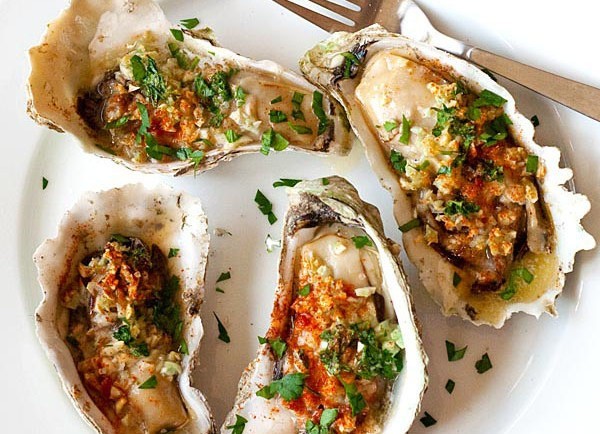 Ingredients:
24 oysters on their half shell
6 tbsp. of unsalted butter
1 tbsp. of minced garlic
½ tsp. of freshly ground black pepper
1 tsp. of kosher salt
2 tsp. of finely chopped lemon zest
1 tsp. of dried oregano
4 cups of rock salt
¾ cup of finely chopped onions
¾ cup of finely chopped celery
1 can of drained and finely chopped artichoke hearts
1 cup of Japanese bread crumbs
Directions:
Preheat the oven to 425 degrees Fahrenheit.
Melt the butter.
Add onions, celery, kosher salt into the butter and cook for about 5 to 7 minutes.
Add garlic and continue cooking for about another 1 to 2 minutes.
Reduce the heat and add bread crumbs, artichoke hearts, lemon zest, oregano, and pepper.
Continue cooking in medium-heat for about 2 to 3 minutes.
Remove it from the heat and set aside to cool down.
Place the rock salt on a pan.
Place the oysters on the pan as well.
Divide the already prepared bread crumb mixture evenly among the oysters.
Bake them in the preheated oven for about 10 minutes.
Serve once baked.