Ground turkey is an excellent source of lean protein, vitamin B6, phosphorus, potassium, selenium, iron and zinc. It is also a low-fat product. Therefore, many people are beginning to use ground turkey as a key ingredient to prepare meals. Usually, ground turkey is frozen, so you will have to defrost it before using.
How to Defrost Ground Turkey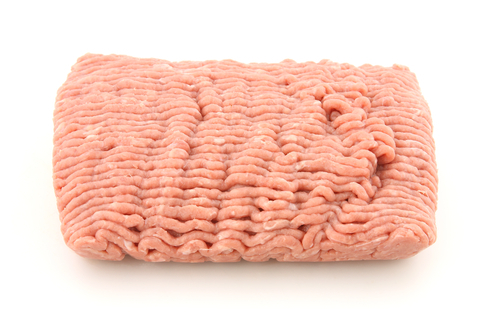 1. Refrigerator Thawing
This is the safest and simplest way to defrost your ground turkey, but it will require time. The best part is that you do not need to check it constantly. A pound of ground turkey should be left in the refrigerator for 12 to 24 hours for thawing. Ground turkey of bigger size needs more time to defrost. After thawing, the meat should be cooked within one or two days.
2. Microwave Thawing
If you are in hurry, this is a good method. But you need to check and rotate the ground turkey periodically to make sure that the defrosting is even. Just put your frozen ground turkey in the microwave and activate the defrost function. In this way, bacteria are more likely to grow on the meat, so it should be cooked immediately after thawing.
3. Cold Water Thawing
How to defrost ground turkey quickly if you don't have a microwave oven? Cold water thawing is a good option. It will take more time than microwave thawing but less time than refrigerator thawing. About one hour is needed for a pound of meat.
All you need is a container that is big enough, and then you can fill it with water and submerge the ground turkey in it.
Previously seal the ground turkey inside a hermetic plastic bag to avoid contamination. Change the water every thirty minutes to keep it cold and minimize the risk of bacteria growth.
It is important to know that you should never defrost the meat in hot water, as this highly increases the chance of harmful bacteria growth.
Can You Cook Frozen Ground Turkey Directly?
Frozen ground turkey can be cooked directly from the freezer; however, this will increase the cooking time to about 50 percent. Besides, your meal can become soggy as lots of water will come from the defrosting meat. This is not always an useful method, but in some slow-cooker recipes, it may make the process easier.
Tasty Ground Turkey Recipes
How to defrost ground turkey in different ways? Now you know that there are three ways to do that. Here are some delicious recipes for you to enjoy.
1. Turkey Meatball Gyro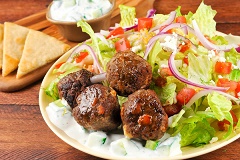 Ingredients
1 jalapeño, seeded and sliced
1 pound of lean ground white meat turkey
1 teaspoon cumin
1 egg white
1 tablespoon extra-virgin olive oil
1 lemon, halved
Around 5 chopped and sliced scallions
2 sliced peppers
2 tablespoons chopped dill
Some sliced cherry tomatoes
4 thin pitas
1/2 teaspoon coriander
Half a cup of Greek yogurt
Black pepper
Kosher salt
Directions
Grab a baking sheet and cover it with some foil, and preheat the pan or broiler.
Mix scallions, dill, coriander, egg white, cumin, half a teaspoon each of salt and pepper, and turkey in a bowl. Make 15 little meatballs and place them on the foiled sheet. Cook them for about 4 to 5 minutes, and then squeeze the juice from half a lemon over the meatballs.
In a different bowl, add the tomatoes, sliced scallion, peppers, extra-virgin olive oil, jalapeño, some salt and pepper, and squeeze the juice of the other half of lemon. Toss and combine all these ingredients.
Extend the Greek yogurt on the pitas, and then put meatballs and all the other ingredients on the top.
2. Turkey Albondigas Soup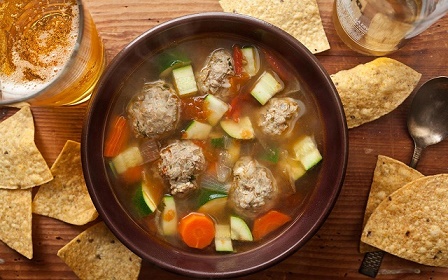 Ingredients
1 thinly sliced onion
1 cup whole-wheat breadcrumbs
1 tablespoon canola oil
1 large egg
2 carrots, diced
2 teaspoons dried oregano
1/2 teaspoon salt
3/4 teaspoon ground pepper
2 tablespoons minced cilantro
2 tablespoons lime juice
2 teaspoons ground cumin
1 jalapeño, minced
3 poblano peppers, diced
3 plum tomatoes, diced
1/2 cup cooked brown rice
1 pound 93% lean ground turkey
6 cups reduced-sodium chicken broth
Directions
Grab a baking sheet and cover it with wax paper.
In a bowl, mix the breadcrumbs, egg, turkey, 1/2 teaspoon pepper, 1 1/2 teaspoons cumin, 1/4 teaspoon salt and 1 1/2 teaspoons oregano. Make about 20 meatballs and place them on the baking sheet. Put everything in the refrigerator for about 20 to 30 minutes or leave it in the freezer until ready to use.
Heat oil in a large pot, and then stir fry the carrots and onion for about 4 minutes or until soft. Add the tomatoes, peppers, 1/2 teaspoon oregano, 1/4 teaspoon salt, 1/2 teaspoon cumin and 1/4 teaspoon pepper, and cook for 1 or 2 minutes before adding the chicken broth, and then increase the heat until boiling. At this point, reduce the heat and bring the broth to a simmer for 5 minutes.
While in simmer, carefully submerge the meatballs in the soup to avoid any splash, and cook for 8 minutes. Add the rice and continue the cooking process for 5 more minutes, stirring from time to time.
When tender, remove the pot from the heat and stir in some lime juice. Serve the soup and top it with cilantro and jalapeño.
3. Quick Turkey Chili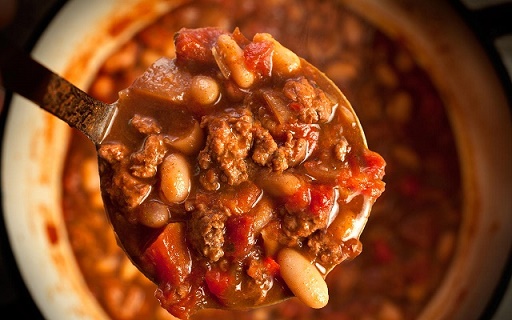 Ingredients
1 1/4 lb. lean ground turkey
1 cup low-sodium chicken broth
2 cloves of garlic
1 large onion
2 tablespoons of olive oil
1 small spoon of chili powder
1 can of kidney, black or refried beans
1 can fire-roasted diced tomatoes
Some fire-roasted diced chiles
2 teaspoons of ground cumin
Cheese
Some tortilla chips
Sour cream
Pepper
Kosher salt
Directions
First, defrost the ground turkey. How to defrost ground turkey? You already know the answer.
Then grab a pot or saucepan and heat the oil. Put onion and some salt and pepper. Cook for about 7 to 9 minutes or until onion becomes soft, stirring occasionally.
Add the chili powder, cumin and garlic, and continue to stir for a minute. At this point, put the ground turkey to the mixture and cook for 4 minutes or until it begins to get a little brown.
Lastly, add the chicken broth, tomatoes with its juice, chilies, and beans and let it boil. Then reduce the heat and let it simmer until it begins to thicken.
Serve in a bowl topping with the cheese, chips and sour cream.