Oatmeal is a great tasting, health improving and filling food, especially when you eat it for breakfast. But you can make it even more potent by adding protein powder. The combination will strengthen your body and boost your health. However, because some people might not need additional protein in the diet, it is advisable that you consult your doctor about eating protein powder.
How to Combine Oatmeal with Protein Powder
You can easily add protein powder to oatmeal. Follow the steps:
1. Pick Your Favorite Protein Powder
Protein powder is an easy and efficient way of eating protein. However, not all protein powders are equal; some contain high-quality and more nutritious ingredients such as casein, whey, soy and egg whites. Choose proteins containing these ingredients. Protein powders made with hemp, pea and rice contain less quality protein. These are, however, good options if you are a vegan or have allergy of eggs, soy or dairy.
2. Make Your Oatmeal
Cook your oatmeal in the microwave the normal way by following the instructions on the package. Do not add protein powder at this stage.
3. Combine the Two
When your oatmeal is ready, add the protein powder and mix the two. Cooking the oatmeal before combining it with protein powder reduces the chances of the protein forming lumps. When added to oatmeal, protein powder improves the texture of the meal, making it creamy and smooth. To enhance the taste of your oatmeal with protein powder, use flavored protein powder. 1/8 cup of protein powder is the typical amount for one serving of oatmeal.
4. Add Toppings
For even more nutritious oatmeal, besides protein powder, add toppings of fresh fruits such as apple, banana or strawberries. Adding some low-fat natural yogurt will provide you with health boosting probiotics, calcium and more protein.
Tasty Recipes of Oatmeal and Protein Powder
1. No-Bake Oatmeal Protein Energy Balls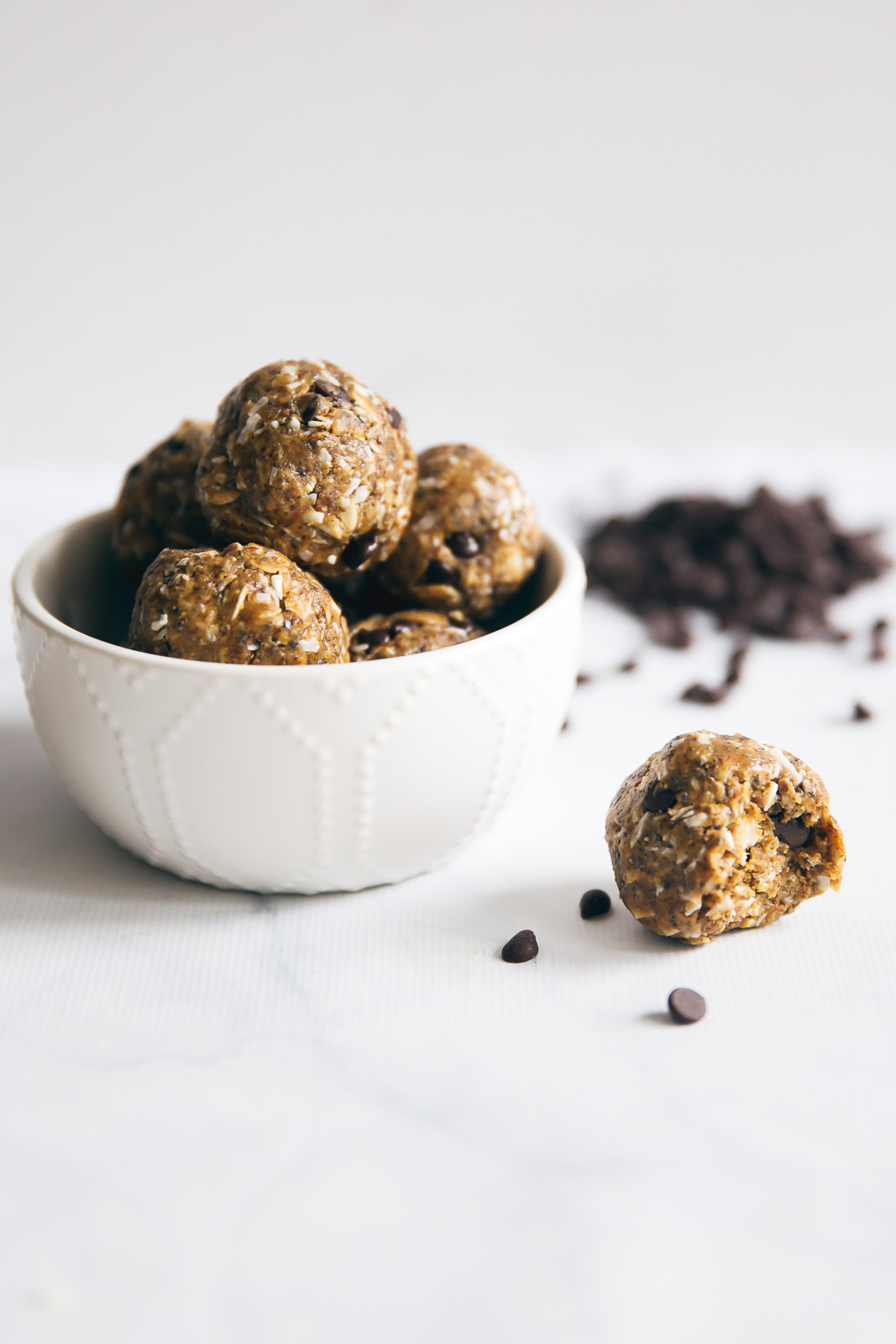 Ingredients
1 ½ cups rolled oats
2 scoops whey protein powder
½ cup peanut butter, natural and smooth
⅓ cup chocolate chips, raisins, etc.
½ teaspoon cinnamon
1 tablespoon chia seeds
3 tablespoons of honey, natural
1 teaspoon vanilla extract
2 to 4 tablespoons of milk, almond milk, water or other liquid food
Directions
Put the oats, protein powder, chia seeds and cinnamon into a bowl.
Stir in honey, peanut butter and vanilla extract.
Add the raisins or other adds-in.
Add the milk or other liquid, one tablespoon at a time, while mixing the material using your hands.
Divide into smaller balls and place them in a flat-bottomed container.
Put into the fridge and let them set for 30 minutes or longer.
Serve once your oatmeal with protein powder balls have set and leave any surplus in the fridge.
2. Chocolate Protein Pancake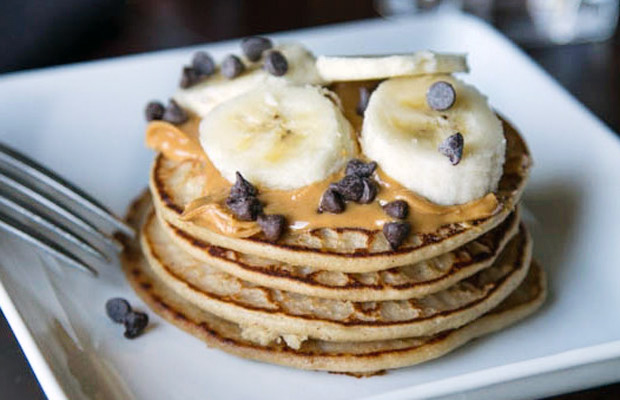 Ingredients
⅓ cup quick oats
½ scoop or more protein powder, chocolate flavor
2 egg whites
½ teaspoon vanilla extract
½ teaspoon baking powder
½ teaspoon cinnamon
½ teaspoon cocoa powder if desired
Suggested Toppings
Peanut butter
Mashed banana
Maple syrup
Directions
Put all ingredients in a bowl and mix to form a runny mixture.
Prepare a skillet by spraying with non-stick spray and heating to medium.
Pour mixture into the skillet and spread it out to a pancake shape using a spoon.
Cook over medium heat. Flip the pancake and continue cooking until you can shake it free in the pan.
Once cooked, place your pancake on a plate, add your choice of toppings and serve.
3. Apple Pie Protein Overnight Oats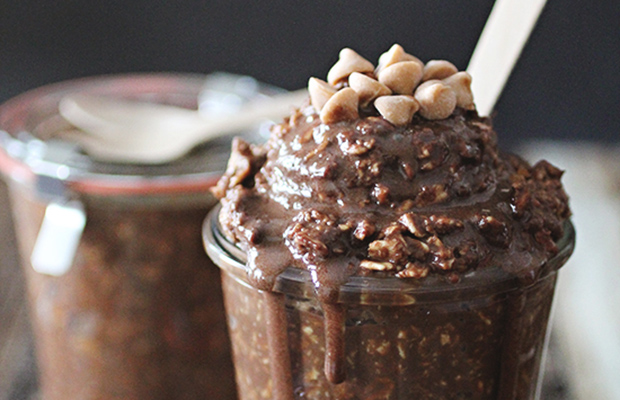 Ingredients
1 piece apple, peeled and diced
¼ cup sugar maple syrup (low sugar), or honey
¾ cup almond milk (unsweetened), or low-fat milk
½ cup applesauce (unsweetened), or low-fat plain Greek yogurt
1 cup oats
¼ cup protein powder
¼ teaspoon salt
½ teaspoon cinnamon powder
½ teaspoon apple/pumpkin pie spice
1 tablespoon Stevia (baking) / other sweetener to taste if desired
½ teaspoon vanilla extract if desired
Directions
Soften the apple by putting it and the syrup or honey into a bowl and microwaving for 1-1 ½ minutes.
Add the other ingredients and mix; then divide between two containers.
Cover and place in the fridge overnight.
Add your toppings and serve.
You may microwave it for ½ -1 minute if you don't like it cold.
How to Add Protein to Oatmeal
Besides mixing oatmeal with protein powder, here are more ways of adding protein to your oatmeal:
Eggs: Fried or poached eggs are a great complement for savory oatmeal. One egg contains 6 grams of protein.
Turkey Bacon: Try turkey bacon in addition to peanut butter, cheese or veggies for a delicious oatmeal breakfast. A quarter cup turkey bacon provides you with 6 grams of protein.
Greek Yogurt: If you have never eaten oatmeal with yogurt, the cool, rich tasting combination will be a pleasant surprise. You will get 3 grams of protein from two tablespoons of Greek yogurt.
Pistachios: Oatmeal topped with peanuts is probably a regular, but pistachios will give it a surprising new twist. One ounce of pistachios contains 6 grams of protein.
Peanut Butter: It's most probable that you are familiar with peanut butter. Two tablespoons of peanut butter pack 8 grams of protein.
Black Beans: Wondering if this is an error? No it isn't. A quarter cup of black beans will give you 3 grams of protein.
Parmesan Cheese: Continue your oatmeal exploration by adding Parmesan cheese. How much protein will you get? One ounce will give you 11 grams.
Sliced Turkey: A slice of turkey adds 3 ½ grams of protein to your oatmeal. Make things even more interesting by combining oatmeal, turkey and Parmesan cheese.