Pineapple is a refreshing and healthy treat during the hot days of summer. It is particularly delicious, but some people would experience a strange sensation when they consume it. After a few bites, they feel scratchy, closely resembling burning feeling on the tongue and their mouth. Why does this happen?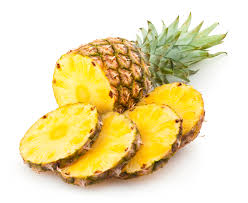 Why Can Pineapple Cause a Burning Tongue?
When people eat the pineapple, burn tongue is something really annoying. Here are the explanations:
The human skin has oils which help block the absorption of chemicals that can irritate it. These oils contain plenty of proteins. Pineapple has a chemical compound named bromelain which is able to break proteins in skin oils. So, when bromelain comes in contact with your mouth, it will cause this unpleasant feeling of burning.
Furthermore, pineapples also have a higher content of citric acid and malic acid which are known to be capable of causing itchiness, irritation, redness as well as other burning sensations.
In fact, it's rather common to feel an itchy and gritty sensation after eating pineapple. You do not have to be worried as the proteins will be restored and rebuilt in a few hours, and the effects are not permanent.
Note: However, if you develop significant pain, burning or swelling after you eat pineapples, you should talk to your doctor immediately.
How to Avoid a Burning Tongue Caused by Pineapples
When you eat the pineapple, burn tongue can actually be prevented.
The first thing is to eat only fully ripe pineapples. Most of the times, the condition happens because the fruit isn't ripe. Make sure to correctly rinse it before eating.
You can also cut the core of the pineapple which is going to make you feel the burning sensation. Use a larger knife and cut the whole pineapple in two. Remove the core afterward.
Sprinkle about one tablespoon of lime juice on the fruit. If you are eating a smaller amount, you can just add a drop or two. The acidic nature of the pineapple is what makes your tongue burn, while the lime juice can add sweetness and reduce the acidity, without altering the overall flavor in any way.
Furthermore, heating and cooking the pineapple will also help you deactivate bromelain to prevent the burning sensation. You can also take canned pineapple as bromelain is eliminated during the canning process. Just make sure that it is BPA free.
If you already have a burning mouth caused by pineapples, you can rinse your mouth with baking soda. See this video!
Tasty Recipes of Pineapple Which Will Not Cause a Burn Tongue
If you like eating the pineapple, burn tongue should not be the cause that makes you get away from this delicious fruit. Try these amazing recipes to enjoy the flavors of pineapples.
1. Carrot Pineapple Muffins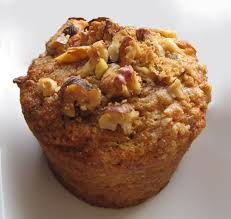 Ingredients:
1 1/2 cups of whole wheat flour
1 egg
1/8 tablespoon of salt
4 egg whites
1/2 tablespoon of baking soda
1/4 cup of honey
1 tablespoon of lemon juice
3/4 cup of well grated carrots
2 tablespoons of cinnamon, ground
1 tablespoon of gluten-free vanilla extract
Directions:
Preheat your oven to about 325 degrees and then grease the muffin tin.
Combine the dry ingredients that we enlisted in a large bowl. Then combine wet ingredients in a medium bowl and stir well.
Use a large scoop to fill the cups for the muffins to about 3/4 full.
Go ahead and bake for about 20 to 25 minutes.
2. Pineapple Fried Rice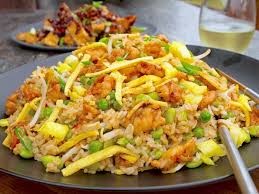 Ingredients:
1/3 of a whole pineapple
1/4 cup of spring onions (chopped)
A handful of cashew nuts
Some ginger to taste
1/4 cup of coriander (chopped)
2 small chicken breast strips
2 cloves of garlic
1 stalk of lemongrass
Rice
Soy and chili sauce
Directions:
Dice the chicken and chop the garlic and ginger finely. Mix in a little bit of oil and add the lemon grass.
Then season the mixture with soy sauce.
Then add the rice and the pineapple. The latter should be roughly chopped.
Cook the above mentioned ingredients on medium heat for about 5 minutes.
Sprinkle cashew nuts and turn off the heat. Enjoy!
3. Pineapple Grilled Pork Chops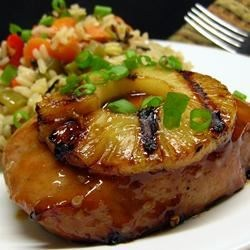 Ingredients:
1/4 teaspoon of garlic powder
4 pork chops
1/4 cup of soy sauce
1 pinch of ground black pepper
1 can of pineapple rings
1/4 cup of brown sugar
Directions:
Mix the juice of the pineapple with other wet ingredients in a zipper bag and smash it a few times with your hands so that you can mix the marinade with the sugar.
Place the pork chops inside and let it rest for the night in the fridge.
After that, preheat an outdoor grill and remove the chops from the marinade.
Shake off the excess and grill for 5 to 8 minutes on each side. Grill four rings of pineapple while the grill is still hot.
With these wonderful recipes of pineapple, burn tongue will not bother you anymore.