Wheat berries are actually wheat seeds and can be quite beneficial for health. You can include unprocessed wheat berries in your diet and get a variety of nutrients along with fiber. What you should bear in mind is that refined wheat products do not have the nutrients found in unprocessed wheat berries. Many people understand that wheat berries are better than refined wheat products, but they still ask more about the nutrition value of wheat berries. Let's find out what nutritional benefits you get when you opt for wheat berries.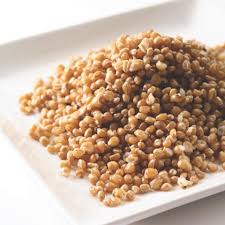 Wheat Berries Nutrition
Wheat berries do not contain many calories and offer some essential nutrients that make them a nice addition to any weight loss diet. Here is what you get when you opt for wheat berries:
1. Calories and Fiber
You get about 139 calories from a ¼-cup serving of wheat berries. They expand while cooking and this makes them quite filling. The same serving of wheat berries provides you with 5g of fiber, which keeps you full and prevents hunger pangs.
2. Carbohydrates
Most of the calories found in wheat berries come from carbs. You do not have to worry about carbs found in wheat berries because they are unrefined carbs, which are actually beneficial for your health. These carbs do not lead to a quick spike in your blood sugar, which prevents several complications.
3. Protein and Fat
You get about 4.5g of protein from a ¼-cup serving of wheat berries. The same serving provides you with less than 1g of fat. It is true that wheat berries are not a rich source of protein, but you can combine them with many other sources of protein, such as beans to increase your protein intake.
4. Vitamins and Nutrients
A ¼-cup serving of wheat berries provides you with 53mg of magnesium and 164mg of potassium. You need to get enough magnesium to lower your risk of hypertension and type-2 diabetes. Similarly, potassium is important for your cardiovascular system. You also get vitamin E, B-vitamins, and other nutrients from wheat berries.
Ways to Cook Wheat Berries
How you cook wheat berries is going affect wheat berries nutrition value. Therefore, you need to be careful and cook it properly. Here are some suggestions to consider.
1. Boiling Wheat Berries
You can simply boil wheat berries before eating. Take a saucepan and add the berries to it. Now, add a pinch of salt along with some cooking oil. You can use water to cook the wheat berries. Now, bring the mixture to a boil first and then lower the heat. Let it simmer for an hour. Keep checking the berries after a few minutes to ensure you do not overcook them.
2. Slow-Cooking Wheat Berries
You can use your slow cooker to cook your berries. Add the berries and some water to the slow cooker and start cooking. You can use juice instead of water in case you are going to use the berries for a sweet dish. Be sure to cook on high heat for at least 3 ½ hours. You can stop when the berries become tender.
3. Pressure-Cooking Wheat Berries
Simmering your wheat berries on the stove can take a lot of time, but you can complete the task quickly by pressure-cooking wheat berries. Add your berries to the pressure cooker and add some oil along with 1 ½ times as much water as compared to wheat berries. Lock the cooker and turn the heat on. Lower the heat soon after you reach high pressure. Cook your wheat berries for another half an hour at the lowest setting and then turn the heat off.
4. Cooking Wheat Berries in a Rice Cooker
You can also cook wheat berries in a rice cooker. The cooker will keep cooking until the water is absorbed completely. The cooker changes settings automatically to keep your wheat berries warm for long. You will be able to cook wheat berries in 75 minutes using a rice cooker.
Healthy Recipes to Try
You already know about wheat berries nutrition facts and you may want to include it in your diet. Here are some simple yet delicious ways to enjoy wheat berries.
1. Wheat Berry Lentil Soup

Ingredient
4 cups of vegetable broth
1 ½ cups of brown lentils
3 tbsp of extra-virgin olive oil
4 cups of cold water
3 large carrots
¾ tsp of salt
A medium red onion
¼ tsp of ground pepper
1 ½ cups of wheat berries (cooked)
1 ½ tsp of ground cumin
4 cloves of garlic
A bunch of red chard o
3 tbsp of lemon juice
Directions:
Combine broth, lentils and water in a Dutch oven. Bring it to a boil first and then reduce heat. Lower the heat and simmer for about half an hour.
Take a large skillet and heat oil over medium heat. Now, add onion, carrots, pepper, and salt. Cook it for about 15 minutes and then add cumin and garlic. Cook again for 30 seconds and remove from the heat.
Take a pot and add cooked wheat berries to it once the lentils become tender. Add chard as well. Simmer for about 5 minutes. Now, stir in the lemon juice and carrot mixture as well.
Serve and enjoy the wheat berries nutrition!
2. Wheat Berry Salad with Red Fruit

Ingredients
7 cups of cold water
2 cups of red winter-wheat berries
A teaspoon of salt
⅓ cup of orange juice (freshly squeezed)
A large Fuji apple
⅓ cup of dried cranberries
3 tbsp of raspberry vinegar
Half cup of pecan halves and coarsely chopped
¼ tsp each of salt and ground pepper
3 tbsp of extra-virgin olive oil
Instructions
Cook wheat berries by boiling and leave them to cool.
Combine cranberries and orange juice in a bowl and leave it for 15 minutes.
Take 3 cups of the cooked berries, pecans, and apple in a large bowl and stir well. Drain your wheat berries but reserve the juice. Now, add the cranberries to the wheat berry mixture.
Take a small bowl and add the reserved orange juice, oil, and vinegar to it. Combine well and season with ¼ tsp of salt and pepper. Pour it over your salad and stir once again. Put it in the refrigerator for half an hour.
Serve!