If you are searching for a nutritious, healthy, filling and fat-burning diet, the chicken and rice diet can be one of the best choices. To ensure the most beneficial outcome, organic chicken and whole brown rice are most advisable ingredients, because both ingredients are relatively low in calorie content, and have various health benefits. It is important to remember that although organic chicken and brown rice can be part of a healthy weight-loss regime, they will not individually cause the loss of any body fat. Here we will detail all you need to know about this diet, along with a tasty recipe you can try at home.
Nutritional Values in Chicken and Rice Diet
1. Calorie Content
The amount of calories varies depending on how each meal is prepared. Brown rice that has been boiled in clear water has around 162 calories per ¾ cup serving. You can boost the flavor of the rice by adding vegetable broth (with low sodium content), and season with fresh basil, lemon pepper, thyme, and garlic powder.
As for the chicken, there are 128 calories in 3 oz. of cooked, skinless and boneless chicken breast. And the best cut of chicken, in relation to having low calorie content, is the breast, which is said to contain only half as much fat as the thighs or legs, making it the healthier choice.
2. Loads of Fiber
The brown rice in this diet will provide your body with enough fiber. ¾ cup of cooked brown rice supplies you with 2.6 grams of fiber. Foods containing good amount of fiber are less likely to lead to overweight or obsesity, because a feeling of fullness is created when the fiber is consumed. It also works to slow down the process of digestion, helping you to feel fuller for longer.
3. Plenty of Protein
Both brown rice and chicken contain protein. When eaten together, (¾ cup brown rice & 3 ounces of chicken), they provide you with over half of what is recommended as the daily intake of protein, for both men and women. This means, with a chicken and rice diet,you will be getting plenty of protein, which helps with the growth and restoration of muscle strength, as well as helps to slow the movement of food whilst being digested through your digestive tract. There are also studies that suggest that protein can help with the production of hormones that regulate and control hunger.
Can Chicken and Rice Diet Help With Weight Loss?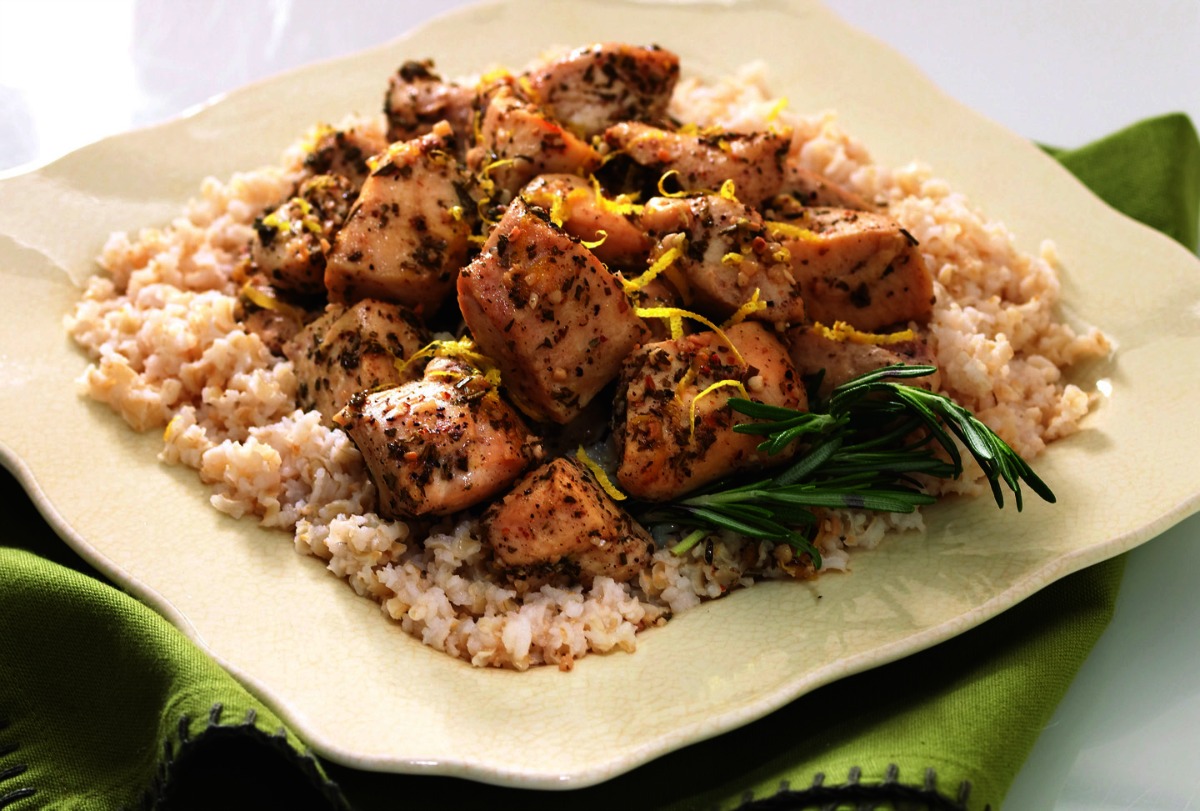 The answer is yes. Chicken and rice diet can promote weight loss for numerous reasons.
Firstly, the diet is low in calories. Half cup of brown rice can have 108 calories. And 3 oz. of skinless chicken breast meat have 128 calories. Plan your weight loss diet by calculating calories of each serving.
The second reason is the rich amount of protein. According to researches, food with high protein level uses more calories to digest, which is known as the thermic effect.
Fiber of the brown rice will not be metabolized in the same way that simple carbs does, and fewer fibers are stored in your body.
Chicken and rice dietmay be more beneficial in regards to weight loss than a low-fiber, low-protein diet, even if the amount of calories consumed is the same. One thing to point out: although both brown rice and organic chicken have great nutritional benefits, they are not detrimental to burning fat.
Similar effect can be achieved using similar high protein meats and whole grain carbohydrates. The chicken can easily be substituted with lean beef or egg whites, or you could swap the brown rice for whole-wheat pasta, or bread.
A Weight Loss Chicken and Rice Diet
The truth is that over consumption of low-calorie meals will still lead to weight gain. During weight loss, planning your meals and recording intake calories is as important as the food you eat. You should note how many calories you are taking with each meal, including calories within the chicken, rice, any sides, and any beverages you consume. In case of over consuming calories, you should consider lowering your portion sizes. Here is a weight loss chicken and rice recipe for you to try.
Nutritional Facts
Per serving: 25g protein, 45g carbohydrates (6g dietary fiber, 3g sugar), 170mg sodium, 370 calories(80 from fat),total 9g fat, 1.5g saturated fat, 50mg cholesterol.
Ingredients
3 cups vegetable broth (low-sodium)
1 chopped yellow onion (medium in size)
2 finely chopped garlic cloves
1 boneless, skinless chicken breast (8-ounce), chopped into ¾ inch cubes
1 cup brown rice (long-grain)
3 cups broccoli florets (small)
2 teaspoons fresh thyme (chopped)
¼ cup pine nuts (toasted)
Directions
Simmer ½ cup of water over a medium heat in a large skillet with high sides, then add the garlic and onion and cook for 6 minutes or so.
Add the rice and chicken as well as the broth, and then stir the contents thoroughly.
Bring the mixture to the boil, then reduce the heat, cover, and simmer for around 30 minutes.
Add the broccoli, re-cover and cook for a further15 minutes.
Ensure that the rice and the broccoli are tender, and all of the moisture has been absorbed. If so, remove the mixture from off of the heat, and allow it to cool for 5 minutes on the side at room temperature whilst still covered.
Remove the coverand use a fork to fluff, then stir in the pine nuts as well as thyme, then serve.