For some people, cooking is completely natural and they just surprise you with very tasty dishes. For others, cooking is perhaps the most difficult thing in the world and they can hardly make an egg. Eating healthy is very important and cooking yourself is also much cheaper than ordering food or going out for a dinner. There is nothing that can't be learned, and once you learn some basic stuff how to cook, you will find yourself enjoying every day even more in cooking various recipes. If you are a beginner and just started to cook, here are some great and easy dinner recipes.
Easy Dinner Recipes for Beginners
If you are looking for some easy and quick dinner recipes that do not require much work and time, here are some great and very delicious recipes for you to try:
1. Potato-Crusted Pizza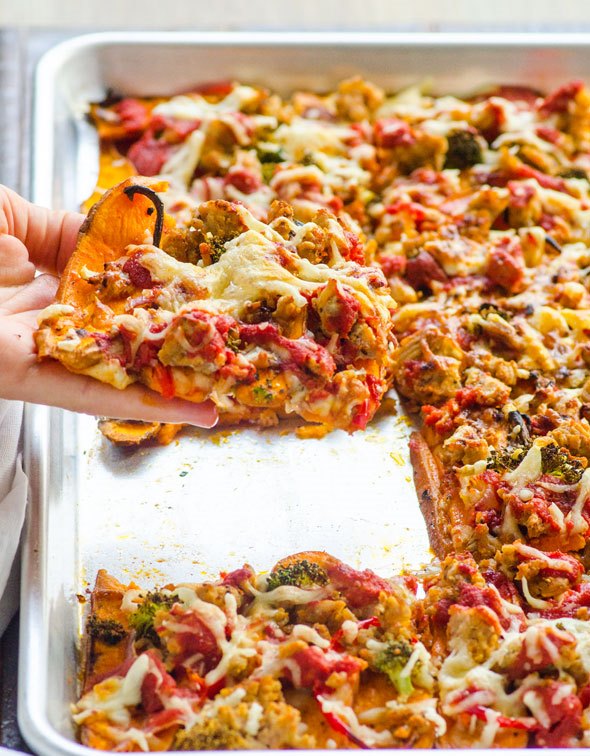 Ingredients:
1 pack of frozen, seasoned and shredded potato rounds
1 can of drained and diced tomatoes
1 pack of fresh and torn basil
1 tablespoon of olive oil
2 cups of shredded pizza cheese blend
Instructions:
Preheat the oven to 450 degrees.
Brush the pan with oil.
Arrange potatoes in a single layer on the pan.
Bake the potatoes in the preheated oven for about 10 minutes.
Flatten the potatoes so they cover the entire pan.
Bake the potatoes for another 10 minutes until they become crispy.
Add the remaining ingredients on top of the crispy potatoes.
Bake them for another 5 or 10 minutes, until the cheese melts.
2. Cast-Iron Cowboy Steak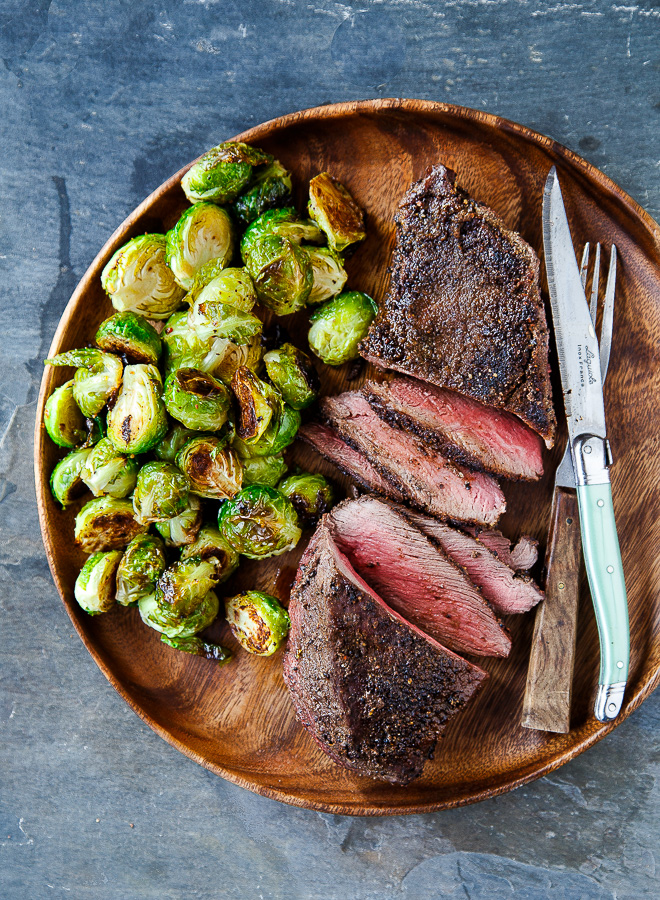 Ingredients:
1 porterhouse steak about 2 inches thick
3 peeled and smashed garlic cloves
3 tablespoons of butter
1 tablespoon of vegetable oil
Fresh herbs like oregano, rosemary, and thyme
Kosher salt
Black pepper
Instructions:
Preheat the grill to 400 or 450 degrees.
Sprinkle salt and pepper over the steak as you wish.
Heat iron skillets on the grill.
Add oil to the skillets so it smokes.
Place the steak on an iron skillet carefully using tongs.
Cook the steak on the grill for about 10 minutes until it gets a nice dark brown color.
Turn the steak on the skillet using tongs, and cook it for another 2 minutes.
Cook the steak on the grill with a covered grill lid for another 10 minutes.
Add the herbs, garlic and the butter on the side of the skillet until the butter melts completely.
Tilt the skillet slightly so you can spoon the butter mix over the steak.
Once cooked as you desire, transfer the streak, the garlic and the herbs to a platter.
Let them stand for about 5 to 10 minutes before slicing it. This is one of the best easy dinner recipes for beginners.
3. Almond Crusted Tilapia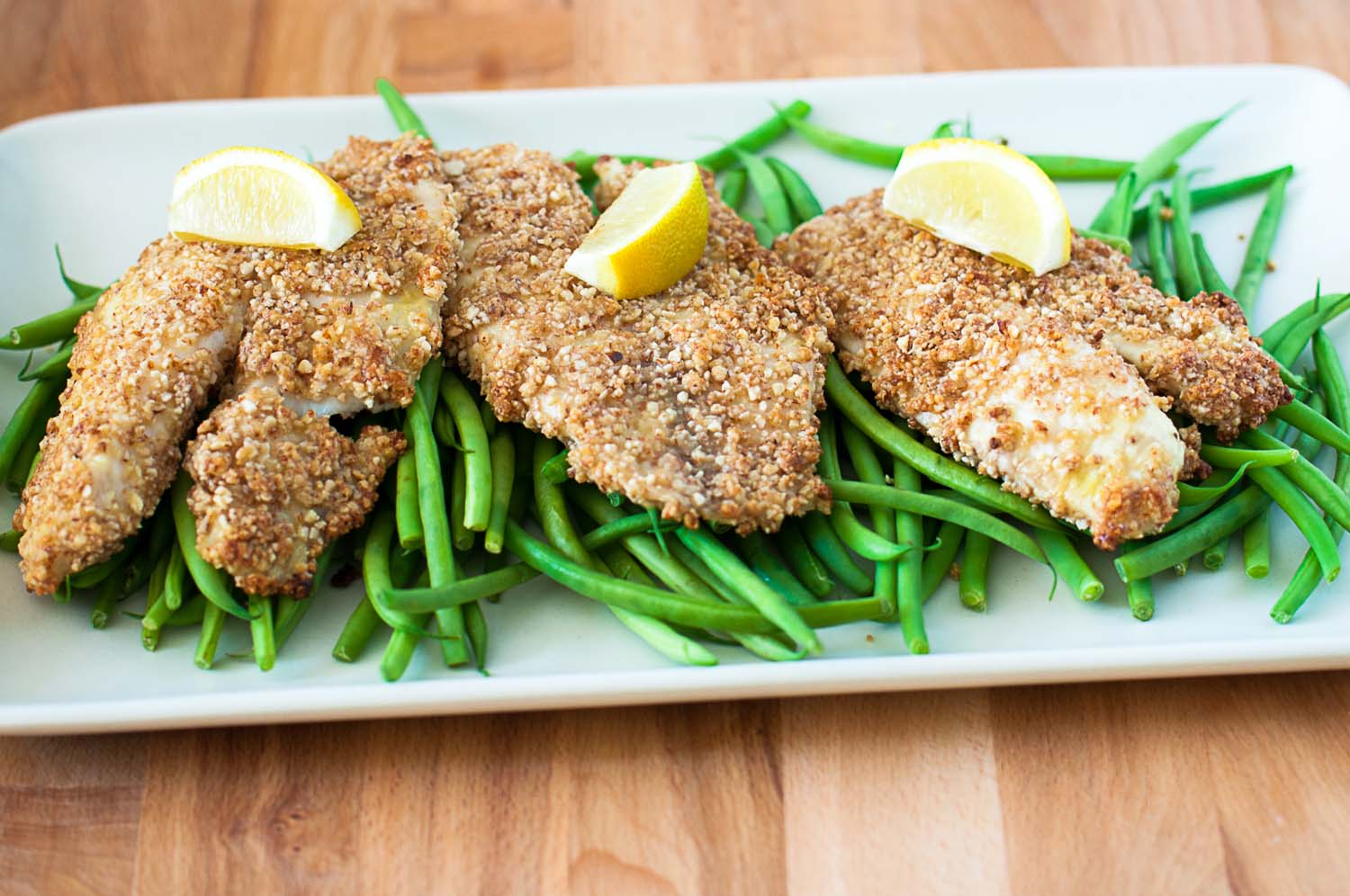 Ingredients:
2 tilapia fillets
¼ cup of whole almonds
Fresh and chopped parsley
2 tablespoons of dry breadcrumbs
1 tablespoon of canola oil
1 tablespoon of Dijon mustard
1 teaspoon of garlic and seasoning blend
Black pepper
Instructions:
Mix the whole almonds, breadcrumbs, garlic and herb seasoning blend and black pepper in a blender until they are finely ground.
Heat some oil in a large skillet over medium heat.
On both sides of tilapia fillets brush some mustard.
Dredge the tilapia fillets in crumb mixture.
Add the fish to the pan and cook it for about 3 minutes on each side.
Sprinkle with parsley.
4. Bruschetta Pasta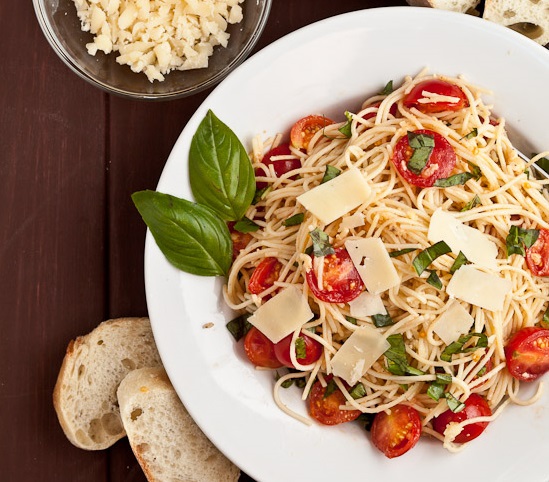 Ingredients:
Linguini pasta
3 cups of vine-ripened tomatoes
3 minced garlic cloves
1 tablespoon of balsamic vinegar
½ cup of basil leaves
¼ cup of extra virgin olive oil
Parmesan cheese
Crushed red pepper
Salt and pepper
Instructions:
Boil water for pasta in a large pot.
Boil the tomatoes gently in the pasta water for about 1 minute.
Remove the tomatoes using a slotted spoon and set them aside.
Cook the linguini pasta on the water.
Mix olive oil, balsamic vinegar, garlic, basil, salt and pepper in a bowl.
Remove the skin from the tomatoes once they are cooled down.
Dice the tomatoes.
Add the tomatoes to the large bowl.
Once the linguini pasta are cooked, add them to the bowl with the tomatoes.
Toss them well.
Add pasta water if you think that the linguini pasta is too dry.
Add shaved parmesan cheese on top of the pasta and red pepper if you wish.
5. Easy Weeknight Vegetable Stir Fry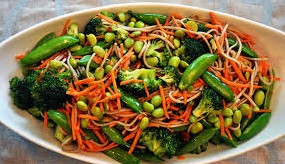 Ingredients:
1 cup of brown rice
3 carrots
1 cup of broccoli
1 cup of sweet corn
3 tablespoons of olive oil
¼ cup of soy sauce
½ teaspoon of sea salt
½ teaspoon of garlic powder
Instructions:
This is another one of the best easy dinner recipes for beginners.
Boil two cups of water and add the brown rice.
Turn the heat down and let the rice get cooked.
Broccoli and carrots should be cut into small and thin slices.
Stir-fry the broccoli and carrots in the olive oil and garlic powder for about 5 minutes.
Stir in rice, corn, and salt.
Finally, add some soy sauce.
6. Mom's Simple Chicken Tortilla Soup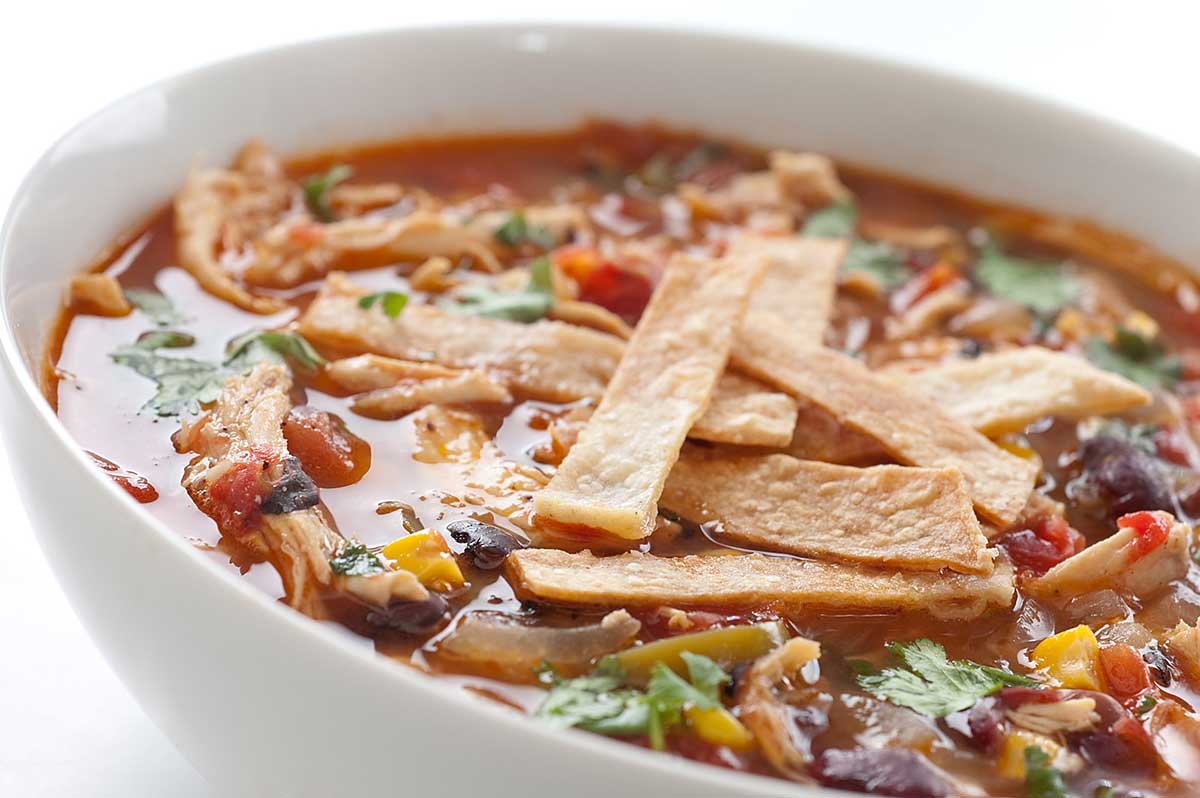 Ingredients:
2 cups of shredded chicken
4 cups of organic chicken broth
1 can of crushed tomatoes with the juice
1 cup of corn
2 cups of tortilla chips
2 teaspoons of olive oil
2 minced garlic gloves
1 small diced onion
Salt and black pepper
Instructions:
Saute the onion and garlic in the olive oil over medium heat in a medium-sized soup pot for about 5 minutes.
Stir the chicken, chicken broth and tomatoes until they are brought to boil.
Reduce the heat to simmer.
Add the corn and continue simmering for about 5 minutes.
Add the crushed tortilla chips and continue simmering for another 5 minutes.
Season the soup with salt and pepper based on your taste.
Continue to simmer on low heat until it is ready to be served.
Add lime wedges, avocado slices, chopped cilantro, shredded cheddar cheese or reduced-fat sour cream on top as you prefer.
7. Turkey and Vegetable Skillet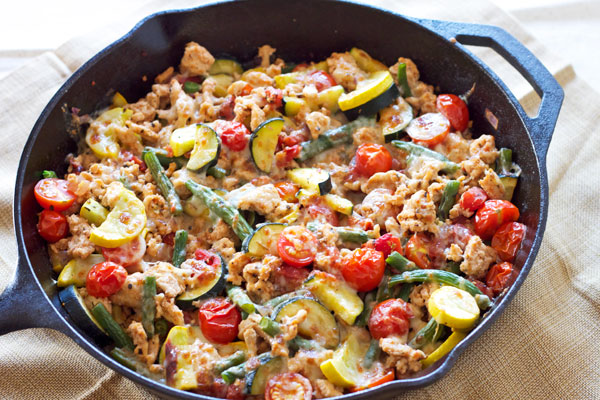 Want easy dinner recipes for beginners? Try this one.
Ingredients:
½ pound of lean ground turkey
½ cup of fire roasted tomatoes
1 cup of cherry tomatoes
1 cup of diced zucchini
1 cup of fresh trimmed green beans
½ cup of diced onions
2 tablespoons of olive oil
½ cup of smoked shredded mozzarella
1 teaspoon of kosher salt
¼ tablespoon of black pepper
½ tablespoon of dried basil
½ tablespoon of oregano
Instructions:
Preheat the oven.
Heat the oil over medium-high heat in a large skillet.
Add ground turkey once the oil is heated enough and break it up into small pieces.
Add the onions and garlic once the turkey is almost cooked.
Cook for another minute and then add the vegetables.
Cook for another 5 minutes until the vegetables are softened.
Add shredded cheddar cheese on top of the turkey and vegetables.
Put the skillet in the oven and let it broil for a couple of minutes until the cheddar cheese is melted and has got a beautiful golden brown color.