Jamba Juice is known as a chain store that produces various smoothies, fruit juices and treats. Jamba Juice has become quite popular over the last several years due to its 100% natural ingredients smoothies, but be warned: there might be things lurking in that 100% fruit juice that you really don't want. Is Jamba Juice healthy? Does it have added calories and sugar? Here's what you need to know about Jamba Juice.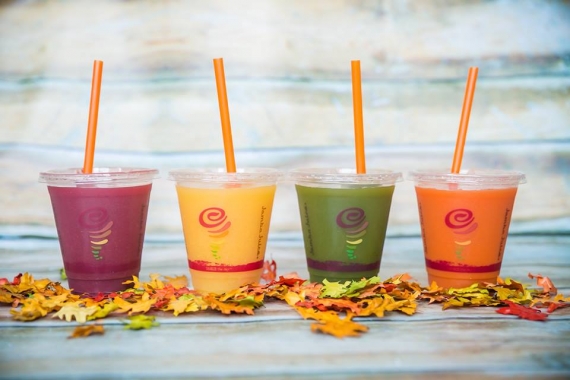 Is Jamba Juice Healthy?
This question is mostly discussed on Jamba smoothies, which is advocated to contain 100% natural ingredients. However, it is not yes or no answer. With relative high calorie and carbohydrate contents, the Jamba Juice, especially the Jamba smoothies should be taken in moderate, considering your total calorie and carbohydrate intake.
The smoothies provided by Jamba Juice really are loaded with some good things, such as minerals and nutrients, fiber, calcium and more. You can even add nutritional content boosts for no fee. And yes, they are definitely made of all-natural ingredients. But is Jamba Juice healthy? Is organic equal to healthy? That's up for debate. Consider that one 24-ounce serving of the very popular Orange Dream Machine contains a full quarter of your daily calorie intake. It also contains 13% of the daily allotment of sodium and a whopping 37% of the daily allotment of carbohydrates, most of which is derived from sugars. Granted, the sugars are natural and unrefined, but your waistline doesn't really know the difference.
When you choose Jamba Juice, remember that you are drinking down the equivalent of a full meal. So if you want to get the best healthy ingredients and least amount of added sugar and calories, go with the smallest serving size or share one cup of juice with your friend. As for lighter versions of Jamba Juice, it does contain less calorie and sugar; however, it is made from unnatural ingredients you won't want. Even though they are 'lighter', they still contain between 280 and 320 calories.
What is really in Jamba Juice? It depends on the drink. Here are a few of the most popular ones and the nutritional values for a 24-ounce serving:
| Drinks | Calories | Sugar (g) | Carbs (g) | Fat (g) |
| --- | --- | --- | --- | --- |
| Berry Fulfilling | 260 | 40 | 57 | 1 |
| Aloha Pineapple | 500 | 110 | 117 | 1.5 |
| Strawberries Wild | 450 | 92 | 105 | 0.5 |
| Peach Perfection | 320 | 62 | 78 | 0.5 |
| Orange Dream Machine | 521 | 100 | 106 | 2.5 |
| Peanut Butter Moo'd | 800 | 122 | 139 | 21 |
Ingredients to Avoid When Choosing a Healthy Juice
Did you know that some smoothies can be just as bad as junk food? In questioning is Jamba Juice healthy, you can also question many of the other smoothie companies out there. To make things easier, keep these points in mind:
1. Dairy Products
For those who have food allergies, you need to avoid those drinks that contain dairy products. Also, dairy products add fat to drinks, and large amount of dairy can be unhealthy for humans by increasing the levels of estrogen. Therefore, avoid dairy in your smoothies; instead, opt for those unsweetened milk or organic chia to thicken the smoothie.
2. Sugar or Sugar Sweetened
For a healthy fruit drink, sugar or sugar-sweetened fruit juice should be avoided. Sugar can increase the blood sugar, and sugar-sweetened fruit juices contain high amount of fructose and add calories with no fiber. When choosing smoothie base, try to choose coconut water or filtered water with whole fruit. For the sweet taste, adding some stevia can help.
3. Artificial Sweetener
These sweeteners are anything but natural, and the effects on the body show it. They can be made with neurotoxins, which can cause serious health problems, and might even backfire and cause weight gain.
4. Agave
Agave contains very high fructose content, which sets really great burden for the liver to metabolize. The results can be liver scarring, lipid levels that are out of range, and weight gain.
5. Tap Water
The contaminants present in everyday tap water are too numerous to mention. None of them have any place in a smoothie that is meant to be healthy—or even one that isn't! Insist on pure filtered water instead.
6. Peanut Butter
High in calories and fat, this tasty treat can also be full of allergens and added sugar, none of which are good for anyone. Just try to avoid this ingredient in your healthy drink.
7. Soy Milk
In most cases, the soy in your drink has been genetically modified. To make things even worse, soy milk has been linked to breast cancer, which is definitely something we all want to avoid! You can try to use almond milk or filtered water as your smoothie base.